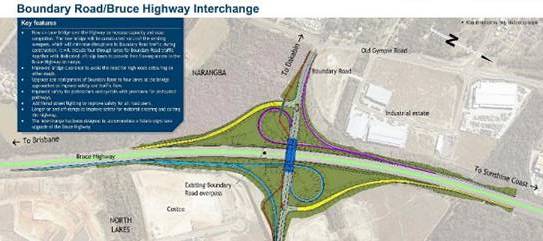 Boundary Road interchange upgrade - temporary ramp closures from Monday 1 August
The Department of Transport and Main Roads (TMR) would like to advise the Boundary Road interchange northbound on-ramp to the Bruce Highway and the southbound off-ramp to Boundary Road will be temporarily closed in the week commencing Monday 1 August 2016 (weather permitting).
The night closures are required for work to progress on the Bruce Highway/Boundary Road Interchange upgrade project.
The northbound on-ramp and southbound off-ramp will be closed at night in order to safely install barriers and complete earthwork activities for a minor realignment of these ramps. The realignments will enable TMR's contractor to progress piling activities for the new six-lane bridge.
The northbound on-ramp is scheduled to be closed for two nights on Monday 1 August and Tuesday 2 August 2016.
The southbound off-ramp is scheduled to be closed for three nights from Tuesday 2 August to Thursday 4 August 2016.
These dates are subject to change depending on weather conditions. The temporary closures will be in place between the hours of 8pm and 5am.
Detour signage will be in place to direct motorists to the next available on-ramp location. Northbound motorists will be detoured to the Deception Bay interchange, and southbound motorists will be detoured to the Anzac Avenue interchange.  
Reduced speeds, traffic controllers and signage will be in place to safeguard motorists and road workers. Motorists may experience minor delays.
For more information about these closures, please contact the project team on 1800 502 307. TMR thanks motorists for their patience while these works are undertaken.