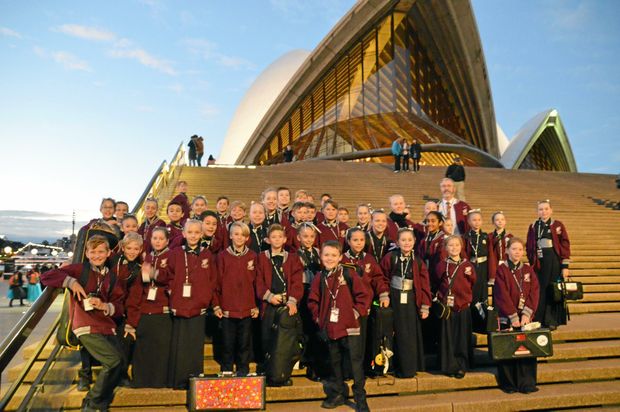 Banksia Beach Band honoured by rare appearance at the Sydney Opera House
Their advanced skills and attitudes have won the Banksia Beach State School Advanced Band a silver award at the Australian International Music Festival.
The 45 primary school students performed at the Opera House last week, something many professional performers don't get to achieve.
The group was the only primary school invited to the event which also featured bands from the USA, Japan, China, Taiwan and New Zealand all playing for international adjudicators.
More than 40 schools performed with only two receiving a gold award and five a silver.
Performing Arts manager Martin O'Callaghan said the Banksia Beach children have been playing exceptionally challenging music for their age.
"They've really hit their straps, they are playing secondary senior music and after numerous competitions word gets around that these guys are worth hearing," Mr O'Callaghan said of why they were accepted to the competition.
"The children give 100 per cent commitment in the tiered structured program.
"The kids do an enormous amount before and after school so that we don't encroach on their curriculum."
Australian International Music Festival managing director Chris Gibbs said he felt it necessary to express how joyful it was to see such a young group of musicians perform so well.
"Your ensemble consisting of primary students played alongside a university wind band from the USA and held themselves admirably. They are a fantastic group and you should all be very proud of how well the group handled themselves in what was a very high stress situation."
The music festival demonstrated that the program is reaching high goals with the award only given to children playing a certain level of music and to a high standard.
Principal Jacqui King said that it reinforced that the program the school is running is achieving quality outcomes for the students.
"That's what education is about. It's about giving children the best opportunities we possibly can to shine and become the best people they can," Mrs King said.
Band captain Pippa Mills thought it was a great experience in Sydney.
"I thought it was really cool because this is probably one of the only opportunities we'll get to do this and I loved the Sydney Opera House. And playing in it, it's really hard to play in there because most professional players haven't played in there and we have."
The community raised more than $40,000 to send the children to Sydney so the school is hosting a concert on July 21 to thank them. The school has also been named as the Teachers Mutual Bank Showcase Award for State School of the Year regional winner and find out next month if they are national finalists.
Source: Caboolture News