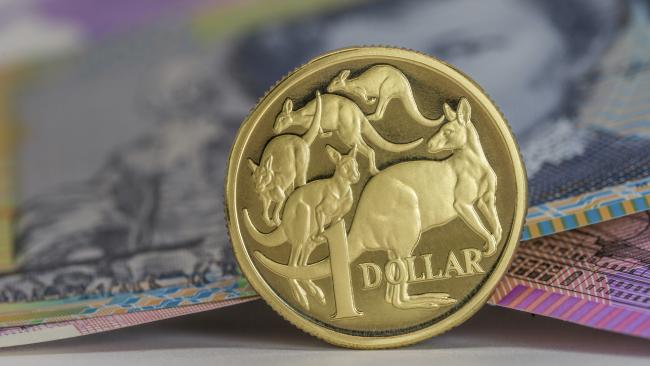 Australian dollar crawls back after S&P AAA rating downgrade warning
The Australian dollar has recovered some of the ground it lost after a major ratings agency said Australia's top investment ranking could be cut within the next two years if the budget deficit was not reduced.
Standard & Poor's (S&P) downgraded Australia's credit outlook from stable to negative, but left the AAA credit rating unchanged.
It warned the uncertainty over the outcome of the federal election could lower the chances of a lower budget deficit.
The Australian dollar plunged against the greenback on the news but picked up in the afternoon to about 75.2 US cents on Thursday afternoon.
The share market was unflustered by the potential loss of Australia's AAA credit rating and bounced back to end the day higher.
The All Ordinaries Index rose 0.5 per cent or 26 points to 5,311.
The ASX 200 Index rose 30 points or 0.6 per cent to 5,228. Miners, banks and energy stocks helped drive the gains.
BHP Billiton rose 2 per cent or 37 cents to $19.08, despite S&P issuing a warning about iron ore prices.
S&P expects iron ore prices to fall to about $US35 a tonne this year and next in contrast to the federal budget's prediction of $US55 a tonne.
Jeweller Michael Hill debuts strong
The big banks rose despite a warning from S&P that they also faced a credit downgrade if Australia loses its AAA rating.
Tabcorp plunged more than 4 per cent or 20 cents to $4.39 after the New South Wales Government said it would ban greyhound racing.
Online retailer Kogan made a disappointing market debut, plunging nearly 17 per cent or 30 cents to $1.50.
Jeweller Michael Hill also debuted and rose 10 cents from its opening price to close at $1.25.
In commodities, pot gold soared to a two-year high, trading at about $US1,366.58 an ounce.
West Texas crude oil gained to $US47.43 a barrel on strong US economic data.
The Australian dollar is now buying just above 75 US cents, 57.9 British pence, 67.7 Euro cents, 75.7 Japanese yen and $NZ1.04 cents.
Source: ABC News