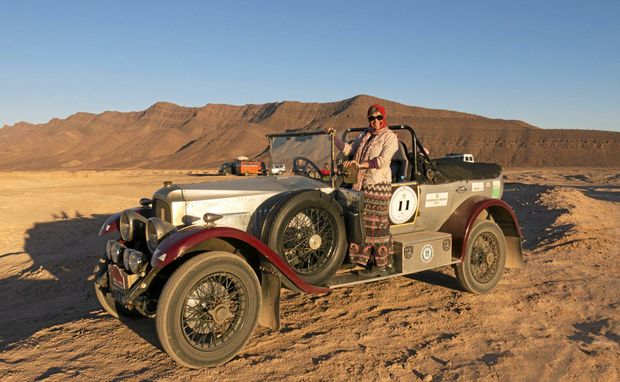 Wamuran farmers race in Peking to Paris
Wamuran turf farmers Julie and Max Stephenson have begun cornering the globe with their vintage car Penny on an epic 15,000km, continental-crossing journey on Sunday.
The Twin View Turf owners and their 1923 Vauxhall left for Beijing to compete in the famous Peking to Paris endurance rally last week.
Julie was thankful to be able to travel with her husband while their sons ran the farm. She said it was a "symbiotic relationship" where the family all support each other.
"We have got ourselves into a position now where we can travel extensively and our eldest son Lawrence manages our farm and we communicate with him on our travels and our other son James works on the farm as well," she said.
Julie said her sons also love to travel after getting a taste for it early in life.
"They started travelling when they were about two and three years old, now they're intrepid travellers both the of them," she said.
"My eldest son Lawrence, often goes overseas with Max and they go snowboarding or they go to Africa together."
She said her family must have the "adventure gene", because nothing has stopped them so far from travelling - even a devastating car accident that left James severely injured.
"He lost his leg in a car accident locally six years ago and he was in limbo not knowing what to do, he was very fortunate to survive," she said.
"When Max went to his first Peking to Paris, James was still on crutches a year after he lost his leg and he went to Brisbane and bought a ticket to Beijing and a backpack and went to wave Max off.
"The children of the other rally participants said, 'come to London, we'll take you to Paris and we'll meet your dad'. So at the end of the rally... James had his prosthetic leg then and he walked across the finish line and met my husband there, which was quite an emotional moment for everyone."
Julie places an importance on cultural diversity when she travels and said it was important to learn more about the world outside Wamuran.
"We want to expand our horizons and learn about other cultures and learn about ourselves," she said.
"We've found so much generosity of spirit regardless of colour, or skin or religion.
"We make it part of our business to be part of a culture."
She said immersing herself in other cultures also makes her appreciative of coming home to her family. Julie always has a photo of her children with her to share with others when she travels.
"I cant think of anyone who hasn't been proud to show me or tell me in their language about their children," she said.
"Everywhere we go there's generosity of spirit because there's a connection somehow in recognising that we're all humans with family."
The 36-day race only takes place every three years, partly due to the risk-factor.
Julie said four people have died in the last six rallies but that does not scare her as she said their main objective was not to rush the journey and drive too fast.
"It is up to you how fast you want to travel and what your goals are," she said.
"Our goal is to get a gold medal and that means that we get in every night and we do every time trial every day.
"It doesn't matter if we win or where we're placed but our goal is to make sure that I don't get us lost... and that we are are at the right time at the time trials every day."
Anyone interested in Max and Julie's progress can visit juliestephenson.net/journal.
The race will continue until July 17.
Source: Caboolture News