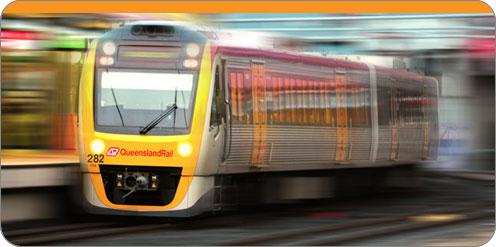 Translink Rail & Bus : Goodbye messy confusion hello simplification
In a move to bring rail and bus services in line with some of the biggest and more lucrative public transport systems like Melbourne and Singapore set to begin January 1, 2017. 
South East Queensland public transport users will finally get a more fairer, easy to use system with what commuters have been advocating for years.
Gone are the 23 or so zones to a much more simplified 8 zone system. In is unemployed will finally get concessional fairs in a bid to encourage looking and participating in work opportunities.
A breakdown shows Elimbah Caboolture, Morayfield, Burpengary, Narangba, Dakabin, Petrie, Lawnton & Strathpine all lumped into the New Zone 3
Stations between Bald Hills and Eagle Junction will become the new Zone 2 and from eagle junction through Milton, Park Road all becoming Zone 1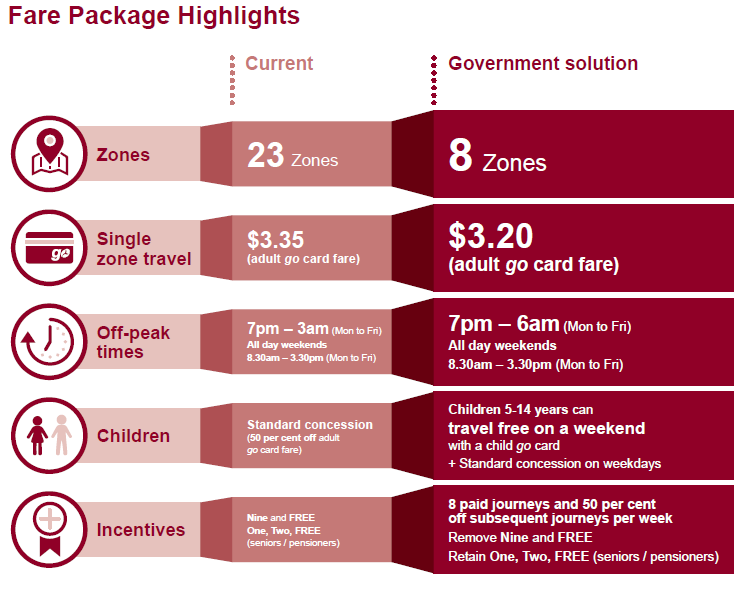 What is changing in January 2017?
reduced fares for all zones including reducing the cost of one zone local trips to $3.20 (adult go card)
reduced number of zones from 23 to eight wider zones, making local travel more affordable
weekday morning off-peak period extended to 6am
free weekend travel for children aged 5-14 travelling on a child go card
introducing an '8 paid journeys and 50 per cent off subsequent journeys per week' incentive to replace the '9 and Free'.
In addition, concession fares to unemployed people receiving the Newstart Allowance and Youth Allowance, and asylum seekers will be introduced from early 2017, pending discussions with Federal agencies.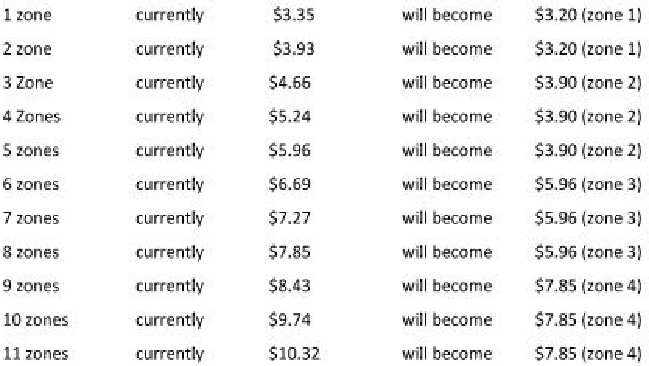 A single-zone bus, train and ferry trips in southeast Queensland will be cut from $3.35 to $3.20 under the Palaszczuk Government's reforms to public transport fares.
Premier Annastacia Palaszczuk and Transport Minister Stirling Hinchliffe announced the reforms this morning, saying they will make public transport more affordable and attractive.
While the "Nine and Free" system introduced by the Newman government will be dumped, it will be replaced by a 50 per cent discount after commuters take eight trips.
The Government will also collapse the number of fare zones from 23 to eight under a move that will see 93 per cent of commuters better off.
Mr Hinchliffe said the cheaper fares would cost $210 million in forgone revenue over four years however this was based on conservative patronage growth of less than one per cent.
"This is the largest investment in public transport services in a decade since the rollout of the go card and integrated ticketing," he said.
"It builds on the recommendations from the taskforce to deliver fare reductions right across southeast Queensland."
The taskforce recommended dropping the single-zone fare to $3.
However, Mr Hinchliffe said this would have come at a considerable cost without the necessary improvement to patronage.
Commuters can calculate the impact of their trips at https://haveyoursay.translink.com.au/SEQ-Fare-Review.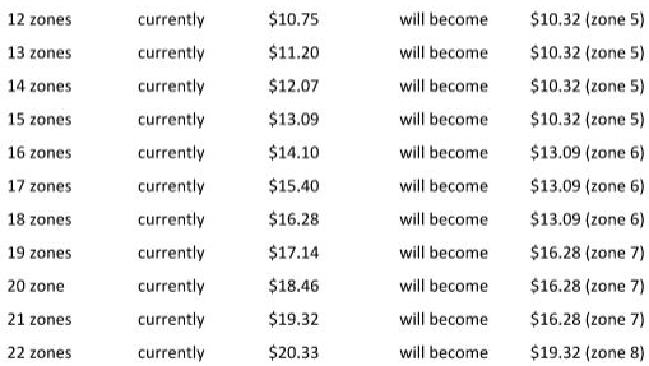 CHILDREN under 14 will be given free weekend fares in southeast Queensland under the Palaszczuk Government's long-awaited review of public transport.
The Sunday Mail can also reveal travel incentives for pensioners and seniors will be retained, despite a controversial recommendation by a review taskforce to dump them.
The number of zones across the public transport network will be reduced from 23 to eight, benefiting commuters who travel shorter distances.
Ahead of Tuesday's state Budget, it can also be confirmed that regional Queensland fares will not rise.
Premier Annastacia Palaszczuk told The Sunday Mail the Government wanted to make the system fairer and boost patronage.
"This has been a comprehensive review. This will be simpler and fairer public transport," she said.
The new fare and zone structure begins in early 2017. However, the freeze on public transport fares introduced by the Government while the experts undertook the review will be extended from July 1 to the end of the year.
Under the new system, children up to and including 14 years of age will be able to tap on and off on weekends using a Child Go Card with no fare deducted from the account.
Seniors and pensioners who are frequent commuters currently receive free travel for the remainder of the day after two paid journeys, as well as a 50 per cent discount on fares.
These incentives and discounts will be retained.
However, the Government will wind back the popular "nine and free" system, which was introduced by its predecessor and enabled commuters to receive free travel for the remainder of the week after making nine paid trips.
Under the new scheme, travel for the remainder of the week will be discounted by 50 per cent after passengers have made eight trips.
Further measures, including pricing across the zones, will be announced today.
Meanwhile, a major overhaul of transport systems is being urged to boost tourism in the Sunshine State, which has fallen behind southern states in terms of visitor numbers.
A report by peak industry group the Tourism and Transport Forum says the Government should subsidise fares and increase the frequency of the private Airtrain service to and from Brisbane Airport to increase patronage – and take it over to merge with the suburban network when the current contract expires in 2036.
The group also recommends exploring private franchising of the Brisbane City Council-owned Brisbane Transport bus network, saying it could produce cost savings of 20-55 per cent.
It wants more rail services between Brisbane and the Gold Coast to link with light rail for the 2018 Commonwealth Games, saying the 80km trip to Surfers Paradise can take up to two hours.
TTF chief executive Margy Osmond said the connection between transport and tourism was critical, and good, cheap public transport was the main factor for young travellers when choosing destinations.
"In the past year, we've seen Queensland slip from second to third place in the number of international visitors coming to each state. Queensland should have the ambition to arrest this slide,'' she said.
TTF is urging the fast-tracking of new cruise facilities for Brisbane and a stopover liner terminal for the Gold Coast, as well as ferry services from the CBD to the new Toondah Harbour development in Redlands to connect to North Stradbroke and Moreton islands.
The Palaszczuk Government is developing an integrated tourism and transport strategy for release this year.
A $163 million duplication of the rail line between Coomera and Helensvale will increase peak-hour services.
Source: Translink, 101.5 FM and Courier-Mail