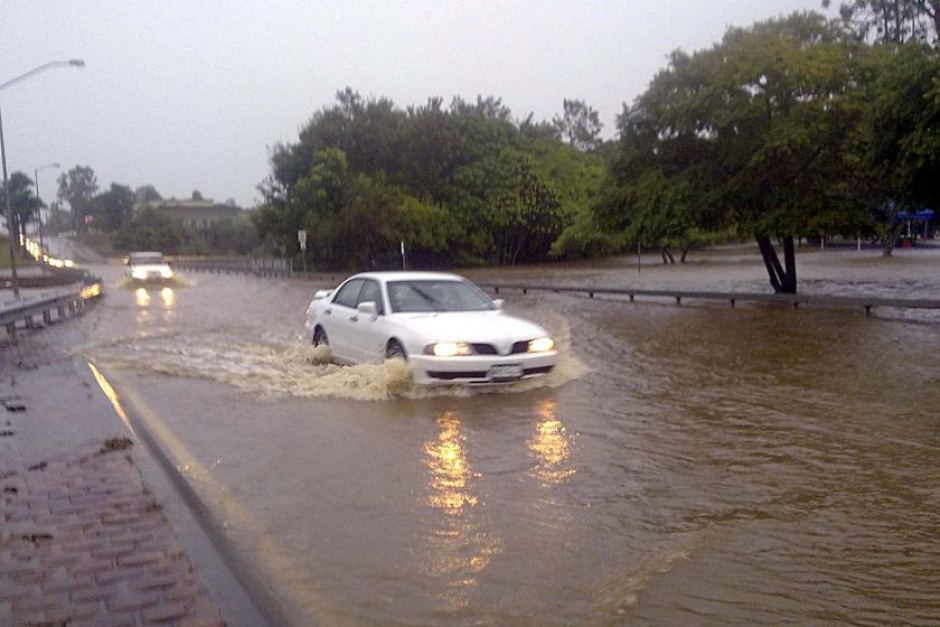 Historical Event : Stay Safe & Prepare this weekend as Bureau of Meteorology flash-flooding warning for South East Queensland
Note This Event has now most moved further south of Brisbane and is lo longer effecting the Moreton Bay Region
Earlier: South-east Queenslanders have been warned to prepare for dangerous weather conditions predicted to hit the region on Saturday.
The Bureau of Meterology says Mt Watalgan, north of Gin Gin, had 93mm of rain in an hour before 3.20am on Saturday, and 156mm of rain has fallen since 9am at Upper Springbrook in the Gold Coast Hinterland.
Deception Bay has been the worst hit in the greater Brisbane region, recording 157mm in nearly three hours.
Burpengary has also recorded 140mm, while Bray Park has been hit with 124mm.
Wamuran had 160 mm,
Downpours of up to 150mm are expected to be dumped across the region, while some areas, including central Brisbane, could receive 250mm of rain.
Bureau Of Meteorology says Initial Minor Flood Warning for the Stanley River issued at 9 am
The system should hit this morning and bring with it gale force winds of 90km/h
Ensuring gutters and drains are clear will be important – but not at the cost of personal risk. Do not seek shelter under trees.
"We know there are going to be higher than normal tides so if you usually experience flooding in high tides or extreme rain, please prepare as it's better to be safe than sorry with the expected conditions,"
Weather bureau senior forecaster Micheal Knepp said a trough looked set to bring intense rain and flash-flooding across the region, with gale force winds and a king tide hitting the coastline.
Mr Knepp said conditions could be as dangerous as a similar system that struck on May 1, 2015.
The Bureau of Meteorology said damaging winds, with peak gusts of around 90km/h, are possible near coastal areas and about the Scenic Rim as the surface trough or low develops on Saturday.
"The trough or low will also generate large swells as it slips southwards during Saturday, with dangerous surf conditions and significant beach erosion developing about exposed beaches between Fraser Island and the Gold Coast during Saturday, contracting southwards out of the Fraser Coast waters by Sunday.
"Water levels on the high tide are likely to exceed the highest tide of the year about exposed beaches between Fraser Island and the Gold coast on Saturday and Sunday, particularly on the high tide Saturday night and Sunday morning.''
Surf Life Saving Queensland has warned beachgoers to heed advice from lifeguards this weekend with the weather likely to create dangerous surf conditions.
The worst conditions were expected on Saturday evening but the Bureau of Meteorology now says the system is moving at a faster rate and will reach the region early tomorrow morning.
A number of areas across the region are at risk of flooding, including tributaries of the Brisbane River, Gold Coast, Caboolture and Logan.
Wind Warnings for Saturday 4 June
Gale Warning for the following areas:
Fraser Island Coast, Sunshine Coast Waters, Moreton Bay and Gold Coast Waters
Don't Travel unless you have to
Acting Premier Jackie Trad said she would receive a briefing with Emergency Services Minister Bill Byrne on Friday afternoon, but suggested people should not travel if there was no need.
 "If you had plans to be out on the road, perhaps today you need to think about alternatives, particularly if the roads you normally travel on are susceptible to flooding during significant weather events," Ms Trad said.
She did not want to see a repeat of severe rainfall events last year that claimed lives.
National & State Park Closures:
Bribie Island National Park and the Mt Mee section of the D'Aguilar National Park are closed
All you need to know to stay safe
Moreton Bays Home of Emergency Information will be on hand to ensure listeners and those living in the area are well informed and kept up to date as events happen.
We encourage everyone to keep our Facebook page open for details as they are released by the bureau.
For Caboolture region flash flooding in low laying areas may be further impacted by high tides predicted.
Friday High Tides are Saturday 9:23 pm (2.66m) , Sunday 9:35 am (2.06m), 10:11 pm (2.7m) and Monday 10:26 am (2.0m) 10:57 pm (2.68m)
Keep your radio tuned to 101.5 FM, should you be in a place where signal is difficult we have a live stream service so you can listen in via your browser on your computer or mobile.
We also recommend you have your survival kit on the ready and some essential tips for before the storm, during the storm and the clean up after page.
So far Wednesday night Morayfield recorded 4 mm of rain.
At 11:42 am Thursday morning the SEQ Water has announced its Flood Operations Centre is now on alert for the forecast rainfall in coming days. The have announced Gate releases are possible from Wivenhoe, Somerset and North Pine Dam, with updates to follow.
A spokesman for Seqwater said it is estimated about 80mm to 120mm of rain would be needed to fall before run-off into the dams started.
A further 15 to 40mm of rainfall could trigger the release of water from Wivenhoe Dam.
Fire and Emergency Services Minister Bill Byrne said residents needed to take steps now to prepare their properties and reconsider travel plans in the event of bad weather.
"This is an unseasonal weather event, and residents need to make sure they have plans in place to cope in case they are affected," he said.
A king tide is also expected on Saturday evening about 9pm, which combined with strong winds and possible gales, could cause flash flooding.
Be prepared and If it's Flooded Forget it
"Parents must supervise their children closely and ensure they stay away from drains, culverts and any flowing water."
Mr Byrne said motorists needed to have a Plan B in place if travelling on the weekend, including finding alternative routes in case roads were flooded.
"Residents need to pay close attention to weather reports and local conditions before getting behind the wheel," he said.
"If the road is flooded, forget what car you drive. No-one can predict floodwater or what is happening underneath, so it is important motorists never enter a roadway covered with water."
"Remember: if it's flooded, forget it. This simple rule will keep you and your loved ones safe."
Residents who cannot clean up their own property and require storm and flood emergency assistance should contact the State Emergency Service (SES) on 132 500. In a life-threatening emergency dial triple-0 (000).
Moreton Bay Region Sand Bagging facilities and emergency numbers

A full list including maps on how to get there is now available here on our website
Short list basic is here:
SES and SANDBAGS
• Beachmere - Rogers Street Sports Ground 
• Bribie Island - 208-224 First Avenue
• Narangba - Oakey Flat Road (between Raynbird Road roundabout and Sovereign Drive roundabout) 
• Caboolture Council Depot - corner of Commercial Drive & Machinery Parade
• Elimbah - Coronation Drive (opposite the church) 
• Woodford Council Depot - Mary Street
• Woodford Memorial Hall (rear car park)
SES for emergencies: 132 500
Loss of electricity supply: 13 62 62
Priority emergency (electrical hazards): 13 19 62
General electricity enquiries: 13 12 53
EMERGENCY (POLICE, FIRE, AMBULANCE): 000
For more information on storm updates and flood safety information, visit: www.energex.com.au/safety/safety-in-an-emergency
Local residents and businesses can register to receive free ALERTS ABOUT SEVERE WEATHER and FLASH FLOODING events via text or voice message and e-mail. Register online at www.moretonbay.qld.gov.au/moretonalert or call council on 3205 0555.
Last Year's rain events included loss of life
three people were killed when severe storms lashed south-east Queensland about the same time last year.
The wild weather soaked communities with up to 100 millimetres of rain in an hour, catching people off guard and causing dangerous traffic conditions.
"With events like this, localised falls in excess of 250mm are possible, particularly in coastal areas and at elevation including the Sunshine Coast Hinterland and ranges extending south into NSW," he said.
With a king tide expected and huge seas creating dangerous surf conditions, significant coastal inundation and beach erosion is likely.
"If you recall last year, there were people who unfortunately did die, so if it's flooded forget it, and there is that potential for localised flooding with this event," he said.
"I'd say its a perfect day to stay indoors because it could be quite serious out there — especially Saturday afternoon into Saturday evening."
The weather bureau said the strongest impacts were predicted to be along the coast from the Wide Bay through to the New South Wales border.
Mr Knepp said: "We are looking at a very significant weather event across south-east Queensland - I cannot stress this enough," he said.
He said the rain should ease by Saturday night.
Continuing Events:
Caboolture Show is cancelled for today, rodeo cancelled tonight and tomorrow  some events from today will be moved tomorrow
Postponed Events:
Country Roundup Social at Narangba Community Hall for Saturday June 4 is cancelled due to the weather
Postponed events: Regretfully the previously mentioned 'It's your Choice' Event tonight and the 'myStreet & Turn the Screws on Crime' day for Saturday have been postponed for a future date due to our current inclement weather.
1. If you haven't already, subscribe to Moreton Alert which is a notification service provided by Moreton Bay Regional Council. This service provides weather alerts straight to your mobile phone on severe weather and thunderstorms, flooding and storm tides as well as planned releases of the North Pine Dam.
It's free and it's easy to register, which you can do here or by calling Council on 3205 0555.
2. Don't drive, ride or walk through flood waters. Despite what you can see on the surface, beneath the surface there may be missing roads, swift currents and deep wash outs. If it's flooded, forget it. It's just not worth your life or that of your loved ones.
Please stay safe and if possible avoid any unnecessary travel on our roads this weekend.
Related Stories: