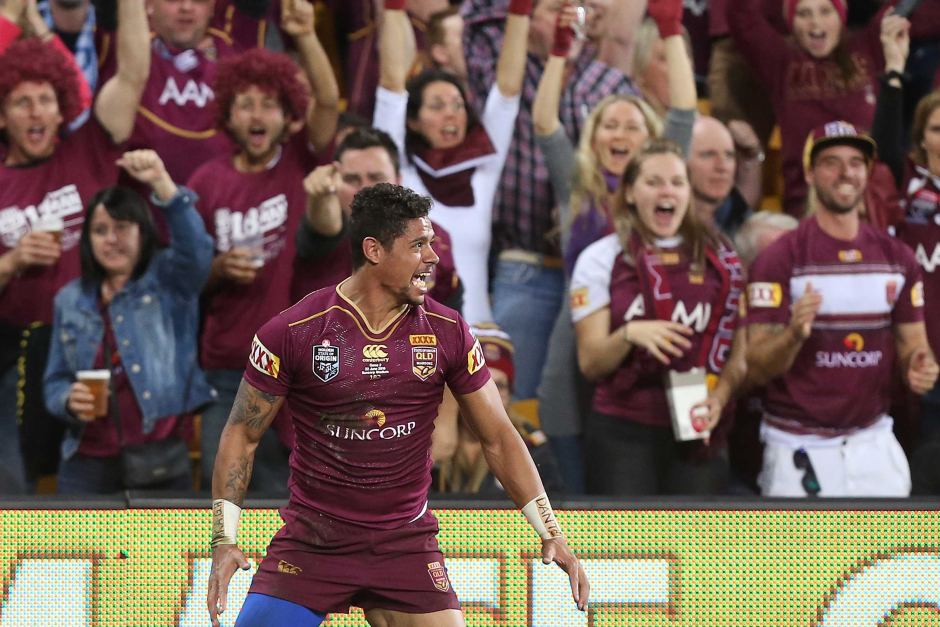 STATE OF ORIGIN II AT LANG PARK 2016: Maroons win game two 26-16! The shield is in Queensland hands!!
That was an incredible win for Queensland and done in typical fashion. They controlled most of the game and when they were up against it, never looked out of it.
Congratulations to Dane Gagai, who became the fourth Queenslander to score an Origin hat-trick, doing so in just his third game in maroon.
The Blues showed plenty of fight to mount a couple of comebacks, and if not for a very tight knock on by Michael Jennings, this game may have gone the other way.
Instead, Queensland went up the other end and Corey Oates nabbed his first Origin try on the back of a stunning set play, and that was that.
Again, a few moments swinging the other and NSW may have won, but that's the point. Origin sometimes swings on who does the little things in the big moments and that's exactly what Queensland did tonight.
State Of Origin: Corey Parker's final game at home full of typically understated brilliance
Corey Parker surprised most of the rugby league fraternity by announcing on Monday that he would retire at season's end, but no-one was surprised when he put on another powerful performance in his last home State Of Origin.
As per usual, Parker did the dog's body work, making 16 hard runs and sealing up the middle of the field with excellent defence (28 tackles), but his superb skill was on display in the 63rd minute and it almost resulted in a Darius Boyd try in Queensland's 26-16 win in Origin II at Lang Park.
That sort of offload, the kind that comes out of nowhere and terrifies a stilted defence, is a late addition to Parker's arsenal that has helped him become a genuine star.
The 34-year-old debuted way back in 2004 when Queensland was in the midst of a three-series slump.
Then a bullocking prop, he played just three games in two years before returning in 2011 after completely rebuilding his game.
Seemingly overnight, Parker became arguably the game's best ball-playing back rowers and he has been one of the most consistent performers for the Maroons ever since.
Despite still being in something close to career-best form, last year's winner of the Wally Lewis Medal for the best player in the Origin series, said he was retiring from the game because there may come a point in 2017 or the next year when he let his team-mates down.
"[The Queensland team] means the same for me as any other individual," he told the ABC.
"It's part of our DNA. When you pull on the jersey, you live and breathe for that jersey and everyone else in Queensland, for the other 4.3 million people that watch us, that get affected by what we do, it's something very special."
And that desire to stand tall for his team and his state was writ large yet again on Wednesday.
"It's been an amazing ride, this rep scene, and I think you saw it tonight again," he said.
"Queensland just stood up. It was fantastic."
He has one game left in maroon, and if his late-career resurgence is anything to go by, Parker will be saving his best for last when Queensland tries to sweep the series in Sydney.
"These are moments I suppose in a few years' time I will look back on, so I'm going to enjoy this one," he said.
The fallout from Wednesday may not be quite as good for Broncos team-mate Sam Thaiday, who was charged with a grade-two dangerous throw for a hideous tackle on Paul Gallen early in the game.
Dane Gagai praises Maroons after match-winning hat-trick against NSW
Queensland's newest representative hero Dane Gagai has praised his star Maroons team-mates after a spectacular State of Origin debut that helped clinch the 2016 series against the Blues.
New South Wales was powerless to stop the Newcastle flyer as he scored three stunning tries in Queensland's 26-16 game-two win over New South Wales at Lang Park on Wednesday night.
In an eventful 80 minutes, Gagai was guilty of batting down a high ball that allowed James Maloney to score a break-away try for the Blues, but only after three incredible tries for the Maroons.
His first came with Queensland's backs to the wall, snapping up a loose ball and bursting into space to score a 80m try under huge pressure from chasing debutant Tyson Frizell.
The second was electric, as he leapt to take a pass with a brilliant one-handed catch before scoring in the right corner, while his third was an excellent finish to cap off a lovely grubber kick from Johnathan Thurston.
Starry eyed and loving life, Gagai told Grandstand it was unbelievable to be playing for the legendary Maroons.
"I don't think I've even scored a hat-trick in club footy, but to be part of such a quality team, they make my job so much easier and I'm just so grateful to be part of such an elite team," he said.
"I think I took a few carries and the lungs were burning," he said of his first breakaway try. "I had Ferguson to beat, I was heading for the corner and I was pretty confident I was going to get there.
"But little did I know I had big Tyson Frizell behind me and I tell you what, he can move for a big man. I was fortunate enough that I made it in the end."
To balance out the sheer jubilation, Gagai said he had tried to do too many things at once in his error that led to Maloney's try.
"I went up for that, I've seen O'Neill there and I was going to pass back, and in hindsight I probably should have just taken the tackle and played it five metres out," he said.
"Was probably looking to do a bit too much and unfortunately it didn't come off.
"But I've got my little one up here, so I'm going to go hold him, and go spend time with the missus and the family, and enjoy this night with the boys."
Bittersweet debut for Frizell
Tyson Frizell scored on his debut but was left bitter at the result.
(AAP: Dave Hunt)
Frizell, making his Origin debut after Wade Graham's suspension and a promotion from the bench, looked to be revelling at the top level when he scored a try on his Blues bow.
But it would end in bitter disappointment for him and New South Wales as Queensland's quality eventually told.
"[My debut try] doesn't really matter. We came here to do a job and unfortunately we didn't come away with the win," Frizell told Grandstand.
"At the end of the day, that's what we wanted. Even though it's great to debut for New South Wales, it's pretty disappointing to not come home with the win.
"We didn't get too many opportunities down there. I felt when we did we caused some trouble. We just needed to play some more footy down there end and be a bit more cleaner with the ball. I think that's what's let us down at the end of the day."
Frizell said it was the ultimate challenge going up against the revered Maroons side, but the focus now switched to Origin III.
"It is difficult. They're class players, right across the park and they definitely keep you on your toes," he said.
"We're not finished here yet, we still have another game to go, so that's our focus now."
Source: ABC News