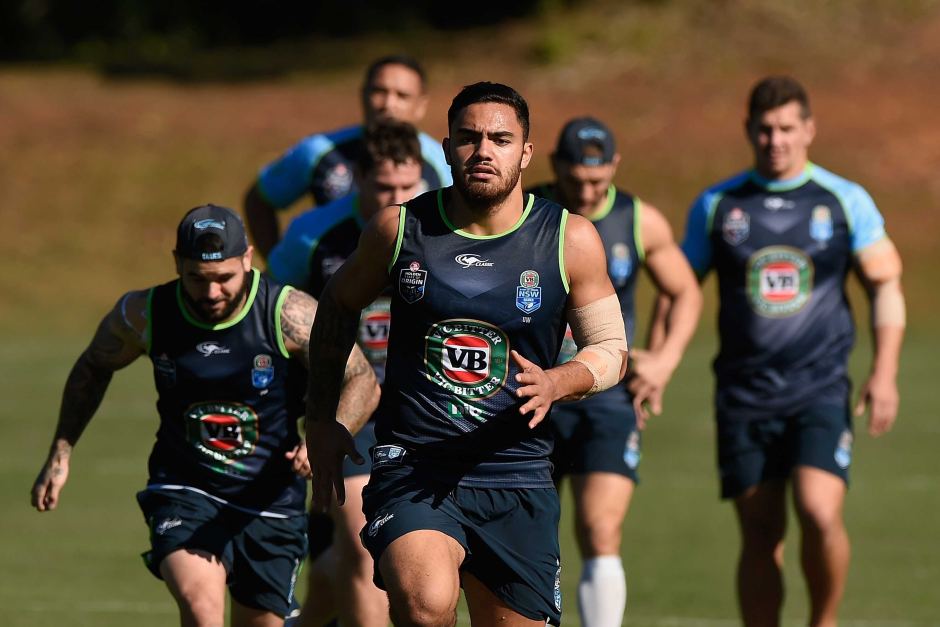 State Of Origin II 2016: New South Wales lucked into the right team to scare Queensland in game two
State Of Origin I was a shocking advertisement for rugby league, but the second clash promises to offer more, especially for those people who only care about rugby league for three days a year.
On a stage which is supposed to display the best the game has to offer, both teams looked ill-prepared and borderline incapable of holding on to the ball, much less putting together a solid attack with anything resembling regularity.
As the 6-4 loss would suggest, New South Wales was marginally worse than Queensland but both were called out for a lack of invention with ball in hand.
Slippery conditions contributed to that, but NSW just played like a club side according to a number of pundits, including former Blues hooker Michael Ennis.
Structured plays can be beautiful and effective when run correctly. It is what helped make Melbourne one of the most successful NRL teams in the last decade (well, that and historically massive rorting of the salary cap).
But Origin is when the best players put their best work into action regardless of the pre-ordained game plan.
Jarryd Hayne, Michael Jennings and even the oft-maligned Robbie Farah, among others, have all taken it upon themselves to (apologies for the imminent cliches) play what is in front of them and take what the defence gives them.
If the intended result of a set play is shut down by the defence or botched by a team-mate, great attacking players look up and see an alternative.
The Blues are at their best when they improvise
How winning NSW sides score
2015 - Origin II (NSW won 26-18)
4th min: Jennings zips through broken defence after James Tamou offload goes to ground.*
26th min: Morris scores directly off a cross-field kick.
62nd min: Aaron Woods looks off his halves, steps past Matt Scott to score.*
70th min: Dugan runs a strong line off a Hodkinson short ball inside 10 metres.
2014 - Origin I (NSW won 12-8)
19th min: Hayne gets outside defence near halfway and Josh Morris inside ball sets up brother Brett.*
33rd min: Hayne slips between Thurston and McQueen with a dummy and step, twisting his way over the line.*
2014 - Origin II (NSW won 6-4)
71st min: Woods bends defence back and Hodkinson dummies, beating fractured line.*
2013 - Origin I (NSW won 14-6)
5th min: Hayne scores on beautiful outside-in play.
36th minute: Jennings swoops after grubber ricochets off Maroons, beats two defenders rushing out of the line and beats three more at the line.*
2012 - Origin II (NSW won 16-12)
25th min: Brett Stewart runs through back-tracking defence after a block play.
44th min: Brett Stewart finishes off 80m effort after Todd Carney line break.*
47th min: Josh Morris scoops up ball after Thurston strips Hayne and scores 85-metre try.*
2011 - Origin II (NSW won 18-8)
30th min: Luke Lewis outleaps Maroons for cross-field kick to score.
49th min: Two offloads and a looping cut-out pass lead to brilliant Will Hopoate putdown out wide.*
77th min: Off the scrumbase, Jamie Soward steps inside on-rushing defender and offloads to Anthony Minichiello to score.*
* 'Broken' plays
Off-the-cuff football has worked a treat for the Blues in recent years.
New South Wales have scored 15 tries in their six wins since Queensland's 2010 clean sweep. Of those, only a third were scored on what you might call structured or set plays.
The rest came on the back of individual brilliance that took a play in a new direction or after a play completely fell to pieces.
Considering he is one of the most devastating athletes in the game, Jennings has not been as prolific in sky blue as New South Welshman may have hoped, and all too regularly drifts in and out of games.
That is because his value is not as a conduit from full-back to winger in a block play. Jennings shines when the Maroons' rock-solid defensive line is broken and flat-footed. That is when his acceleration and strength make him look like one of the best players in the game.
Hayne was similarly frightening and would often take it upon himself to redirect a structured move if he spotted a seam in the defence.
And Farah at his best can put Queensland on the back foot from the get-go with a heady dummy-half run or perfectly delayed pass.
New kids on the block set to break it open
Hayne is gone and Farah's best days are in the rear-view mirror, so who in this New South Wales team can throw out the plan, throw caution to the wind and stand tall in Origin II?
Coincidentally enough, the answer lies in the two blokes who were not actually picked to play in the first place.
With Wade Graham and Josh Morris missing the game through suspension and injury respectively, the men taking their place, Tyson Frizell and Jack Bird, should scare the Maroons silly.
Frizell hits like a truck in defence and is a ball of energy in attack. He only has one line break this season, but has a happy knack of bending the defence back with brutal charges. Think of him as a discount Josh Papalii who can also be a rich man's Josh Papalii at times.
The Blues may have missed a trick by not picking Bryce Cartwright for his ball-playing, but his defence does not measure up to Frizell's.
Then there's Cronulla's second-year star.
At 21, Bird has already established himself as one of the game's best utilities on one of the best teams in the NRL.
He is similar to Dylan Walker in that he can play centre or five-eighth, but he is more dynamic and in infinitely better form, laying on six try assists in 2016 (according to NRL.com), featuring some absolutely gorgeous offloads.
Walker, for his part, played the best 40 minutes of his brief Manly career in the first half of an unfortunate loss to Penrith days before the team for Origin II was confirmed.
In scoring two excellent tries, he displayed the sort of aptitude in broken-field play that the Blues desperately need in order to wrest back control of this series.
Provided his defence holds up to the pounding it will cop from Greg Inglis and Johnathan Thurston, he will also be vastly improved by starting in the centres and having a clear role, as opposed to the farce that was his cameo off the bench in game one.
The verdict
Paul Vautin was probably wrong when he said after game one: "If they pick the same team ... they'll get beaten again."
That is probably too absolute of a statement after a 6-4 loss, but he was correct when he added: "They need to find something."
It did not have to, but that something has come in the form of a personnel change, forced though it may be.
A more dynamic NSW line-up for game two will help close the gap, but in front of a raucous Queensland crowd at Lang Park, the Maroons should be able to clinch their 10th series in 11 years.
Prediction: Queensland wins by 8.
Source: ABC News