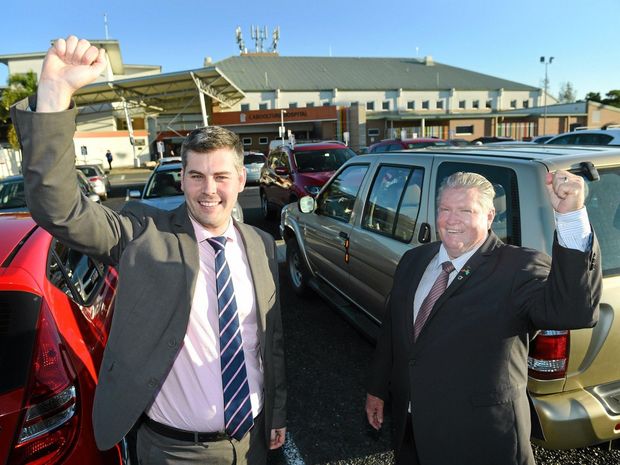 State budget promises 300 new car parks for Caboolture Hospital
The Caboolture Hospital, schools and the disabled are the big winners out of the 2016 Queensland state budget.
While most eyes are on the fallout from the federal budget, today's state budget was one of the most Moreton Bay-friendly in recent years.
Even the LNP had one of its long-time wishes answered with the announcement of 300 new car parks for the Caboolture Hospital.
It has been a highly contentious issue after the LNP made a 2015 election promise to build 100 new car parks and has regularly criticised Labor's inaction in the previous budget.
But the $4 million finally pledged by Labor to purchase new land for construction far outweighs the LNP's commitment.
"The additional car park will significantly improve patient, visitor, staff and emergency vehicles access, and the time it takes to find a car park at the hospital," Caboolture Hospital executive director Dr Lance Le Ray said.
"It can only positively enhance access to our inpatient and outpatient services."
It's a timely announcement with the construction of the 32-bed ward 3B to start next year and the opening of the Intensive Care Unit late last year.
Meanwhile Pumicestone MP Rick Williams confirmed the Caboolture Hospital is Queensland Health's main priority and could expect more upgrade announcements in the near future.
"It's Caboolture's turn," he said.
"We've seen a lot of funding go to Sunshine Coast uni hospital and the Royal Brisbane and now it's our turn.
"I welcome the comment that we are high on their list of priorities and I think we can expect more good things coming soon."
2016 Queensland State Budget
$4 million to expand the Caboolture Hospital car park by 300 extra spaces.
Funding for an accessibility upgrade of Morayfield Train Station.
$6.4 million for the Caboolture Special School comprising of 12 classrooms and an administration area
$3 million building comprising four classrooms at Narangba Valley State School.
$550,000 for a multi-purpose hall at Burpengary State School.
Funding to acquire land and commence construction on a new $7.85 million police station and upgraded watch house at Caboolture.
$3.18 million for residential care, supported independent living, and therapeutic residential care services in Burpengary and Morayfield.
A share of $3.95 million in State funding for safety barriers along the Bruce Highway.
The next big story is the $9.9 million set aside for three Morayfield schools, with Burpengary State School set to receive a fully enclosed arts and sports hall for the first time in its 140-year history.
Principal Brad Fox said it was the result the entire community working together.
"Here's a community that's actually got together and worked together to get a project of significance that's going to help kids and that's the big buzz for me," he said.
"It's something that the Parents and Citizens contributed to quite significantly … it really gives it soul and makes it a really important place for the entire community."
The comparisons between this budget and the LNP's federal budget are stark after it cut funding for both hospitals and education, while focusing on trickledown economics.
"Compare this Labor budget to the federal LNP budget and you'll see they're miles apart," Morayfield MP Mark Ryan said.
"That's what's so good about this budget; there is immediate economic return for the entire community.
"Whether it's the Caboolture Hospital or the Burpengary State School project, we're creating infrastructure, which creates jobs."
Mr Ryan has also secured funds for a much-needed accessibility upgrade for Morayfield Train Station, which Caboolture Disability Support Network founder Matt McCracken said he was "stoked" about.
"It's very rough and difficult to go over the tracks – and I have an electric chair – it's even worse for push chairs, walkers whose wheels get stuck in the cracks," he said.
"You've got mums and bubs in prams going over them and school kids all the time.
"I'm stoked that we finally got something targeted to the Morayfield area.
"The station hasn't changed for 30 years and hasn't been up to standard, but now it will be with this funding."
Source: Caboolture News