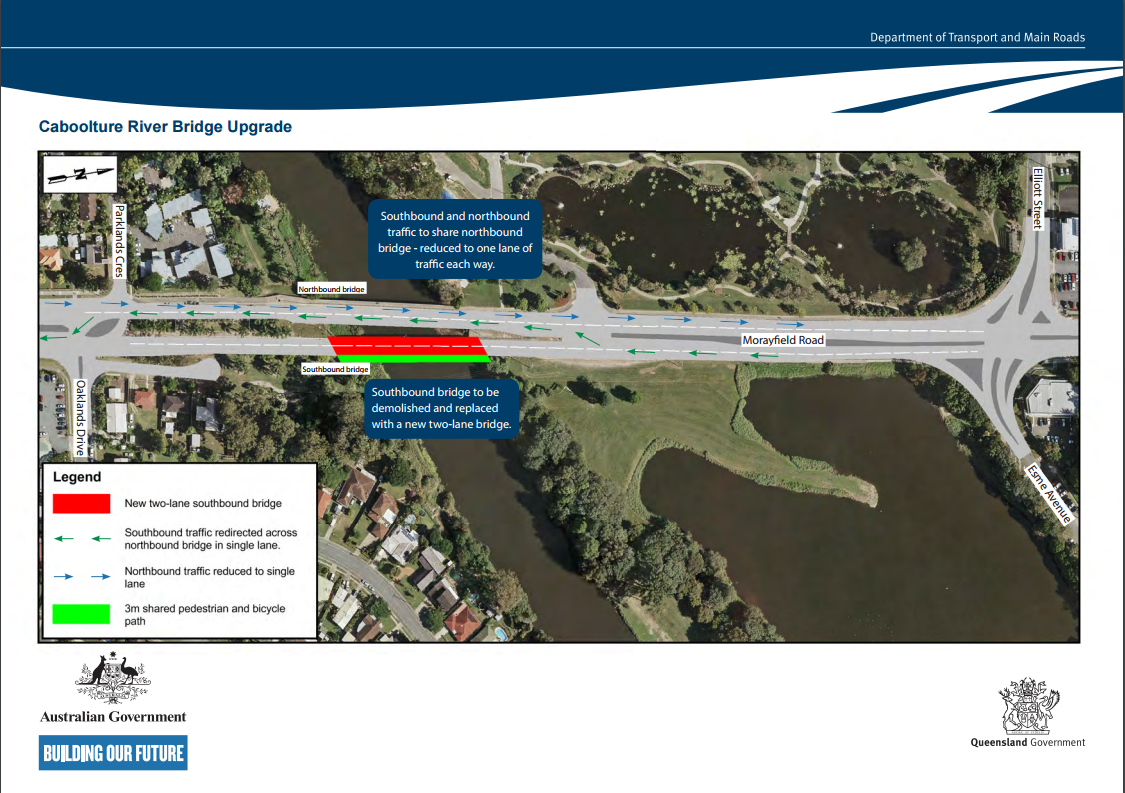 Southbound Caboolture River Bridge to close
Work on the $17.1 million Caboolture River Bridge Replacement Project is progressing well, with the imminent completion of early works to signal the closure of the ageing southbound structure.
A/District Director (North Coast) Stephen Mallows said the closure and demolition of the southbound bridge would be the first major project milestone.
"Initial works to build traffic cross-overs to switch southbound traffic onto, and off, the northbound bridge are nearing completion," Mr Mallows said.
"Traffic is scheduled to be switched onto the northbound bridge from Monday 27 June 2016, weather permitting, with one lane of traffic operating in each direction.
"The contractor will then get to work demolishing the southbound bridge to allow for the new bridge to be built in the same location.
"The new two-lane bridge will include a three-metre shared pathway that will provide a great new facility for pedestrians and cyclists."
Mr Mallows said the project team had been working hard behind the scenes to identify strategies to manage the congestion and delays expected during construction.
"Additional CCTVs and webcams have been installed to monitor traffic and allow signal timings to be adjusted where possible to help minimise impacts," Mr Mallows said.
"Mobile electronic message boards are also installed near the bridge and at strategic locations around the local network to inform motorists about potential delays.
"A reduced speed limit will be in place, as well as new linemarking, barriers, and signage to guide motorists safely through the site.
"Every effort will be made to minimise the impacts on the local community and we thank you for your cooperation and patience during these important bridge improvement works."
Construction is scheduled to be completed within one year, weather permitting.
To avoid traffic delays during works, motorists are encouraged to:
* avoid the bridge site and take alternate routes, such as the Bruce Highway
* avoid travelling during morning and afternoon peak hours
* use online traffic tools or apps to check live traffic conditions and find the quickest route before departing.
For more information, call 1800 783 016, email cabooltureriverbridge@tmr.qld.gov.au or visit the TMR website at www.tmr.qld.gov.au and search 'Caboolture River Bridge'.
Residents can also subscribe to receive regular updates about the project by sending their email address to cabooltureriverbridge@tmr.qld.gov.au.
Related stories: