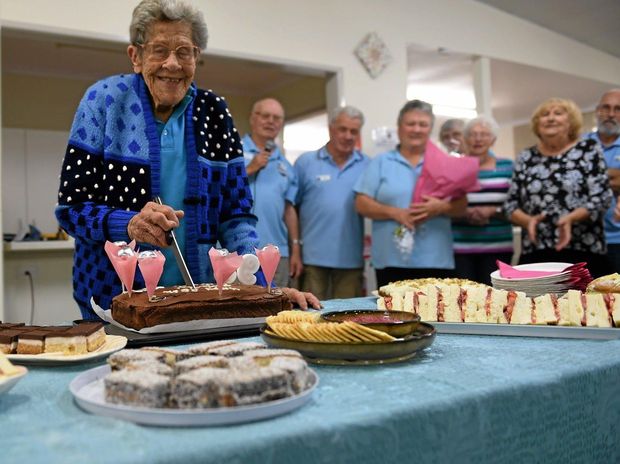 Secret to Bribie Island Alma's long and healthy life revealed
At the  grand age of 98, Alma Allen can still throw a mean bowl.
The Bribie Island Indoor Bowls Club member was surprised by her fellow bowlers at the clubhouse in Bongaree last Friday, when they threw Alma a birthday bash to remember.
Alma said she was overwhelmed by the occasion and the generosity of her friends.
"It's too much, I'm not going to go to sleep tonight," she said.
"This is just a wonderful club. Everyone's so lovely here, even those that beat you in bowls."
After the lunch time celebrations, Alma carried on to play three more games.
A full day on the indoor green is an easy feat for her.
Alma is the longest living person in her family's history by nearly 30 years and said she attributed her long life to a healthy lifestyle.
"I don't drink or smoke, that's all I know," she said.
"Thank the lord I don't get flu. I haven't had the flu or a cold even in years."
She said she wasn't a big cake eater either but indulged in a couple of pieces of her two birthday cakes on the day.
Alma joined the Bribie Indoor Bowls Club when it was the only one on the island.
Games director John Grisbrook said celebrating Alma's birthday was as much a milestone for the club as it was for her.
"She's been a very good bowler all these years gone by," he said.
"And she's not the only 90-year-old, there's a couple of others in their 90s as well. I don't know what it is.
"It's the social aspect of it, we like her company and we have a good social gathering and friendly rivalry."
Alma said Bribie was a very different place several decades ago.
"We put the first part of the house up 62 years ago, there wasn't much here then," she said.
"We only could come over on the barge."
Alma told a fascinating tale of what it was like to rely on getting across the Pumicestone Passage when there was no bridge.
"The barge stopped at sunset and twice we were too late," she said.
"We had a little Austin A40 with three boys and a parrot. And that night the barge had stopped running and it was raining... making a racket and with the parrot and the three boys in the car, it was something I'll never forget.
"The bridge made a big difference."
Alma now has three great grandchildren and one great, great grandchild. She said she thoroughly enjoyed catching up with all the generations.
"It's good to get together, all of us," she said.
Source: Caboolture News