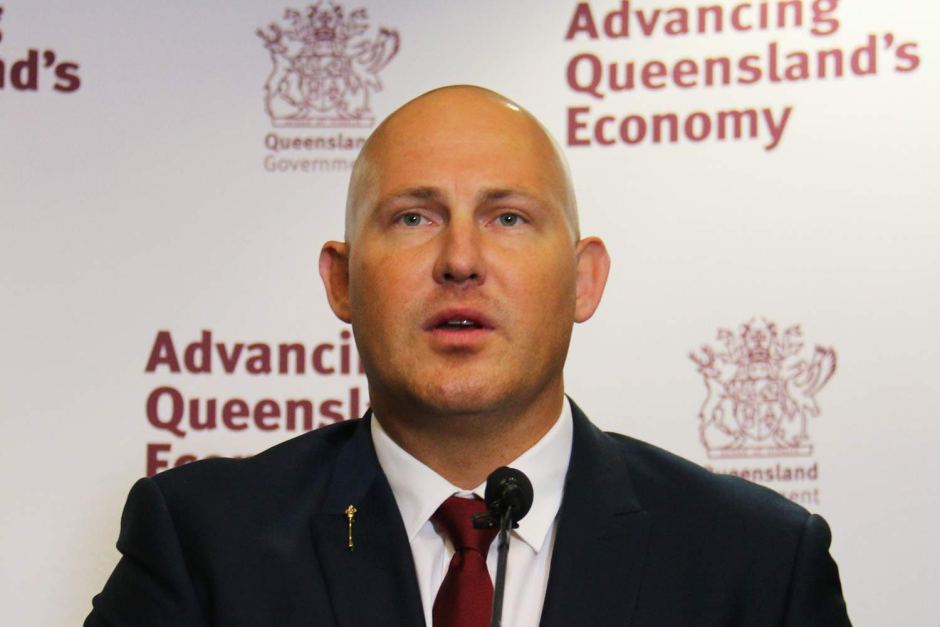 Queensland budget 2016: Treasurer Curtis Pitt devotes $4bn in super to cut debt, fund infrastructure
The Queensland Government will use $4 billion from a public servants' superannuation scheme to boost spending on infrastructure and pay down debt in this year's state budget.
Treasurer Curtis Pitt has delivered his second economic blueprint, which he described as a "back to work" budget focused on innovation, investment and infrastructure.
Key announcements:
$4 billion in surplus super for infrastructure and debt reduction
Record $15.3B health budget
Record $12.9B education budget
Capital works $10.7B includes $50 million for Brisbane Cross River Rail
Law and order $2.1 billion
$100 million to create 8,000 regional jobs
$4.4B billion for roads, $400 million for 2nd Toowoomba range crossing
$21.7 million for Great Barrier Reef protection
One of the headline measures in the $52.6 billion budget was a $100 million jobs package aimed specifically at regional Queensland, which has been struggling due to the mining downturn.
As usual, a record $15.3 billion will be spent on health, which includes $230 million for hospital upgrades and an extra 110 ambulance officers.
A record $12.9 billion was allocated to education, with $250 million to be spent on new or upgraded schools.
The state's finances will remain in the black over the next four years, despite a multi-billion-dollar writedown in forecast mining royalties and state taxes.
The $152 million surplus for 2015-16 is significantly less than originally predicted, but the State Government blamed this on the Federal Government's decision to defer payment of more than $1 billion in natural disaster funding.
Mr Pitt said the $867 million net operating surplus forecast for 2016-17 was the largest since 2006-07.
The Treasurer projected Queensland would have the strongest state growth rate in the nation, saying it will reach 4 per cent in 2016-17.
This is underpinned by the LNG industry, with production expected to ramp up to $100 billion by 2019-20.
Incentives for regional employment
The unemployment rate is expected to drop slightly to 6.25 per cent.
Employers will be given incentives to hire regional workers under a $100 million "Back to Work" jobs package, which the Government hopes will create up to 8,000 jobs.
A business that employs a regional worker for 12 months will be eligible for $10,000 or $15,000 to hire a long-term unemployed regional worker.
As previously flagged, the State Government will use $4bn from the public servants' Defined Benefits Superannuation scheme to reduce debt and invest in infrastructure.
The scheme is $10 billion in surplus and the Government insists worker entitlements will not be affected by the move.
Half of that money will be used to reduce debt, but total borrowings will still total $75.3 billion in 2016-17, rising to $78.9 billion by 2019-20.
The Government will also introduce "revised cash management arrangements" for Government Owned Corporations (GOCs) so surplus cash will be shifted from the books of GOCs to reduce general government debt by $750 million by 2017-18.
The Treasurer said he was implementing "sound economic management" by keeping the growth in operating expenses (which averages 2.9 per cent per year) lower than the growth in revenue (an average 3.2 per cent per year).
Government departments have been told to "reprioritise programs", to find almost $500 million in savings by 2019-20. Ministers will have discretion, but the Department of Education and Training has been asked to make the largest cuts.
How the money will be spent
The capital works spend will reach $10.6 billion - $4.9 billion of which will be spent in regional Queensland.
Mr Pitt said this would support 31,000 jobs.
There is a $50 million "down payment" for Brisbane's Cross River Rail proposal to progress planning and environmental approvals.
This is less than 1 per cent of the total cost of the project.
There is a $2.1 billion spend on law and order measures, including $70 million to tackle organised crime and $16.2 million over four years to enhance counter-terrorism responses.
The Government's signature "Advance Queensland" program has been awarded an extra $225 million.
Businesses are able to apply for $10,000 "digital capability" grants.
There will be $77.9 million devoted to a rural assistance and drought package and $7 million over four years will extend the family farm transfer duty concession.
Roads spending will total $4.4 billion, including $400 million for Toowoomba's second-range crossing.
The Great Barrier Reef was given a $21.7 million funding injection, while $7 million will be spent over four years to develop and implement a Queensland climate change strategy.
The previously announced increase in Queensland's First Home Buyers grant from $15,000 to $20,000 for a 12-month period will cost $40 million.
Each Queenslander will pay an average $2, 697 in tax in 2016-17.
At a Glance
Queensland economy at a glance:
- Net operating surplus 2015-16: $152 million
- Net operating surplus 2016-17: $867 million
- Economic growth 3.5 per cent 2015-16, 4 per cent in 2016-17
- Unemployment rate 6.25 per cent in 2015-16 and 2016-17
- Expenses for 2016-17 total $52.9 billion
- Revenue for 2016-17 total $53.4 billion
$12.

1 million over four years and ongoing funding of $2.

6 million a year for koala protection

$5.8 million over three years for crocodile management, including a night-time survey throughout rivers and estuaries and three new staff to deliver program

$6.8 million over four years to lead development of climate change strategies

$2.7 million to GPS track little-red flying foxes to manage troublesome roosts in urban areas

$10.8 million over four years to begin to implement recommendations of the Biosecurity Capability Review
$22.7 million over three years in grants up to $10,000, matching dollar-for-dollar small businesses' spend to build their digital capability

Another $5,000 in grants for "entrepreneurs of tomorrow"
$210 million in public transport revenue to be foregone to fund new zone and fare structure in south-east Queensland

Kids under 15 will travel for free on weekends

Single-zone public transport trips in south-east Queensland to be cut from $3.

35 to $3.

20

"Nine-and-free" scheme scrapped and replaced with 50 per cent discount after eight trips
LNG exports expected to increase 11 per cent in 2016/17

An extra $12 million over five years on top of the $30 million allocated to manage public safety risks with more than 15,000 abandoned mine sites

$7 million over two years for a one-stop shop for community and landholder enquiries, concerns and assistance relating to coal seam gas issues
Health budget to grow by 4.

3 per cent to $15.

3 billion this coming year

68 "nurse navigators" to bridge the gap between hospitals and the primary health system

Fast-track 75 extra paramedics and buy 170 new and replacement ambulance vehicles.

$35 million, as part of Advance Queensland funding, for Integrated Healthcare Funds to support of new ideas in hospitals to improve care and efficiency

$25 million, as part of Advance Queensland funding, for Clinical Genomics Service for cutting-edge genomics research by institutions including the University of Queensland, Berghofer QIMR, CSIRO, QUT and Queensland Health

$6.6 million to refurbish and expand the children's ward at the Townsville Hospital, including a family room and an extra six beds

$12 million for new community-managed mental health services to be built in Mackay, Bundaberg and Gladstone. Each location will have a 10-bed facility, as an alternative to hospital for people recovering from mental illness
$32 million for new and replacement police vehicles

An extra $16 million over four years to improve counter-terrorism capability

$5 million for a business case for a new facility for counter-terrorism training

$20 million over two years to boost court system to manage workload pressures

$3.2 million over two years to tackle child exploitation

$2 million for contingency accommodation for dangerous sex offenders
Source: ABC News