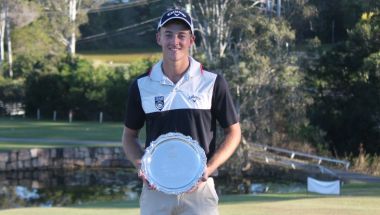 PGA Trainee Jacob Boyce dominant in Pampling Plate victory
After four days and eight rounds, second year PGA Trainee Jacob Boyce secured a dominant victory at the Pampling Plate
Heading into the match play rounds the leading qualifier, Boyce won his first four matches in convincing fashion to secure his place in the 36 hole grand final against Sam Price.
The pair went head-to-head at the Caboolture Golf Club and put on quite the show across the first 18 holes.
Boyce was 2UP after 11 holes but Price fought back to win the 13th and 14th holes to square the match.
Boyce was given a reprieve on the 15th after Price went out of bounds allowing him two putts to take the hole.
Another win on the 16th saw Boyce go back to 2UP but Price birdied the next to keep in the hunt heading into the final 18 holes.
However Boyce was too good the second time round the course and was 5UP through the 27th hole.
He went on to win the match and the Pampling Plate title 6&5.
"I feel really good. The body has held up very well considering the amount of competitive golf I've played over the last fortnight," said Boyce, who came into the tournament fresh from a third place finish in last week's NSW/ACT PGA Trainee Championship.
"I was going into today feeling I was physically okay and I had every opportunity to get the win."
Price who is in his first year of his Traineeship, comes from a great pedigree as the son of well known Tour Professional Terry Price.
"Jacob played some great golf today and deserved the win," Price graciously conceded.
"I'm planning to be back next year to hopefully get in the final again."
Now in its fourth year at Caboolture Golf Club, the Pampling Plate is a favourite with all of the members. This commitment will continue after it was announced that the club will be hosting the event in future years.
Rod Pampling, who grew up at the club and still has strong ties to the club, penned his support of the decision in a letter which was read out at presentations.
"Last year we hoped that the Caboolture Golf Club would become synonymous with the Pampling Plate. With the Club's commitment and the PGA Trainees enthusiasm for the event clearly that is now a reality," wrote Pampling.
Source: www.pga.org.au