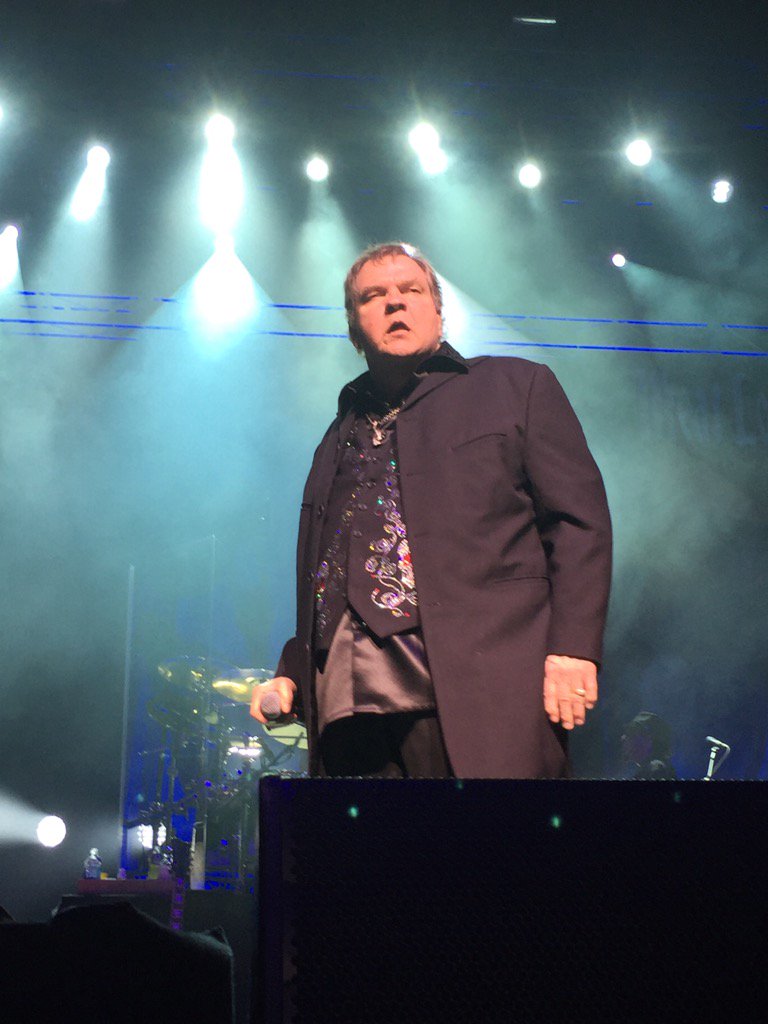 Meat Loaf 'recovering well' after collapse on stage due to 'severe dehydration'
American rocker Meat Loaf has collapsed on stage during a concert in Canada.
Key points:
Meat Loaf was singing I'd Do Anything for Love when he collapsed
Singer cancelled concerts in two other Canadian cities this week
Meat Loaf's current condition unknown
The 68-year-old was performing at the Northern Alberta Jubilee Auditorium in Edmonton when he collapsed during the performance of his hit I'd Do Anything For Love.
Videos posted online showed Meat Loaf crouching over and dropping the microphone before falling to the ground.
People were seen coming to the singer's aid on stage, before the silent crowd ignited with chants of "Meat Loaf".
His current condition is unknown.
Concert goers took to the venue's Facebook page to post photos and videos of the incident and offer their well wishes.
Many said Meat Loaf was singing the encore when he collapsed.
"Was at Meat Loaf and he collapsed. Two ambulances and a fire truck. Doesn't look promising for the guy," Jason Gladue wrote.
Concertgoer Britt Brewer told the local Edmonton Journal he thought Meat Loaf was at first being theatrical and lying down on stage when he had in fact collapsed.
She said there were moments when Meat Loaf seemed "a little bit tired" during the concert.
Lifelong fan Angus Munroe told Canada's CBC News the collapse appeared to be part of the show.
"It was slow, he just kind of rolled over, it almost looked like it would of been part of the show," he siad.
"There was sort of a pause in the crowd and the music stopped."
The Bat Out of Hell singer had cancelled performances in Regina and Calgary earlier this week, citing ill health.
"Due to illness, tonight's Meat Loaf show at the Southern Alberta Jubilee Auditorium in Calgary has been postponed," a post on Meat Loaf's Facebook page read on June 14.
It is not the first time the thunderous rocker has collapsed during a show.
In 2011, Meat Loaf passed out during a performance in Pittsburgh in the US, and after medical assistance on stage, he stood back up and finished the show.
At the time TMZ reported that a short time later, Meat Loaf explained what went wrong.
"I f***ing fainted. I have asthma … I can't breathe … and then … oh wait, I forgot … I got poked by a pin and bled half to death … and then I got slapped in the face and my tooth is loose," he told the crowd.
Meat Loaf pulled out of a concert in Britain just hours before he was due on stage because of health problems in 2013.
He also cancelled a European tour in 2007 after being diagnosed with a cyst on his vocal chords and sparked further fears for his health in 2011 when he collapsed on stage.
He later blamed blackouts on past concussion injuries and his health issues on asthma.
Source: ABC News