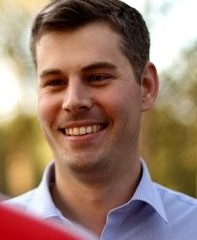 Mark Ryan says Queensland Budget 2016 delivers for locals
State Member for Morayfield, Mark Ryan MP, has hailed the 2016-17 Queensland State Budget as a big winner for people in the Morayfield State Electorate.
"I've seen plenty of state budgets in my time and I can say, without doubt, that this is one of the best budgets for our area I've ever seen," Mr Ryan said.
"This Budget continues our Government's work of restoring frontline services, supporting the creation of jobs and improving public infrastructure and services.
"I'm particularly excited that the Queensland Labor Government is getting on with the job of solving the parking problems at the Caboolture Hospital.
"Our Government will make it easier than ever before for people to access the Caboolture Hospital thanks to 300 extra parking spaces to be available by mid-next year.
"Further, I'm thrilled that our Government has responded to my lobbying for train station upgrades by progressing an upgrade of the Morayfield Train Station.
"This will be the first time that the Morayfield State Electorate has benefitted from a train station upgrade since I secured the upgrade of the Narangba Train Station in the 2011 State Budget."
The Budget also includes funding allocated for a range of projects at local schools, with Caboolture Special School, Narangba Valley State School and Burpengary State School set to benefit.
Highlights in the budget include:
$4 million to expand the Caboolture Hospital car park by up to 300 extra spaces.
Funding for an accessibility upgrade of Morayfield Train Station.
Funding to commence construction of a new $6.4 million building comprising 12 classrooms and an administration area, as well as the provision of car parking and a reconfigured bus set-down and drop-off area at Caboolture Special School.
Funding to commence construction of a new $3 million building comprising four classrooms at Narangba Valley State School.
Funding to convert the existing undercover area into a multi-purpose hall at Burpengary State School.
Funding to acquire land and commence construction on a new $7.85 million police station and upgraded watch house at Caboolture.
$3.18 million in recurrent funding for residential care, supported independent living, and therapeutic residential care services provided by community service partners in Burpengary and Morayfield.
A share of $3.95 million in State funding to continue the installation of safety barriers at various locations on the Bruce Highway (Brisbane - Gympie).