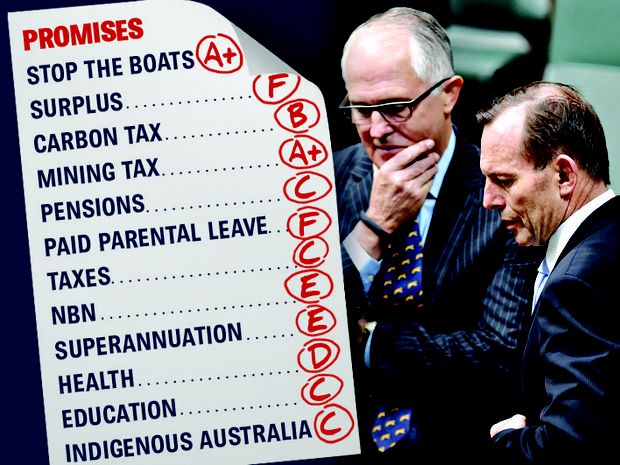 Federal election 2016: So who should we trust to lead us?
Trust. A simple word that hides a labyrinth of emotion. A complex, involved undertaking that can take a lifetime to build and a simple moment to destroy. It pervades every corner of our existence, an intricately woven spider web that goes mostly unseen until it is broken.
With it comes the suggestion of dependability, good grace and expectation. And above all, honesty. Children trust parents to care for them, couples trusts each other to be faithful, friends that they are loyal. We trust plumbers to be conscientious, butchers to honour the promise of grass-fed beef, doctors to be candid and trust our detractors to be objective.
Do we trust the government of the day to fulfil the promises they made in the run-up to the election?
Not really.
Well, if polls are to be trusted, that is.
As the Governor-General issued the writs for this double dissolution election, a Newspoll offered up the fact that just nigh on half of us believed neither the Labor leader Bill Shorten or Prime Minister Malcolm Turnbull could be trusted.
Such is our disdain for how the past four governments have chosen to govern and the political process as a whole that more than 30% of voters intend to mark their ballots in ways that do not benefit the country's two big parties.
This widespread evaporation of trust in our leaders was there for all to see in the Edelman Trust Barometer, a survey that runs the rule over political leaders and organisations.
"The Edelman survey highlights a deeper malaise in the public's faith in its core institutions and leaders," said Helen Sullivan, Director of the University of Melbourne's School of Government. "The public has lost trust in government mainly because they do not believe it 'contributes to the greater good'. More than 50% do not believe that the government helps them to live a fulfilling and healthy life."
The Coalition government swept into power at the 2013 election by appealing to the masses fed up with the misdirection and misinformation Labor offered. Tony Abbott was relentless in exposing Labor's broken promises saying, "It is an absolute principle of democracy that governments should not and must not say one thing before an election and do the opposite afterwards".
Mr Abbott pledged a government of "no excuses and surprises" but things did not go according to plan for him, his trustworthy rating sinking to 43% as Turnbull took power.
As the July 2 election day looms, we take a look at some of the Coalition's 2013 platform promises and examine whether it has delivered.
Stop the boats
This was one of the tenets on which the Abbott government was elected with the Coalition pledging to keep our borders safe from those who seek asylum by boat. Mr Abbott said while zero boats would be ideal, they would consider their Operation Sovereign Borders Policy successful if they managed to get the number down to three a year - a Howard Government record. Boats of asylum seekers in Australian waters were intercepted and sent back to their country of origin or the people on them escorted to offshore detention centres.
According to Immigration Minister Peter Dutton, the government has achieved its objective with only one boat arriving in the past 18 months. Of course, we have to take the word of the official count as the government has refused to disclose operational information, saying it is not in the public interest and would impede the fight to stop the boats.
Surplus
When he launched the Coalition's 2013 campaign, Mr Abbott was emphatic the budget would be returned to surplus by the end of their first term and that within a decade the surplus would be 1% of GDP.
But the government was unable to get a number of its cost-saving measures through the Senate and soon the prime minister and then treasurer Joe Hockey were blaming worsening global conditions and the drop in commodity prices. All promises of a surplus were abandoned.
Carbon Tax
The Coalition promised to scrap the carbon tax within its first term saying that families would be at least $550 better off thanks to lowered gas and electricity prices. The Clean Energy Bill passed through the Senate in July 2014 at its third attempt.
As part of the Coalition's Direct Action Plan, Environment Minister Greg Hunt pledged $500 rebates on solar panels and hot water systems to low-income households but no funds were allocated to the project in the 2014-15 budget.
Mr Abbott also pledged a 15,000 strong green army that he said would "march to rescue our natural environment" but funding was soon cut by $318 million and places capped at 5000.
Mining Tax
The resources tax that spelt the beginning of the end for Kevin Rudd was a real bone of contention for industry and the Coalition had pledged to repeal it in its first term, thereby creating investment and employment.
In a deal with crossbench Senators, the government passed the mining tax repeal bill by agreeing to keep the superannuation co-contribution for low-income earners, the school kids bonus and an income support bonus until the next election.
Pensions
The Abbott Government's 2013 election cry promised no changes to the aged pension but they did not waste time in linking the payment to inflation instead of wages growth, meaning increases would be minimal from 2017.
The government has also legislated changes to means testing, the assets test free area and the taper rate for assets valued above the threshold to take effect from January next year.  More than 90,000 retirees will lose their benefits altogether, with some 235,000 seeing a drop.
Paid parental leave
Tony Abbott's signature paid parental scheme pledged to give new mothers 26 weeks paid leave at their actual wage or the national minimum wage (whichever was higher) as well as superannuation. Fathers would be able to access two weeks of those 26 at the same rate. The scheme would be capped at a $150,000 salary and a 1.5% levy would be imposed on companies with more than $5 million in taxable income to pay for it.
Mr Abbott took the scheme off the table in February 2015 because of his increasingly tenuous grasp on the leadership. He said the new focus would be on making childcare more affordable.
Taxes
In the run-up to the last election the Coalition vowed it was "about reducing taxes, not increasing taxes". In May 2014, the government announced a Temporary Budget Repair Levy, a 2% tax rate increase for those earning more than $180,000, to run for three years.
The Coalition also re-introduced a fuel excise indexation from June last year and four annual 12.5% increases in tobacco excise from 2017.
National Broadband Network
The government, with Malcolm Turnbull as Communications Minster, scrapped Labour's fibre to premises system in lieu of a fibre to node plan and promised to deliver minimum broadband speeds of 25 - 100 megabits per second by 2016 and 50 - 100mbps by 2019.
When the double dissolution election was called Australia had an average connection speed of 8.2 mbps with the network far from complete. At 26.7 mbps South Korea has the highest average connection speed in the world, while Sweden has 19.1 mbps and Norway is 18.8.
The Coalition had also promised to build the NBN for $29.5 billion but NBN Co, the company tasked with building and implementing it, says the cost of the network is expected to blow out to $57 billion.
Superannuation
The government had promised to delay the increase of employer-funded superannuation until July 2021 to give small business respite during challenging economic times but the rate rose to 9.5% in July 2014.
In May, the government proposed further measures for superannuation including limiting to $1.6m the money that can be transferred to a super pension, reducing the annual limit on pre-tax contributions to $25,000, doubling the contributions tax to 30% for those earning between $250,000 and $300,000 and introducing a $500,000 lifetime cap on after-tax super contributions backdated to 2007.
Health
The Coalition's 2013 federal election health policy assured voters there would be no cuts to the health budget and in fact for the past two years health spending has kept pace with population growth and inflation. Funds for medical research stayed intact while the $200 million pledged for dementia research is ongoing.
But the government has closed 61 Medicare locals and failed to deliver on a promise to restore the private health insurance rebate. There was an attempt to introduce a new tax, a $7 co-payment for visiting the doctor and out of hospital pathology and imaging services, but the scheme met with public outcry. The government tried modifying the plan but had no luck in the Senate.
Education
Like health and pensions, the government promised no cuts to education spending. Figures released in the last budget show spending on schools has indeed been above inflation.  As part of the COAG deal in April, Education Minister Simon Birmingham recently announced an additional $1.2 billion in funding to be distributed on a needs-based basis from 2018.
However, university funding was a bone of contention for this government. On budget night in 2014, they announced plans to deregulate university fees and cut the Commonwealth contribution to course funding by 20%. The Senate twice dismissed the changes and the planned reforms were delayed until 2018.
Indigenous Australians
Mr Abbott kept a promise to establish an Indigenous Advisory Council and move the handling of Indigenous affairs to the Department of Prime Minister and Cabinet. But budget cuts and the failure of the Indigenous Advancement Strategy shows Indigenous people not really being heard. 
History remembers:
It is not an unusual occurrence for governments to break promises, explaining them away as a casualty of circumstance or insisting they were not "core" promises. Here are some of the more memorable occasions:
Paul Keating (1993)
Prime Minister Keating legislated income tax cuts before the 1993 election declaring them L-A-W and assuring voters they would stand the test of time. He repealed shortly after the election citing budget difficulties and said he would divert them to superannuation. Keating did not last long enough to institute that plan, losing the 1996 election.
Julia Gillard (2011)
On the eve of the 2010 election Gillard announced, "there will be no carbon tax under the government I lead". Shortly after, she formed a minority government and introduced said carbon tax. The backflip reinforced perceptions she was untrustworthy and she was replaced by Kevin Rudd, the PM she had stabbed in the back.
John Howard (1999)
In 1995 John Howard swore there would "never ever" be a GST. He introduced it in 1999 and went on to win two elections. It was his creation of "core and non-core" promises that was his real demise.
Tony Abbott (2005)
Abbott, the Health Minister in the Howard government, gave "an absolutely rock solid iron-clad commitment" before the 2004 election not to change the Medicare safety net. Naturally, it was raised after the Coalition got in and Abbott said while he was very sorry, the government had based its record on economic responsibility.
Abbott went on the become PM but that incident sowed the seeds of distrust. The undertaking to spend a week each year in a remote community happened once and lasted just four days. A draft amendment for the constitutional recognition of Aboriginal people remains unpublished
Source: Caboolture News