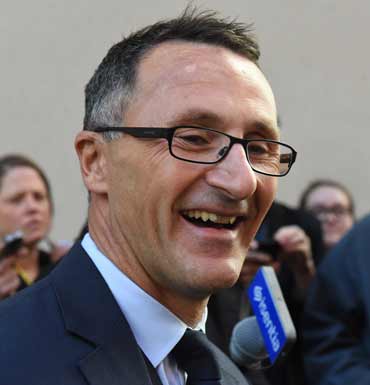 Federal Election 2016: Greens want republic debate settled by "jury of citizens"
A national plebiscite, "jury of citizens", convention and finally a referendum need to be completed to ensure success for Australia to become a republic, Greens Leader Richard Di Natale believes.
Senator Di Natale on Monday launched the minor party's $165 million "five-step plan" to lead to a formal referendum.
"Public participation has to be at the core of the entire process, not just in the final vote," he said.
"The Greens' plan will fund a consultative, democratic process involving everyday Australians and organisations from around the country."
The plan included holding a national convention on the question that would be put to the people, informed by a policy group or "national jury of citizens", which would then feed into an informal plebiscite then a referendum.
While the policy was costed at about $165 million by the Parliamentary Budget Office, the final cost of a formal referendum, which could cost about $60 million, or a similar amount to a federal election, was not included as the proposal could be discarded if the plebiscite resulted in a no vote.
Sen Di Natale said he expected a referendum could be held on the question at the same time as the likely 2019 federal election and the earlier forums would help ensure "history doesn't repeat itself' - a reference to the failed 1999 referendum of which Malcolm Turnbull played a key role.
Sen Di Natale said now was the time to start the process, with all leaders of the three main parties in Australia supportive of the proposal.
Source: Caboolture News