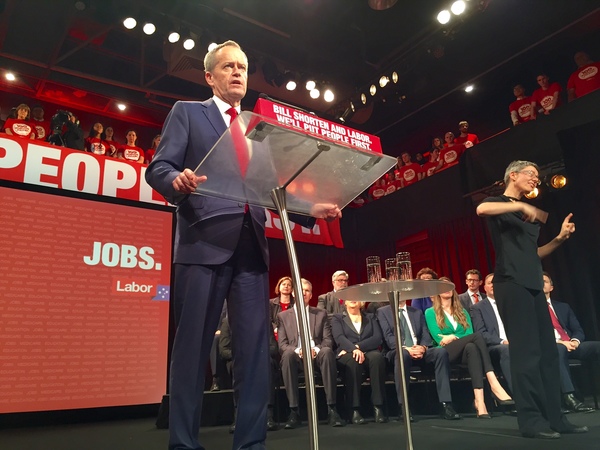 Federal Election 2016: Five moments from the Labor campaign launch
The Labor Party's top brass made their way to Penrith in Western Sydney to officially launch its federal election campaign on Sunday afternoon.
There were passionate speeches and policy announcements.
Let's take a look at five key moments from the event.
1. Bill Shorten declared he could win
You would expect to hear fighting words at a campaign launch and the Opposition Leader delivered, declaring the fight for the PM's office was not over.
Here's Mr Shorten:
"Mr Turnbull says he's got this in the bag. He claims he's already won it. I say to him — never underestimate Labor. You ain't seen anything yet."
2. Bob Hawke sat in the front row
Next to Paul Keating.
Mr Hawke was visibly moved when Mr Shorten talked about Medicare — the former PM's legacy policy.
Julia Gillard joined Mr Hawke and Mr Keating in the front row making up Labor's "legends" trio.
Mr Shorten said "how lucky are we to share the room with three of our legends" as he introduced former prime ministers Bob Hawke, Paul Keating and Julia Gillard.
(ABC News: Luke Stephenson)
3. The major theme of Mr Shorten's speech? Medicare
With the PM who established the scheme sitting in the crowd, Mr Shorten drilled home his point that "Labor will never support the privatisation of Medicare".
He said:
"As we enter the latest round in a 40-year fight, we do have an undefeated champion here with us. I wish to acknowledge your government, Bob.

"You built Medicare and we stand with you now to defend it. We will prevail."
ABC political editor Chris Uhlmann said we were likely to hear more about Medicare over coming weeks.
"Four pages of his speech [were] devoted to Medicare and … the Labor Party is now making a big push in the final two weeks of this campaign to claim that the Government has a plan to privatise Medicare," he said.
On Saturday, the Government abandoned its plans to outsource Medicare payments saying "every element" of the scheme would remain in Government hands.
4. Mr Shorten unveiled Labor's response to the Coalition's 'jobs and growth' mantra
While Medicare was the centrepiece of Mr Shorten's speech, he also used the event to announce Labor's plans for jobs and that was something we had not previously seen in the campaign.
Uhlmann offered this analysis:
"The Government mantra has been jobs and growth from the outset.

"That is really all the Government's been talking about and when you looked at Labor's plan and the Government attacked it, there's constantly reference to the fact that there is no jobs growth strategy in it.

"Well, the Labor leader attempted to address that today with an incentive program for small business."
What's the incentive?
Some businesses will receive $20,000 to hire mums returning to work, older job seekers and people aged younger than 25.
The Opposition Leader says that plan will deliver 30,000 jobs every year.
5. Every member of the Labor frontbench was on stage
Of course at a campaign launch you would expect the room to be full of the party faithful, but as Uhlmann pointed out, Mr Shorten "made a lot of the fact he was leading a team".
Uhlmann said:
"Behind him you can see the team he was talking about, [which was] very much a contrast to the campaign we're seeing run by the Coalition.

"The entire Labor ministry is on the stage there with Bill Shorten. As he said during parts of this speech, he would put his team up against any member of the Coalition."
Bill Shorten tells Labor campaign launch party can win July 2 poll
Opposition Leader Bill Shorten has delivered a impassioned rallying cry to supporters and undecided voters, saying the Prime Minister thinks he has got the election "in the bag" but Labor will ramp up its campaign and dig deeper ahead of polling day.
Key points:
Bill Shorten says small business tax package will create 30,000 new jobs
Opposition Leader says its time for supporters to "dig a little deeper"
Labor leader hails Julia Gillard "a trail-blazer for women and girls"
Mr Shorten arrived to a heroes' welcome at the Labor campaign launch in Penrith, with former ALP prime ministers Paul Keating, Bob Hawke and Julia Gillard cheering him on from the front row and members of his frontbench behind him on stage.
The Labor leader made a new announcement on jobs and doubled down on claims the Government intends to privatise Medicare.
He declared Labor "ready to serve, ready to lead, ready for government".
"Mr Turnbull says he's got this in the bag, he claims he's already won it — I say to him never underestimate Labor — you ain't seen anything yet."
Mr Shorten said there was always someone willing to "write Labor off" and this was the moment for supporters to "dig a little deeper, work a little harder, be part of something bigger".
Labor signals Medicare campaign won't be silenced
The ALP launch has also confirmed the Labor leader will continue to claim the Government is planning to privatise Medicare, despite the Prime Minister emphatically ruling that out.
Mr Shorten has pointed to an issues paper from the Productivity Commission, released this month, focused on "reform" in the Department of Human Services.
He said the document showed the Prime Minister had a "secret plan" to privatise services within Medicare and beyond.
Labor is highlighting the terms of reference, specified by the Treasurer Scott Morrison in April, which state the inquiry will consider "private sector providers and overseas examples like the United States".
The commission is not due to report until after the election.
"The Liberals have given the Productivity Commission new riding instructions, to investigate privatising human services and Americanising Medicare," Mr Shorten said.
"Piece by piece, brick by brick, the Liberals want to tear Medicare down."
Tax concessions for small business
The Labor leader has also delivered a fresh job creation pitch, a small business tax package to provide incentives to hire new staff, targeting working mums, older workers and under-25s.
The $20,000 tax concession has been interpreted as a counter offer to the Government's plans to drop tax rates for small businesses, and would cost the budget $257 million.
"Supporting these Australians into work will create around 30,000 new jobs every year," he said.
He went on to heap criticism on the Coalition's policy to reduce the corporate tax rate over the next decade.
"This is not a plan for the Australian economy, it is foreign aid for big multinationals."
Labor made the strategic decision to launch the campaign in Western Sydney, an area crucial to Labor's electoral fortunes and where recent polling suggests the Coalition maintains the upper hand in key marginal seats.
Former prime minister Kevin Rudd was not present, with Labor minders confirming he is in Russia for an international economic conference.
Julia Gillard was hailed "as a fierce warrior for education" by Bill Shorten
(AAP: Mick Tsikas)
Mr Shorten also praised the former Labor prime minister he helped depose, Julia Gillard as she sat in the audience.
"We are joined today by a trail-blazer for women and girls, a fierce warrior for education, and a continuing inspiration to everyone who fights for Labor," he said.
Labor frontbenchers David Feeney and Amanda Rishworth were not present for the launch.
Source: ABC News