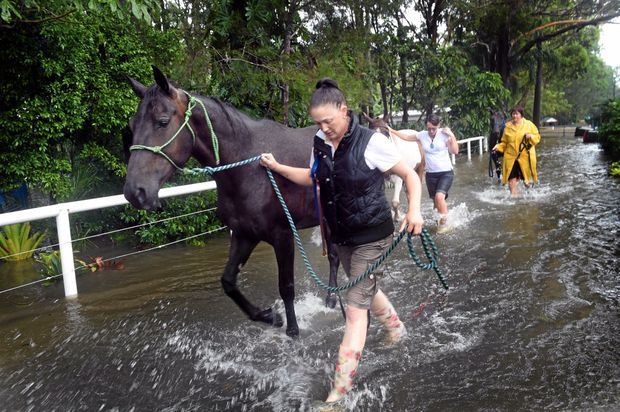 Cartmill under investigation for flood response
Cartmill Centre Riding for the Disabled Burpengary president Jane Sayer has slammed accusations it didn't respond adequately to rising flood waters as "terrible lies".
She has been under heavy scrutiny after a couple of her horses were swept away during last year's wild weather.
But the RSPCA is now investigating a fresh incident from Sunday that led to concerned neighbours trespassing to help save "trapped" horses.
"We are looking into the matter and whether or not any attempts were made to move the horses to higher ground, because they've had problems in the past," a RSPCA spokesman said.
"They certainly know that the property is prone to flooding and they do have a duty of care to make the horses safe, unless it's a totally unexpected event – but in this case everyone knew there was going to be heavy rain."
Burpengary Pony Club vice president Warren Jensen said he was the first person to arrive at the property at 7:15pm when it was already flooded.
"We came back at 9pm and got the gates open to wade out to the horses, but it was up to our chest and flowing – it was too dangerous," he said.
"We don't know how the pony's survived this time – they would have just about been swimming.
"There's no logic why you would leave them there. They have a disaster plan and they were warned by council to get the horses to higher ground."
After the last incident in 2015 Moreton Bay Regional Council and the RDA developed a disaster plan that includes a four-step warning system.
MBRC carried out its side of the deal and delivered the fourth and final evacuation warning at 6:44pm, which was not adhered to.
"They (RDA) had what they classed as a disaster plan which was seven paragraphs long, but it wasn't good and it wasn't working," councillor Adrian Raedel said.
"We helped develop it and integrated our warning system into it.
"We can't make them shift the horses, because they have a standard community lease and they haven't broken that.
"If the court process finds that they were negligent there may be course for council to break lease."
But Ms Sayer has rubbished all claims by saying a group of rogue residents have a personal vendetta on the RDA.
"That's actually a lie. If you look at the google maps you'll see it was just over their hooves at the highest point of 40cm," she said.
"We had people there all day looking after them … it's our plan, they (MBRC) let us know the levels and we have to make the decision.
"Our main coordinator has 25 years of experience and he knows about the water level and what the best thing to do is."
No horses were swept away, but the RSPCA is conducting interviews. 
Source: Caboolture News