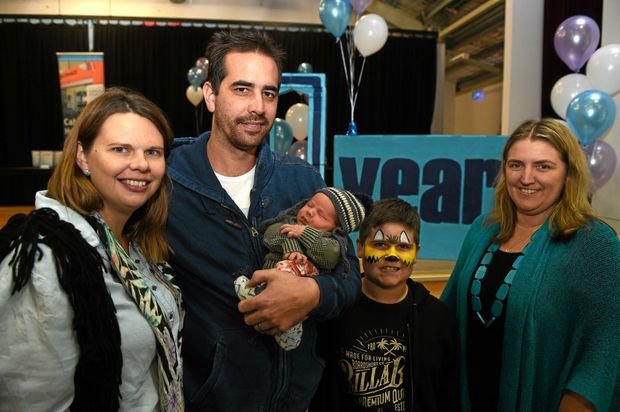 Caboolture illustrates a strong demand for midwife-led group practice
For Caboolture mother Karlie Wilson, having a familiar face to help and her husband Rob through the birth of their newborn baby Hemi was vital.
Midwife Colleen Wyer was there for the birth of their daughter Lottie two years ago and was able to provide her support for the family again thanks to the Caboolture Hospital Holding Hands group practice, now in its tenth year.
"I just loved it the first time and didn't want to not do it again the second time. We couldn't fault it at all," Karlie said.
Baby Hemi was the latest life to be welcomed into the world at a ten-year reunion celebration at one of the group's four locations at Jinibara State School on Monday.
Hemi was not born without any complications but Karlie was confident everything would be ok with Colleen by her side.
"I had gestational diabetes this time as well so there were a few things different to last time but I felt in the best care the whole time," she said.
Colleen said allowed her to build a trusting bond with the family.
"I've had a lot to do with the family for the last three years so it's been nice," she said.
Another one of the 300 mums, babies and children at the community event was Caboolture mother Christine Thomas and her son Joshua, who was the first child to be born through Holding Hands.
Chrstine's midwife Karen Hollindale said it was rewarding to reunite with Christine and Josh.
"It's amazing to see how big he is and the journey that this pair have been on in my practice and in that time," he said.
The Holding Hands team has supported the delivery of more than 2000 babies in the past decade across the Moreton Bay region.
According to Metro North Hospital and Health Service, demand for midwifery-led maternity services has risen in the area with 40% of mothers who give birth at the Caboolture hospital preferring to see the same midwife or group of midwives before, during and after their baby's birth.
Queensland Health executive director for family, women and children Dr Lance Le Ray said the Holding Hands practice benefited mothers and babies with a "smart and progressive model of care".
"The model of care is much better in terms of reducing in anxiety for first time mums about pregnancy, it increases the enjoyment of the whole pregnancy and birthing experience," he said.
"It's also been shown to reduce the complications associated with pregnancy. All over it's a good thing."
Member for Morayfield Mark Ryan celebrated the program's success and said it was an important part of the community as it supported families where and when they needed it most.
"You can just see from the crowds here what it means to mums and dads and the whole community," he said.
Source: Caboolture News