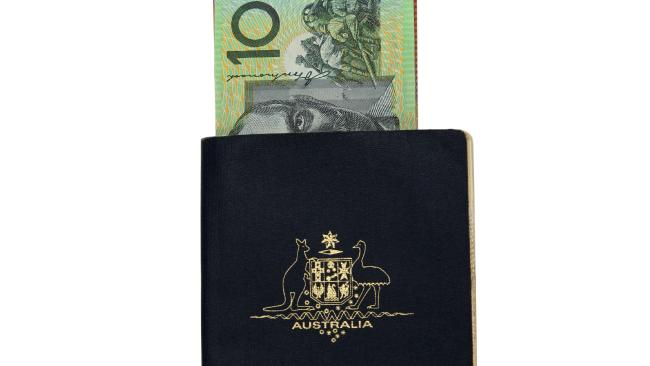 Brexit: How it effects Australians traveling to US and England
Australia will not be immune to the global impact of the Brexit referendum with the decision to leave the European Union expected to have a significant effect on the exchange rate.
Economists are forecasting the Australian dollar to strengthen against the British pound, but lose momentum against the US dollar.
CommSec senior economist Craig James said currency strategists at the Commonwealth Bank believed the dollar could fall 2.5 per cent against the greenback — and possibly more — but rise over eight per cent against the pound.
On current rates, that would see the dollar climb from 51 to 55 cents against the pound, and fall about two cents against the US dollar, to 73 cents.
Rise and fall. The Aussie dollar could strengthen against the British Pound if the UK votes to leave the EU. Picture: iStock
A "no" vote would most likely see an initial rally in the pound sterling against the US dollar, before it reverted back to current rates.
"Quickly investors would heave a sigh of relief and move on, switching to fretting about other issues like the path of US rate hikes and the transition of the Chinese economy away from manufacturing, mining and exports," said Mr James.
"While there would be initial relief rallies on sharemarkets, quickly investors would move on to other things."
He said the impact of Britain leaving the EU on travel and tourism would be minimal despite predictions by the Bank of England it could plunge the UK into recession.
"Tourists would still come from Europe and the UK to Australia and Australians would continue to travel to Europe and the UK," Mr James said. "Trade would continue as normal."
Another stamp? A vote to leave the UK could mean an additional stamp in your passport when travelling to the UK and Europe. Picture: Getty Images
But tourism lecturer at the University of Technology Sydney, David Beirman, said an extra visa may be required for Australians if the UK separated from the EU.
"Traditionally if you've come in through Britain you get automatic entrance to all the EU countries, and the same is true if you land in France and then visit the UK," said Dr Beirman. "If Brexit does occur, all that will mean is you'll have a special stamp for coming into the UK and another stamp for EU countries."
A spokesman for the Department of Foreign Affairs and Trade said it would not be appropriate to speculate on the outcome of the referendum and what it might mean for Australia.
Mr James said the UK Government might need to come up with short-term fiscal measures such as a mini-budget to prevent a downturn of the economy.
"Investors despite uncertainty and that has already been plain terms of the increased volatility," he said.
"No country has ever left — or sought to leave — the European Union in its current form. So most analysts have no alternative but to say that is hard to predict what would actually happen if the UK decides to exit the EU."
Source: News dot com dot au