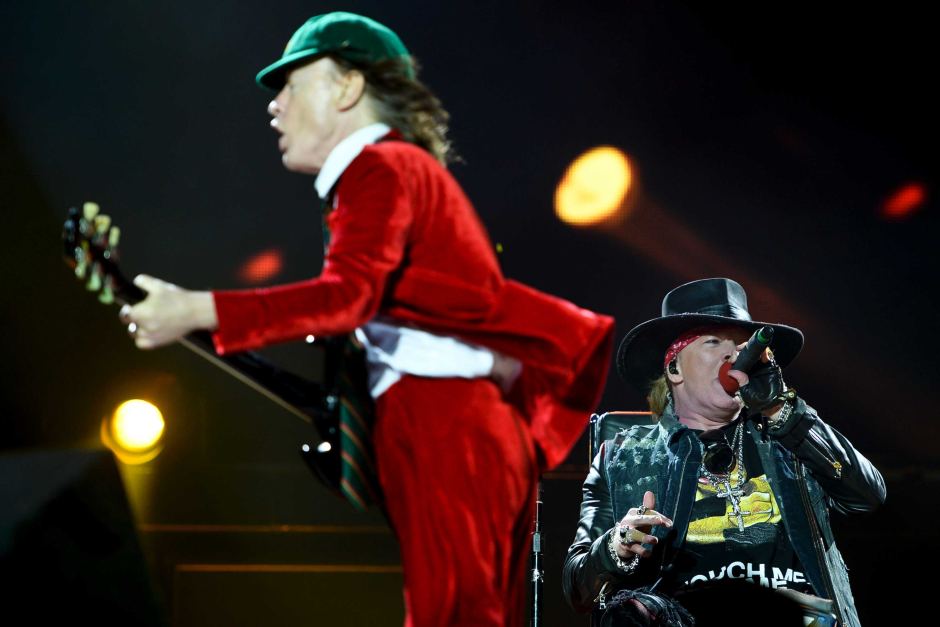 Axl Rose to extend AC/DC career with 10 US concerts
Hard rock greats AC/DC extended their new incarnation with singer Axl Rose on Wednesday, announcing 10 shows in the United States.
The Guns N' Roses frontman joined the Australian rockers on an ongoing European tour that started last month after Brian Johnson, the band's singer since 1980, was told by doctors he risked permanent hearing damage if he kept performing.
AC/DC rescheduled 10 US concerts that had initially been planned for earlier in the year before being abruptly halted due to Johnson's diagnosis.
The US shows will now end on September 20 in Philadelphia, which the veteran band said would be the last date of its marathon Rock or Bust tour that began at the Coachella festival in California in April 2015.
Rose, 54, who has largely been embraced by AC/DC fans, has left open whether he has become a permanent member of AC/DC or if he is just filling in.
But it is unclear when AC/DC would return after the tour. Johnson's condition was only the latest woe for the band whose guitarist Malcolm Young – brother of lead guitarist and band leader Angus Young – retired due to dementia.
Rose, acclaimed for his unique voice that can glide through a soaring range, will have little break in coming months as he will tour with Guns N' Roses in between the European and US stints with AC/DC.
In a long-anticipated and lucrative reunion, Guns N' Roses is playing across North America with Rose and guitarist Slash who until April had not played together in 23 years.
AC/DC, which is honouring previously purchased tickets, will resume its US leg on August 27 in Greensboro, North Carolina.
The concert was initially scheduled for March. Since then, prominent artists including Bruce Springsteen, Pearl Jam and Maroon 5 have called off shows in the southern state over a law that restricts the rights of transgender people.
Source: AFP