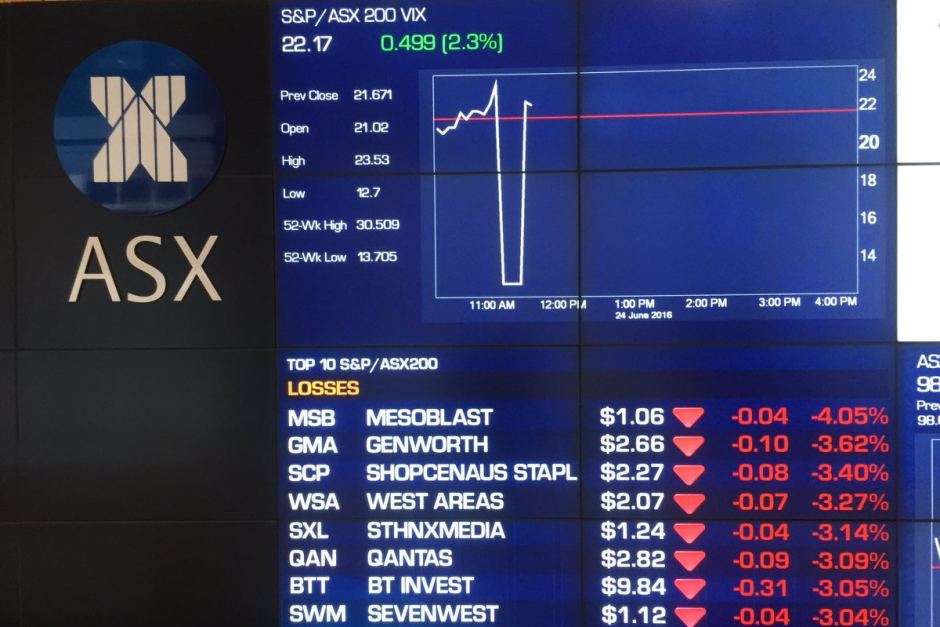 Australian dollar, share market tank as BBC forecasts Leave
The Australian dollar and share market are both tanking as the BBC forecast Britain will leave the European Union as results continue to pour in.
Votes for the UK to leave the European Union are currently sitting at 51.7 per cent, compared to 48.3 per cent to stay, according to the latest data from Bloomberg.
The ASX 200 dropped 2.7 per cent to around two-month lows of 5,138 while the All Ords dropped 2.6 per cent to 5,219.
The market earlier started to sell-off when the Leave campaign overtook Remain, indicating high volatility as investors face uncertainty.
Every sector on the local market was sold off, except for gold companies as investors eyed the safe haven metal.
All the Big Four banks sank over 2 per cent, while blue chip miners BHP Billiton and Rio Tinto slumped 4.6 per cent and 3.8 per cent respectively.
Gold miners Newcrest Mining and Regis Resources gained 3.7 per cent and 4.6 per cent respectively.
British pound slumps to lowest level since 1985
The British pound slumped over 8 per cent after a Leave result in the Sunderland electorate came in stronger than expected, and the leave campaign gained momentum.
The pound dropped below to $1.346, its lowest level since 1985, before recouping some losses.
The Australian dollar has followed, tracking the pound lower to fall 2.9 per cent to 73.8 US cents. Losses however were not as steep.
Traders experienced one of the busiest 30-minute periods between 9:00 and 9:30 pm British standard time.
"Currency market reaction to the Leave win in Sunderland demonstrates that markets are now vulnerable to selling, and liquidity could be thin," said Ric Spooner, chief market analyst at CMC Markets in a note to clients.
The pound was 8.4 per cent lower to $US1.363 by 1:10pm AEST.
Bloomberg price chart showing the pound's decline as votes are counted.
Source: ABC News