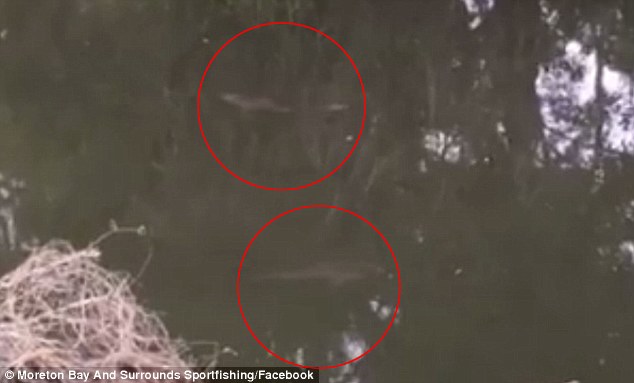 15 bull sharks swimming in the North Pine River near Youngs Crossing
'Packs and packs' of young bull sharks have been filmed lurking in a river popular with swimmers and fishermen.
Stephen Jolly filmed at least 15 bull sharks swimming in the North Pine River near Youngs Crossing in south-east Queensland on June 3.
Mr Jolly who runs Moreton Bay and Surrounds Sportfishing Facebook page uploaded the video after he was stunned at the number of sharks he was seeing at the popular recreational river.  
'There is literally packs and packs of three foot bull sharks hanging there at the moment,' Mr Jolly said.
'Four to six sharks travelling in each group, and a few loners swimming around.
'Never seen them this thick up there before.'
Bull Sharks are commonly found in warm, shallow waters along coasts and in rivers and can grow up to 3.4 metres. 
Freshwater estuaries are popular short-term habitats for the predators as they enter the regions to give birth and raise their offsprings before returning back to sea.
'We are still trying to get everyone aware on the shark situation in the upper reaches of the Pine River,' Mr Jolly said. 
'It's amazing how many people were unaware of the presence of sharks in the system.' 
Users on social media were also left stunned after watching the video as they continue to swim in the river unaware about of the presence of sharks.
'I hope no dogs go swimming in there as well as kids there should be signs put up,' Michelle said.
'Wow, that's something you don't see every day, especially in a creek,' said Paul.
The video has since been viewed more than 365,000 times, received more than 4800 comments and 3300 likes.