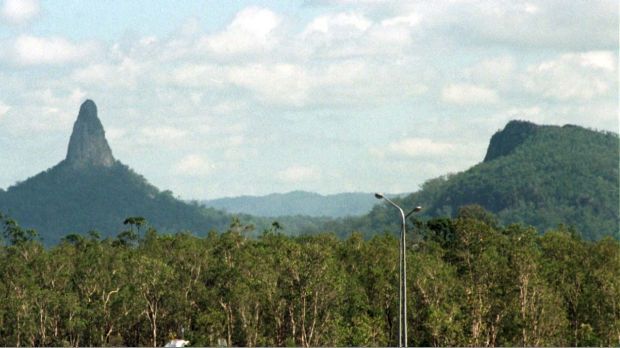 Two men are trapped on Mount Beerwah in the Glasshouse Mountains.
Breaking News at 4:17 pm both hikers have been safely winched off of Mount Beerwah and being taken away by ambulance for assessment.
Earlier: Two hikers are trapped on a Sunshine Coast mountain after one of them became injured on Saturday.
Emergency services received a call about 6pm on Saturday after the men were unable to make their way down Mount Beerwah, one of the most notoriously difficult mountains to climb in the Glasshouse Mountain range.
Incident controller, Inspector Chris White from Queensland Fire and Emergency Services, said crews had been trying to reach them men all night.
"We have had experienced SES climbers on the mountain all night under fairly ordinary conditions," he said.
"Primarily to provide them with some thermal blankets, water and sustenance, but we were unable to reach the men last night."
The men are trapped on a particularly difficult section of the mountain to reach and the rainy weather conditions have not made rescue attempts any easier.
The rescue helicopter is on scene but the weather conditions mean the crew are unable to see the men.
Inspector White said they were hoping for weather conditions to clear to get the chopper back in the air to winch the men to safety.
"If the weather doesn't clear we will have to look at sending other crews up to reach them today," he said.
"It might be the fact that we provide them with sustenance and thermal protection and they stay on the mountain for another night while we wait for the weather to clear."
The injured man is believed to have a laceration below his knee and is able to stand  but unable to walk.
Vertical rescue crews from Queensland Fire and Emergency Services are also on standby.
Emergency services are liaising with local climbing organisations to ascertain the best ways to reach the men.
Source: Moreton Crime Watch