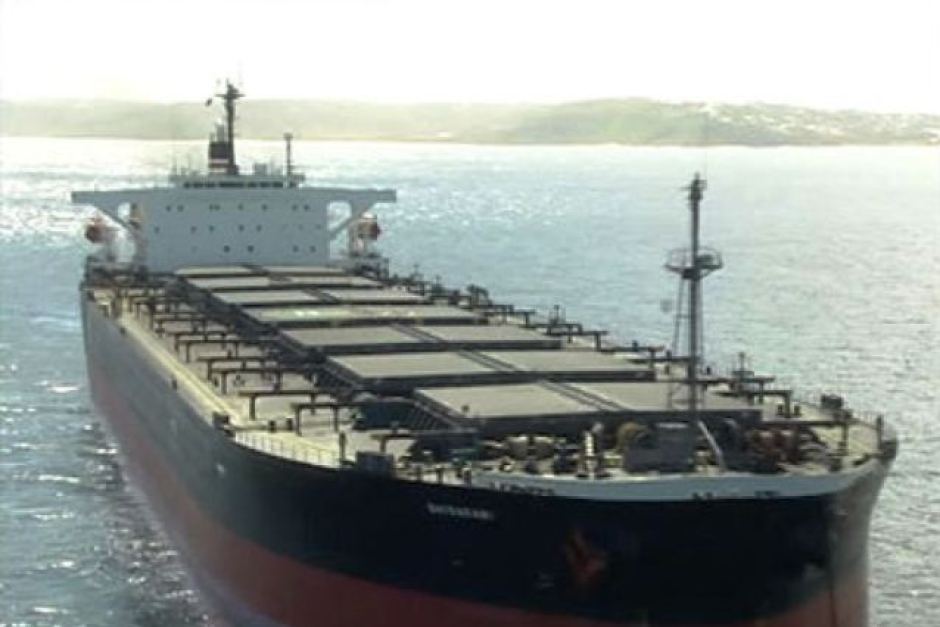 Trade deficit narrows, but Australian foreign debt hits fresh record
Australia's quarterly trade deficit narrowed marginally to $20.8 billion, the fifth worst result on record, while foreign debt kept growing above $1 trillion.
Key points:
Trade deficit shrinks 8pc on 3.8pc import slump
Record high export volumes to add 1.1ppt to GDP
Foreign debt hits $1.03 trillion
GDP forecasts lifted to average 2.8pc
In seasonally adjusted terms, the deficit shrank 8 per cent from the revised $22.6 billion figure for the December quarter, which was the largest deficit on record.
Data released by the Australian Bureau of Statistics also showed Australia's net foreign debt continued to mount, up another 1 per cent over the quarter to a record $1.03 trillion.
In volume terms - a key input into the quarterly economic growth figures - net exports rose 60 per cent to $4.7 billion, which the Australian Bureau of Statistics forecast would add a strong 1.1 per cent to the March quarter GDP figure to be released tomorrow.
The surge in export volumes – iron ore, coal and fuel up 5.8, 4.9 and 11 per cent respectively – pushed export volumes to a record high of $96.7 billion.
While volumes have increased on the back of the large infrastructure investments in the resources sector, prices have not kept pace.
Australia's terms of trade - the ratio of export prices to import prices, or the amount of imported goods an economy can buy relative to exports - fell by 1.9 per cent to its lowest point since the global financial crisis.
While that drove nominal exports down 0.7 per cent, the larger 3.8 per cent decline in imports narrowed the deficit.
Citi's Paul Brennan noted the narrower deficit is welcome, but could be temporary given the drop in imports was heavily influenced by a 24 per cent slump in fuel prices over the quarter.
"Global energy prices have since stabilised, a further improvement in the deficit in the medium and long term would therefore require another lift in export volumes," Mr Brennan said.
Economists scramble to lift GDP forecasts on data
The last piece of data – or partial - in the composition of economic growth, government spending was also stronger than expected, up 4 per cent, prompting many economists to upgrade their forecasts for GDP tomorrow, despite soft profit, business investment and construction figures.
Citi upped its GDP growth forecast to 0.8 per cent over the quarter delivering an annual rate of 2.8 per cent, while UBS has pencilled in a higher figure of 3 per cent over the year.
A stronger than expected GDP number will make it easier for the Reserve Bank to hit its economic growth forecasts of between 2.5 and 3.5 per cent by June this year, but the weak income growth evident in the figures will drive down inflation expectations, which is perhaps a bigger factor in interest rate decisions at the moment.
RBC's Su-Lin Ong said the reasonable set of data pointed to a stronger start to activity in the first quarter, although cautioned that part of the story remains in weak prices assisting volumes.
"A stronger net export contribution will boost headline first quarter GDP tomorrow and we revise up to 0.8 per cent from 0.6 per cent, but the soft nominal and income story will remain intact," Ms Ong said.
"As has been the case for some time now, headline GDP will likely be firm, but the key nominal and national income measures will depict a weaker story consistent with a continued decline in the terms of trade.
"The mixed bag of data may well see the RBA take a pass next week and await further developments, but we note that the price components of today's data are likely to reinforce their concerns and easing bias."
A weak nominal GDP figure would also not assist the Federal Government's fiscal position, with the latest budget forecasting 2.5 per cent growth this financial year and a return to 4.25 per cent growth next.
Source: ABC News