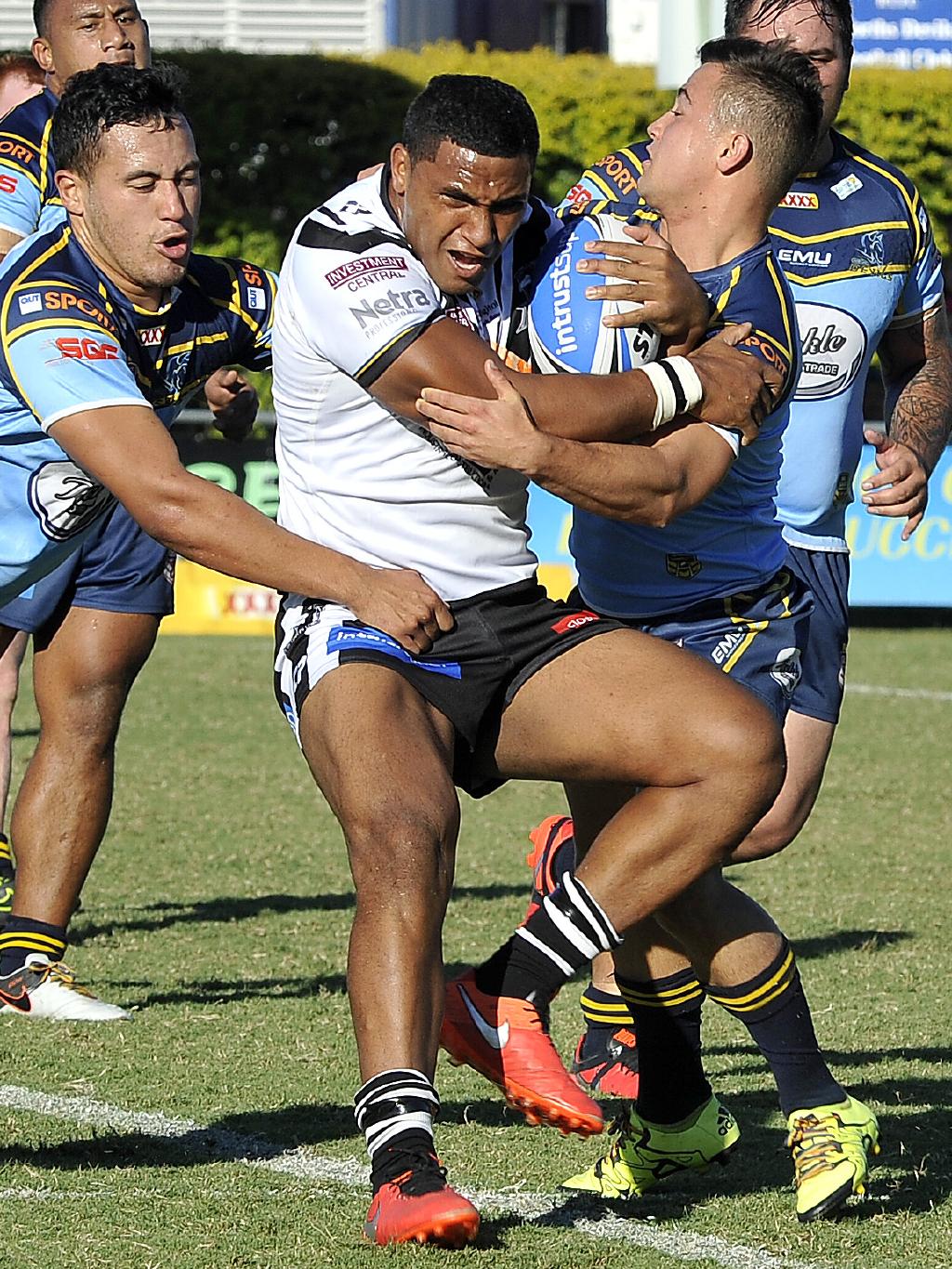 Three consecutive wins proves Wynnum Manly back in business while Souths Logan impress in Intrust Super Cup
A statement win from a returning powerhouse, Redcliffe's inconsistency and an impressive victory from Souths Logan headlined Round 10 of the Intrust Super Cup.
The Wynnum Manly Seagulls have shown the rest of the competition they are back in business after recording their third consecutive win against the Mackay Cutters on Sunday.
Redcliffe coach Adam Mogg is set to hold players accountable after errors cost his team a victory against the Northern Pride at the weekend while Leon Panapa led the Souths Logan Magpies to a confidence boosting win over Norths.
The Sunshine Coast Falcons lost to Tweed Heads and the Ipswich Jets continue their fall from the top of the mountain after falling to the Burleigh Bears.
Read all about your team's game below in our Intrust Super Cup wrap.
NORTHERN PRIDE def REDCLIFFE DOLPHINS 20-16 at BARLOW PARK
REDCLIFFE'S fumbles continued in Cairns as Northern Pride held on for a 20-16 victory on Sunday.
Dolphins coach Adam Mogg has lamented his side's handling all season and he said certain players had to be held accountable for another poor completion rate.
The majority of errors came when Redcliffe had opportunities inside the opposition 20, which was highlighted when Pride winger Khan Ahwang pounced on a drop ball to run the length of the field and score just before halftime.
"Some people have just got to hold the footy," Mogg said.
"Footy's not about putting on a big play and scoring tries all the time and sometimes you're going to have to catch the ball under pressure.
"We created enough opportunities to win three or four games."
The Dolphins suffered an early blow when lock Chris Gesch went down in the first five minutes and it is expected he will miss the club's first game at Dolphin Oval this season next weekend.
TWEED HEADS SEAGULLS def SUNSHINE COAST FALCONS 22-16 at PIGGABEEN SPORTS COMPLEX
MELBOURNE Storm coach Craig Bellamy was an onlooker at Piggabeen Sports Complex yesterday but walked away shaking his head after Sunshine Coast Falcons' 22-16 loss to Tweed Heads Seagulls.
The Falcons struggled to hold the ball in the first half and were down 22-4 after 56 minutes before finally kicking into gear.
Rowan Klein scored the first of his two tries 10 minutes later but they left their run too late.
Falcons coach Craig Ingebrigtsen said his side struggled after a high shot on halfback Ryley Jacks that went unpunished and turned the momentum in favour of Tweed Heads.
"I was pretty disappointed with a certain incident I'll be taking up with the QRL today. But it won't get us our two points back," he said.
"In saying that I was pretty proud of the fightback and we scored the same amount of tries but we just couldn't kick a goal.
"Our last 15 minutes were really good actually. I really think we played with some intensity and some passion.
"I can't fault our enthusiasm and our effort. It has always been there at the Falcons that never-say-die attitude."
WYNNUM MANLY SEAGULLS def MACKAY CUTTERS 62-16 at BMD KOUGARI OVAL
A DOMINANT performance against the Mackay Cutters has helped the Wynnum Manly Seagulls issue a statement to the rest of the Intrust Super Cup.
After six straight losses to start the season, the Seagulls recorded their third consecutive victory after a 62-16 win over the Cutters at BMD Kougari Oval on Sunday.
Mackay could not have started the match any better with Delayne Ashby scoring in the first inute but Wynnum Manly responded with five tries of their own in the first 40 minutes. Despite Andrew Davey finding the line just before the break, Jon Buchanan's side took a 26-10 lead into halftime.
From there it was all the Seagulls, who scored six second-half tries to Mackay's one.
Prop Magnus Stromquist, centre Mitch Cronin and winger Daniel Ogden all scored doubles as the Seagulls' attack ripped through Mackay's defence. Mitchell Buckett, Peter Gubb, Nicolas Harrold and Greg Eden also scored tries for the home side.
Wynnum Manly now sit just two games outside of the competition's top-six and take on the Tweed Heads Seagulls at Piggabeen Sports Complex at 2pm on Sunday.
BURLEIGH BEARS def IPSWICH JETS 30-18 at BISHOP PARK
IPSWICH'S Queensland Cup premiership defence is on life support after high-flying Burleigh continued its red-hot form at North Ipswich Reserve on Saturday.
The Jets fell 30-18 for their seventh loss in 10 games this season, leaving them six points adrift of the top-six in second-last place.
Burleigh burst out of the blocks with two tries in the opening quarter, before Ipswich hit back in the 25th minute through a converted Josh Robinson try.
Two penalty goals gave the Bears a 16-6 halftime lead, with their advantage extended to 22-6 when Nathaniel Peteru crashed over shortly after the break.
A Carlin Anderson touchdown gave the hosts hope at 22-12 entering the final half-hour, but Burleigh put the result to bed with another converted try in the 61st minute.
The Jets then scored a late consolation try through Josh Robinson.
Their round 11 assignment is no easier, with fourth-placed Easts to make the trip to Ipswich at 4pm on Saturday.
SOUTHS LOGAN MAGPIES def NORTHS DEVILS 42-20 at NORTH IPSWICH RESERVE
TWO tries in the opening five minutes helped the Souths Logan Magpies to a 42-20 win over Norths Devils on Sunday afternoon.
Sitting two games out of the top-six and having played one more game than many of the other finals contenders, a win was non-negotiable for Josh Hannay's side.
Their quest was bolstered when Leon Panapa scored just three minutes into the game before Dan Tamou added a second try just two minutes later.
Norths hit back 10 minutes later when Matiu Love-Henry crossed to reduce the deficit to six points but AJ Tuimavave restored the 12-point lead in the 25th minute. A double to Joe Boyce either side of a Sam Scarlett try helped the Magpies kick away to a dominant 36-6 scoreline at the break.
William Britton converted his own four-pointer just two minutes into the second half to give Norths a glimmer of hope but the halftime margin proved too big to overcome despite Love-Henry's second try of the afternoon and another one to Jarryd Dodd. Leon Panapa then sealed victory for the visitors with a try in the 76th minute.
The win leaves the Magpies just four points shy of sixth-placed Northern Pride in 11th. However, Souths Logan have played 10 games, compared to the CQ Capras (8th), Tweed Heads Seagulls (9th), Norths (10th) and Wynnum-Manly Seagulls (12th) who have all played nine
Source: Quest News