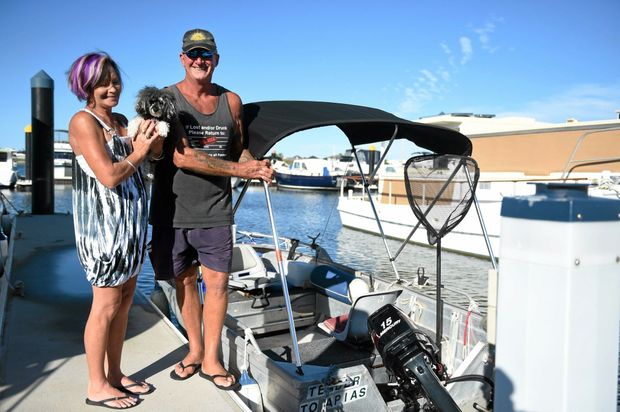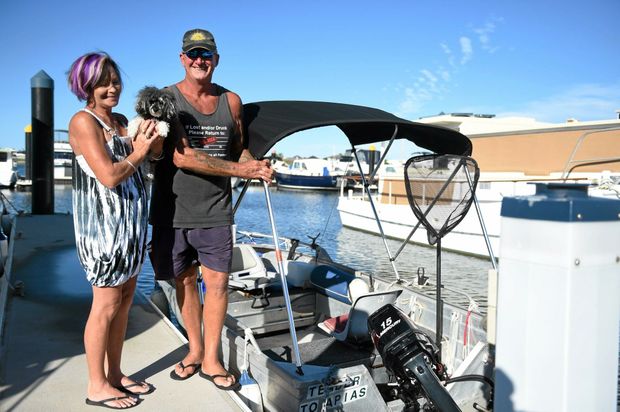 Thief thwarted by Bribie boatie, apprehended in dramatic citizen's arrest
A would-be thief has been caught red-handed while trying to steal a tinnie at the Pacific Harbour Marina, sparking a dramatic citizen's arrest.
The unlucky robber picked the wrong man to tangle with – boat owner Roy Paulus is combat trained thanks to a career in both the Australian Army and navy.
He also lives across the pontoon from his tinnie, on his other boat.
The attempted robbery allegedly occurred just before 4.30am on Saturday May 7.
Mr Paulus and his wife were preparing for their day when their dog alerted them to the suspicious behaviour.
"The dog started growling," Mr Paulus said.
"I thought something wasn't right because she knows everybody."
"As I was walking out the motor started of our tinnie that we tow behind our boat.
"I ran down the stairs and the pontoon and it was just about ready to go."
Roy allegedly grabbed a rope still attached to the boat and reeled it back in before the would-be-thief could escape.
"I got him over the pontoon and the next minute he was swinging this big knife at me," Mr Paulus said.
"I rocked the tinnie and he fell over.
"By this time the wife had got the neighbour.
"My neighbour held him down and zip tied him and in the meantime my wife had called the police."
Mr Paulus said the tinnie was worth approximately $10,000 due to the expensive equipment and modifications he had made to the vessel.
He believes this might be why his boat may have been targeted.
A spokesperson for Pacific Harbour Marina said they are currently investigating the incident.
"We'll be reviewing our procedures and protocols and making any changes if we deem necessary," the spokesperson said.
Bribie Senior Sergeant David Crawford-Raby said police had charged the 18-year-old Morayfield man in relation to the incident.
"Police allege the owner of the vessel confronted the offender and detained him while waiting for arrival of police," he said.
"He was charged with unlawful use of vessel, trespass, and possession of a knife in a public place."
The Morayfield man will front Caboolture Magistrates Court on June 14.
Source: Caboolture News