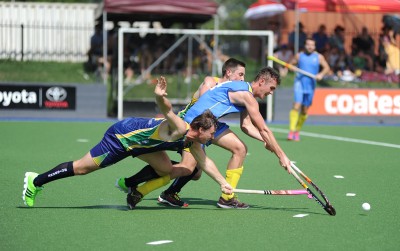 Saints pair marches to state hockey title
Pine Rivers St Andrews Hockey Club duo Paul Comerford and Zac Day helped Brisbane claim the Queensland State Open Championship in Cairns earlier this month.
Brisbane beat Cairns, featuring Pine Rivers St Andrews player Mark Wilcox, in a penalty shootout in the championship final after scores were tied 2-2 at fulltime.
Albany Creek resident Matt Argent and his cousin Adam McClelland, from Brendale, were also members of the victorious Brisbane team.
The Brendale-based Pine Rivers St Andrews club had a sizeable representation of players compete in Cairns.
As well as Comerford, Day and Wilcox, Ryan Gibbs represented Mackay and Craig Smith, Nathan Case, Brent Garske, Max Harding and Corey Guse turned out for Toowoomba.
Case helped the Australian Country team win the Hawkes Bay Festival of Hockey Affiliates Tournament in New Zealand in March, beating Hawkes Bay 7-1 in the final of the seven-team competition.
Meanwhile, Smith recently played his 150th Division 1 game in the Brisbane Hockey League.
The former Queensland Blades representative played 15 first-grade games for Valley Hockey Club before shifting to Pine Rivers St Andrews in 2008.
Source: The Westerner