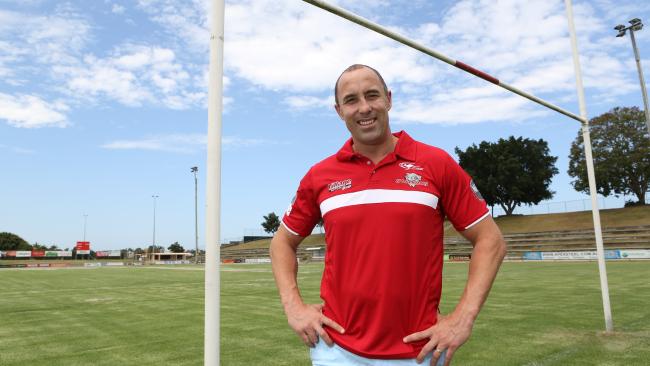 Redcliffe Dolphins to play first home game for 2016 with new stadium grandstand almost finished
The relaid strips of Dolphin Oval turf are ready to go but fans will have to wait a few more games for the final bells and whistles to complete Stage 1 of the Dolphin Stadium project.
The new western stand is close to completion but for a delay in the delivery of seats, expected in mid-June. It should be ready for fans in time for the Round 16 Intrust Super Cup clash with Mackay Cutters on June 26.
The board will meet next week to discuss a name for the stand.
Despite the wait on one side of the field, supporters will still be able to see the progress for themselves and importantly watch the Dolphins in action at home for the first time in 2016 from the eastern terraces.
The side comes into the match with Norths Devils on the back of a 20-16 loss to Northern Pride in Cairns.
Coach Adam Mogg said returning to familiar turf would not ­impact the game plan but ­admitted his players owed it to the club's supporters to get into a winning habit at home.
"I think it's just a reward for our long-term supporters to be honest," he said.
"They've followed their club for a long time and I think as a playing group we need to be mindful and ­respectful of that when we do play at home and we just haven't had that opportunity yet."
Every week at training the Redcliffe squad has watched the western stand rise bit by bit.
But many of them, including captain Sam Anderson, have not yet had the honour of playing an Intrust Super Cup game at Dolphin Oval.
Anderson said there would be no excuse for not performing at home and hoped the more regular ­routine would help the side find consistency.
 "We've had a solid start to the year but hopefully now we're back at home we can play more consistent footy," Anderson said. "It is exciting times for the team and myself especially not having played at Dolphin Oval yet.
"Compared to other Q-Cup clubs there is no ­comparison. We're going to have the best facilities in the competition."
But Anderson said constant away trips had come with the benefit of galvanising the squad.
"We're a fairly new bunch, myself included, but we've obviously been able to travel together and when you do so many away trips you spend a lot of time together, so we're a pretty tight group," he said.
The main game starts at 2pm. Redcliffe play Gaters in BRL at 12.15pm.
Colts start the day at 10.30am.
KAV CUP
The clash between Redcliffe and Norths this Sunday will mark the first round of the Kav Cup, played in honour of Steve Kavanagh, who died in 2012.
"Kav" played and coached at both clubs and was a mentor to several young players. The trophy is awarded to the team with the most points after the two games.
Source: Quest News