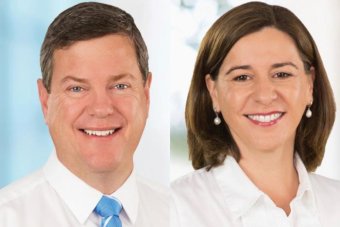 Queensland LNP Spill 2016 - The Result Tim Nichols is the New leader
As it happened : Tim Nichols is the New LNP Leader vote  beating lawrence Springborg 22 votes to 19 in a second round ballot as announced by the party whip just short of 12 noon today.
The secret ballot went through 2 rounds: Tim Mander was knocked out in 1st, Lawrence Springborg lost in 2nd.
Queensland LNP state parliamentarians arrived at party room headquarters in Parliament this morning on time, to decide the future of the party in state politics in to the future.
On the Line is that of party leader formerly held by Lawrence Springborg.
On commencement of the meeting rather loud laughter was heard from behind closed doors of LNP leadership meeting.
Then discussions began in earest with pitches by the contenders on why they are best placed to lead the party forward
After 40 minutes of speeches clapping, laughter and whistles at 11:40 am the secret ballot session began.
Member for Nanango Deb Frecklington unopposed as the New Deputy LNP leader.
In Summary :
At a press conference after the spill at Parliament House in Brisbane the new LNP leadership in Tim Nichols and Deb Frecklington jointly paid tribute to their predecessors and stated  "This is about taking the fight up to a frozen at the wheel, incompetent Labor government".
Tim Nichols also illustrated the immediate plans of the LNP "Over coming days 'putting together the team' to take fight up to Labor"
Crossbenches have concerns about combat style nature of last Govt - found it difficult to work with Nicholls in the past however Tim Nichols says "we will work with the cross bench in our work in parliament".
Tim Nicholls has emerged from the Liberal National Party spill as the new Queensland Opposition Leader.
Mr Nicholls defeated Lawrence Springborg 22-19 in the second round of votes, LNP whip Ian Rickuss said outside the partyroom meeting, which was called by outgoing opposition leader Mr Springborg to end months of speculation.
Tim Mander was eliminated in the first round with 10 votes.
Mr Rickuss said the majority was big enough to put leadership rumblings to bed.
"It shows the quality of the candidates running, we had three exceptional candidates, and they will really be able to hold the ALP to account now," he said.
"It is always difficult in these situations, you are voting against friends, or for friends."
Nanango MP Deb Frecklington was elected unopposed as deputy leader, with John-Paul Langbroek stepping down.
Sources: Twitter, ABC News & Courier-Mail