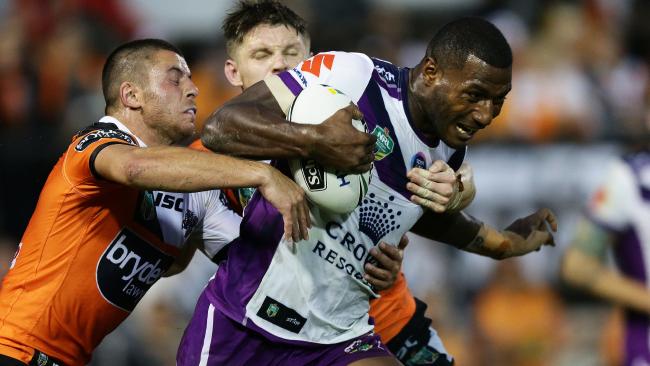 NRL fireworks: Best tries of round nine
Round nine of the 2016 season continued in the same vein of the rest of the season thus far, with some big wins mixed with nail-biting finishes.
The big winners were the Roosters and Storm, who both ran up 38-0 victories over the Knights and Titans respectively.
The Panthers edged the Raiders 19-18 in a cracking finish, while the Cowboys flexed some premiership muscle to beat Manly 34-18 on the road.
Cronulla upset league leader Brisbane 30-28, while the Tigers continued to pile the misery on Souths, notching a 22-30 win.
Enjoy some of the best try-scoring action from the weekend.
http://www.abc.net.au/news/2016-05-02/nrl-fireworks:-the-best-tries-of-round-nine/7375252
2016 NRL Premiership Season
| POS | CLUB | P | W | D | L | B | PF | PA | +/- | PTS |   |
| --- | --- | --- | --- | --- | --- | --- | --- | --- | --- | --- | --- |
| 1 | North Queensland Cowboys | 9 | 7 | 0 | 2 | 0 | 265 | 125 | 140 | 14 |   |
| 2 | Brisbane Broncos | 9 | 7 | 0 | 2 | 0 | 246 | 111 | 135 | 14 |   |
| 3 | Melbourne Storm | 9 | 7 | 0 | 2 | 0 | 208 | 110 | 98 | 14 |   |
| 4 | Cronulla-Sutherland Sharks | 9 | 7 | 0 | 2 | 0 | 219 | 158 | 61 | 14 |   |
| 5 | Parramatta Eels | 9 | 6 | 0 | 3 | 0 | 164 | 119 | 45 | 12 |   |
| 6 | Canterbury-Bankstown Bulldogs | 9 | 5 | 0 | 4 | 0 | 173 | 152 | 21 | 10 |   |
| 7 | Canberra Raiders | 9 | 4 | 1 | 4 | 0 | 217 | 199 | 18 | 9 |   |
| 8 | Penrith Panthers | 9 | 4 | 0 | 5 | 0 | 168 | 179 | -11 | 8 |   |
| 9 | Manly-Warringah Sea Eagles | 9 | 4 | 0 | 5 | 0 | 172 | 196 | -24 | 8 |   |
| 10 | New Zealand Warriors | 9 | 4 | 0 | 5 | 0 | 190 | 232 | -42 | 8 |   |
| 11 | St George-Illawarra Dragons | 9 | 4 | 0 | 5 | 0 | 89 | 186 | -97 | 8 |   |
| 12 | South Sydney Rabbitohs | 9 | 3 | 0 | 6 | 0 | 182 | 199 | -17 | 6 |   |
| 13 | Gold Coast Titans | 9 | 3 | 0 | 6 | 0 | 170 | 211 | -41 | 6 |   |
| 14 | Wests Tigers | 9 | 3 | 0 | 6 | 0 | 184 | 239 | -55 | 6 |   |
| 15 | Sydney Roosters | 9 | 2 | 0 | 7 | 0 | 167 | 207 | -40 | 4 |   |
| 16 | Newcastle Knights | 9 | 1 | 1 | 7 | 0 | 102 | 293 | -191 | 3 |   |
Source: ABC News