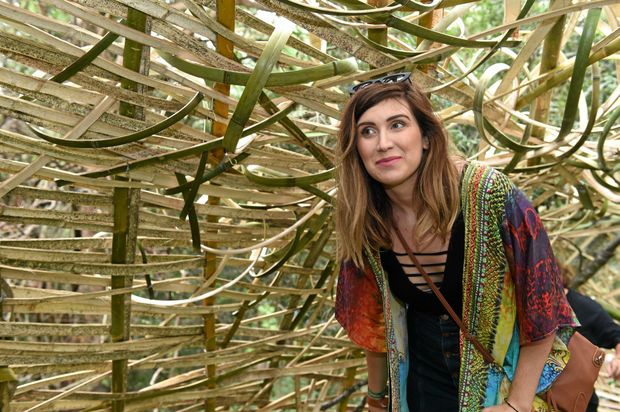 Healthy growth for Woodford Planting Festival
it was a green thumb's paradise at Woodfordia on the weekend and there was plenty on offer for foodies, families and music lovers too.
The Planting festival has had a humble beginning as an annual tree planting event but it has now become Woodford's second most anticipated event of the year.
Festival director Bill Hauritz said The Planting has differentiated itself from the Woodford Folk Festival to bring a greater number of people to Woodford.
"These are two very different events," he said.
"We recognised a desire for people to spend more time learning skills, participating and sharing knowledge. It's a natural evolution from many years of patrons enjoying participating in our Tree Planting events."
85 workshops filled the festival grounds with thousands of patrons learning how to perfect their textile making, identify bush foods and construct bee-hives.
This year, a new second kitchen venue offered cooking workshops for the whole family featuring celebrated chefs Clayton Donovan, Matt Golinski and Matthew Elliott.
How to Grow Organic food in Your Own Backyard was a popular workshop at the festival.
Roman Spur's animated personality and passion for permaculture was the driving force behind his Spurtopia workshop.
He preached the benefits of growing organic fruit and vegetables and gave many useful tips, including how to make self-watering planter boxes.
"Gardening is such a great hobby and for me, it's not only a hobby it's a great physical exercise but also it's a great mental exercise because you have to plan ahead what to plant so you can promote production," he said.
He claims the ordinary backyard can provide 50-75% of a family's fruit and vegetable needs.
"We've got so disconnected from nature, it's just unbelievable," he said.
Formerly from the Czech Republic, Mr Spur and his family were initially in disbelief with the fertility and beauty of Australia, but also the wastefulness.
"The money based on the food waste, it's about five billion dollars – that's more than the annual budget," he said.
Fiona O'Brien hoped to get as much out of the former farm she is now living on in Cleveland.
"I'm looking at putting in a vege patch and everything so I'd just like some good ideas of where to start," she said.
Planting patrons were also the lucky first to see the unveiling of the latest bamboo grand sculpture by Taiwanese master artist Wang Wen-Chih.
Mr Wen-Chih worked with his Taiwanese and Australian team in the lead up to the weekend to construct a bamboo tree house using trees within the festival grounds.
Source: Caboolture News