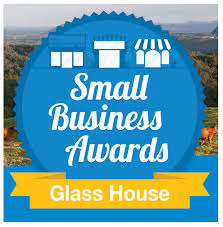 Glass House Small Business Awards Monday May 16 The nominees released
The Gala Night being hosted by Andrew Powell MP for the Glass House Small Business Awards (aka The Glassy's) on Monday 16 May, kick starting off the gala night at 6 pm at the Maleny Mountain Wines, Landsborough-Maleny Road.
Each five regions within Glass House will have a business and an employee that is presented with a Bronze and a Silver Glassy.  The Bronze has been chosen by members of the Glass House Chamber organisations and the Silver Glassy will be given based on an online voting tally.
A Gold Glassy will be presented to one overall employee and one overall business from the nominations.
A guideline to the time table for this event is as follows:
5.30pm – Guests start to arrive
6.10pm – MC to microphone (Andrew Powell)
                Discuss Awards, thank you' s and invite CCIQ to speak
6.20pm – CCIQ to address
6.45pm – MC to stage to advise Awards presentation to commence, photos at the end
Awards announcement in following order –
Bronze - Palmwoods
                Montville
                Maleny
                Glasshouse Mountains
                D'Aguilar
Silver – As above
Gold –   Business of the Year
                Employee of the Year
7.15pm –MC to close Awards – thank sponsors, VIP's, all guests
The Nominees are:
Name of Business Nominating
Beerwah:
The Beerwah Hideway, Beerwah Hair and Beauty, Neddy's Nosebag, V8 Supercuts
Glasshouse:
Victory Tearooms and Antiques, Crookneck Retreat, Glasshouse Country Meats, Total Microsystems, Pasta D'Vine, Matilda Fruit Barn, Landsborough IGA, KLM Services, Hive Haven, Kev's Joinery.
Maleny:
Easton Lawyers, Rosetta Books, Maleny Credit Union, Concept IT, Mary Cairncross Café, TLC Veterinary Rehabilition, Maleny Optical, Maleny Cheese, Woodsfarm Dairy, Maleny Town and Country, The Garden Maleny
Montville:
Montville IGA/Post Office, Montville Gourmet Pizzeria, Elements of Montville, Montville Café Bar and Grill, Chic & Sassy Boutique Montville, Glasshouse Bistro, Montville Framing, The Clock Shop, Rare Emporium, The Opalcutter, Spicers Clovelly, Waffle On, The Dressing Room, Latitude Gallery.
Palmwoods:
Extreme Mowing, Nprint, Homegrown Café, Café De Orient, 5,6,7,8 Performing Arts.
Wamuran:
Wamuran Seafoods, The Mobile Daily Grind,
Woodford:
Smartline Personal Finance, Adventure Alternatives.
Caboolture:
Skin Focus & Caboolture Natural Therapies, Ray White Wamuran.
Elimbah:
Elimbah General Store
Employee Of the Year Nominees: 
Kylie Heading  Beerwah Hair and Beauty
Jodie Pember  Glasshouse IGA (Luke's)
Michelle  Glasshouse Country Meats
Joel Toepher  Matilda Fruit Barn
Sue Wright  KLM Services
Janis Martin  Maleny Jewellers
Joanne Howard  MAD - Maleny Art Direct
Liam Kimball  Maleny Credit Union
Maja Edwards  Maleny Optical
Jennepher Bucher  Maleny Cheese
Sharon Schofield  Easton Lawyers
Ket I B  Rosetta Books
Karen Muir  Hinterland Times
Dale Jacobsen  Hinterland Times
Callum Moore  Watsons Garage
Jenny Tatton  Montville Real Estate
Daniel Green  Montville Gourmet Pizzeria
Justin Hamblin  Montville Gourmet Pizzeria
Kristy Smith  Fudgyboombahs
Rebecca Gardner  Clock Shop
Jessica Mitchell  Elements at Montville
Wendy Dangerfield  The Compass Institute
Sophie O'Sullivan  5,6,7,8 Performing Arts
Janet Ellis-Smith  Woodford Medical Centre
Terry Ward  Ray White Wamuran