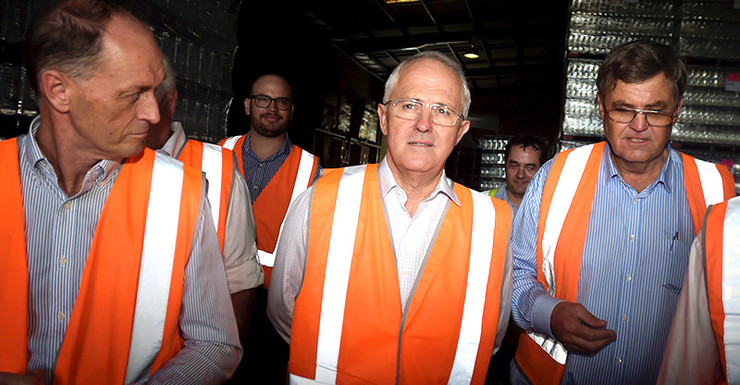 Federal Election 2016 : Turnbull's ill-prepared leap into the unknown
He had a plan to take the prime ministership but not to govern, say critics. Many are now questioning whether he has a plan to win the election.
One of Labor's oldest campaign heads is reluctant to get too excited by the first opinion polls of the official campaign.
"We just don't know what's going to happen because anything can in an eight-week campaign," he says.
That's a view shared by Tony Abbott's former controversial chief of staff Peta Credlin.
The newly-minted News Corp and Sky News political commentator nominated the length of the campaign as the biggest threat to Malcolm Turnbull. Of course, it equally applies to Bill Shorten. But because Mr Turnbull is the incumbent who promised his side electoral salvation, he has everything to lose.
What we do know is the budget last week did not give the government campaign the lift-off it was expecting.
The "plan" has left voters cold if you can believe both Newspoll and Fairfax-Ipsos. More people thought they would be worse off and women were particularly unimpressed. Not surprising when Treasurer Scott Morrison left many of Joe Hockey's cuts to family payments, Medicare and paid parental leave in place.
When he was tackled about these results, the Prime Minister confidently asserted that "The Plan" would make everybody better off.
But simply repeating the word 'plan' and claiming that $48 billion worth of company tax cuts will provide jobs and growth sometime in the next 20 years – that's Treasury's estimate — is a hard sell.
The best test of that was the lack of a bounce from the budget in the government's support. The Newspoll for the second fortnight running had Labor in a tight, election-winning position. The Fairfax-Ipsos poll gave the edge to the Coalition – though when it asked respondents where their second preferences would go, the numbers came back to 50-50.
Who would have thought eight months ago when Mr Turnbull relieved the nation of the desperately unpopular Tony Abbott it would come down to this arm wrestle?
Nobody at Liberal campaign headquarters is panicking. Morale is good and great comfort is being taken from history being on their side. It has been 85 years since a first-term government was defeated. Although it's only been six years since one lost its majority.
At Labor's CHQ the mood is upbeat. Staffers and volunteers are buoyed by the polls and see them as a very positive response to the policies Mr Shorten has released and his framing of the budget as looking after the big end of town at the expense of practically everybody else.
The wisdom is governments lose elections rather than oppositions win them.
And on that a long-serving Liberal MP in Brisbane found no anger or mood for change in local markets on the weekend.
But as the high visibility of Ms Credlin reminds us, one first-term government, the Abbott administration, has already fallen.
In her weekend opinion piece she went to another Turnbull vulnerability:
Turnbull's minders will be desperate no one asks him why he had a plan to become prime minister but no plans to run the country. They will coach him on the price of petrol and the cost of a litre of milk and try to create images of him looking comfortable with ordinary people.
Mr Shorten zeroed in on just that when he said he was the one with one hundred positive policies that voters would opt for over "three more years of dysfunction, of dithering and of disappointment".
The polls this year have tracked voters losing faith in the exciting Malcolm Turnbull. The Prime Minister himself says he has eight weeks to restore it or at the very least create even greater doubts in people's minds about his surprisingly resurgent opponent.
Source: TND