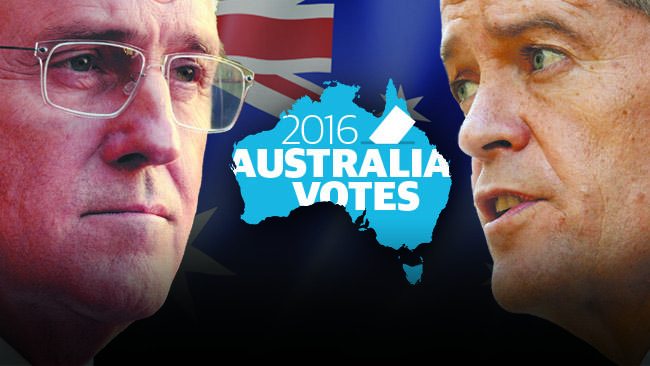 Federal Election 2016 : Start of Week 2 of the 8 Week campaign
What are the leaders up to today?
Prime Minister Malcolm Turnbull is in Perth where he's expected to focus on the state's growing ship-building industry
Opposition Leader Bill Shorten is in Geelong, visiting a manufacturing company. He'll be discussing Labor's plans to spend $60 million to further support sacked workers from the car manufacturing industry
Greens leader Richard Di Natale is in Melbourne where he'll speak to reporters outside St Kilda's iconic Palais Theatre
Australia's tax loss could be the US Treasury's $11 billion gain
Research has shown the Turnbull Government's planned company tax cuts would deliver a multi-billion-dollar tax windfall to the US Treasury.
The US company tax rate is 35 per cent, while Australia's is 30 per cent. Under a tax treaty, American companies paying tax in Australia have to make up the difference at home.
Research by the Australia Institute found the planned company tax cut outlined in this month's budget would transfer more than $11 billion in revenue from Australian to US coffers.
Labor is under pressure from the unions to protect penalty rates
Victorian Senator Kim Carr has told AM Labor wants to be able to "secure penalty rates for Australians", but that the party still wants to know what an independent tribunal decides.
"We know how important penalty rates are for ordinary families to be able to secure decent living standards," he said.
Last month, Mr Shorten told Melbourne's 3AW radio station he would accept the recommendation of the Fair Work Commission.
Who do you trust?
Vote Compass data suggests Mr Turnbull is seen as the most trustworthy and competent leader.
The 149,000 respondents were asked to score Coalition, Labor and the Greens leaders out of 10 — with Mr Turnbull scoring an average of 5 across the two questions.
Mr Di Natale earned 4.5 and Mr Shorten 4.
All three leaders scored higher than their counterparts from the 2013 federal election: Tony Abbott, Kevin Rudd and Christine Milne.
There was a much larger gap between Mr Turnbull and Mr Shorten than there was between the major party leaders in 2013, when Mr Abbott and Mr Rudd's ratings were split by just 0.1.
Respondents also overwhelmingly backed the Liberal Party's decision to change leaders, with 81 per cent saying it was the right call.
Meanwhile, Aboriginal leader Noel Pearson has given his opinion on the leaders:
Annabel Crabb is releasing a new book, titled Stop at Nothing
It's about Malcolm Turnbull and his rise to become PM.
An edited extract offers this interesting anecdote about Australia's high commissioner in London, Alexander Downer, phoning Mr Turnbull in late 2015.
He asked him how he was enjoying the job:
"It's absolutely brilliant! Best job ever. Fantastic! I'm absolutely loving it," Turnbull enthused.

Downer had a specific interest in Turnbull's response.

In Adelaide for Christmas in 2013, just three months after Tony Abbott had been sworn in as Australia's 28th prime minister, he had asked him the same question.

The answer was very different.

"Oh," groaned Abbott, pulling a face. "It's such a hard job! It really is just so unbelievably difficult. Every morning I wake up and I can't believe it, how much of a responsibility it is."
ICYMI: Tony Abbott launched his re-election campaign in the Sydney seat of Warringah
There was little sign of acrimony between Mr Abbott and the man who replaced him as prime minister, with Mr Turnbull receiving six mentions in total.
"We scrapped the carbon tax, we scrapped the mining tax, they said you'd never be able to do it, but we did," Mr Abbott said.
"This is my legacy, this is Malcolm Turnbull's legacy, this is our legacy."
Tony Abbott giving his pitch to the people of Warringah.
(ABC News: David Spicer)
Source: ABC News