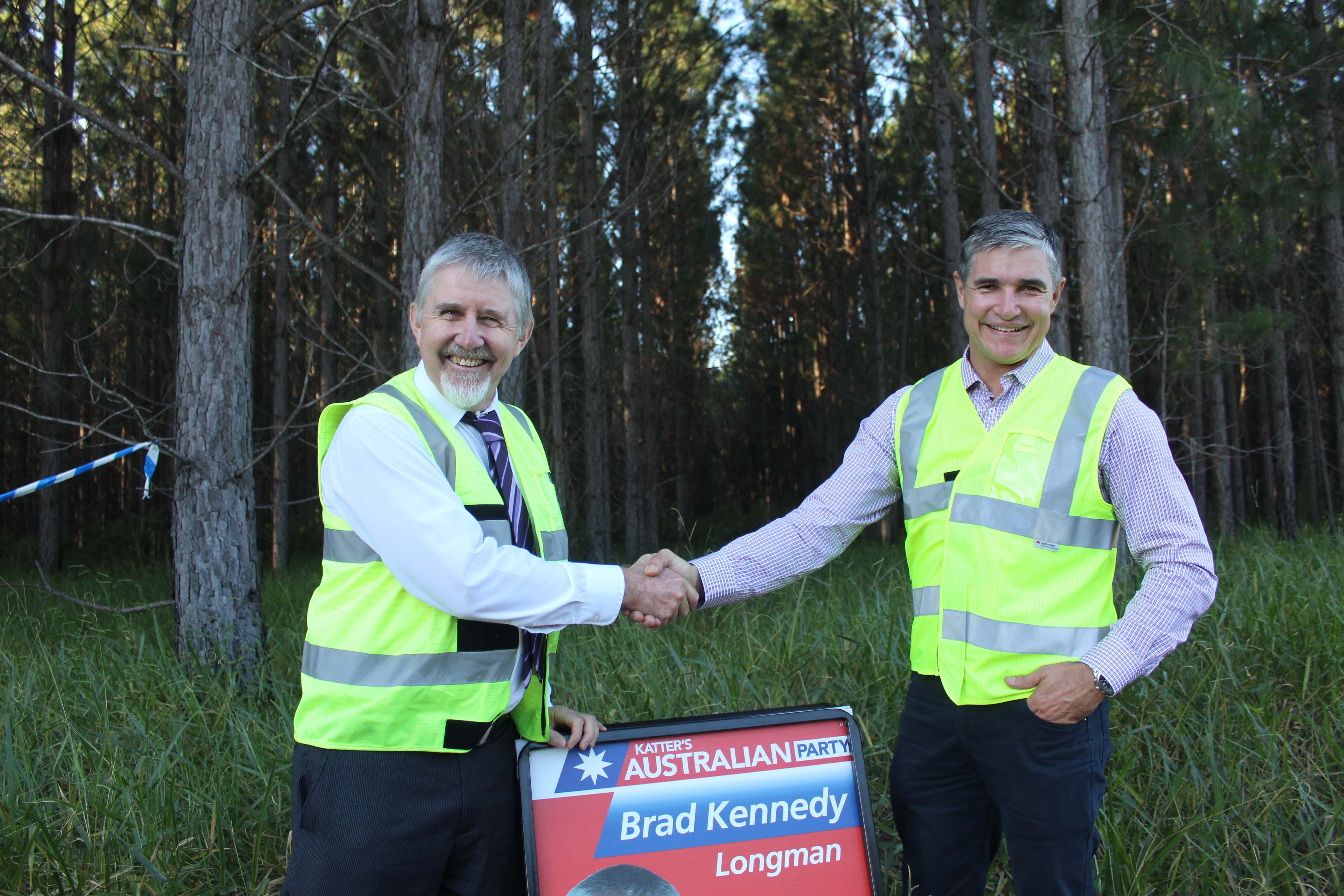 Federal Election 2016: Rob Katter drops in on Caboolture as part of the Campaign with Big vision to challenge the big two partys
The State Leader of The KAP Member for Mt Isa Rob Katter as part of his Queensland tour.
The cornerstone of his visit was to introduce his nominated candidate Brad Kennedy as part of his House of Representatives team in the seat of Longman.
The stop was conducted at Pumicestone Road Caboolture near the rows and rows of Pine Trees currently occupying state owned land.
It is here that the Candidate for Longman Brad Kennedy and Rob Katter spoke to the media outlining the vision for Caboolture and the seat of Longman with the groundbreaking proposed 3-D Park site, which they say will create both jobs and export opportunities for Australia.
Mr Kennedy says Caboolture will be jewel in Australia and the envy of the world with this ground breaking vision for the future. 
Taking science and business hand in hand to create opportunities to innovate.
Mr Kennedy went on to illustrate one day in the future everyone will want something made by a business grade 3-D printer from prosthetic's to car parts and perhaps things we have not envisioned yet
Brad Kennedy said "this will be brought together with partners from leading universities in Australia and overseas"  and he believes that interest will naturally attract national and multi-national investment, to make this a reality.
Mr Kennedy said that this will create jobs in the construction and operational phases and will incorporate research and development being part of the project from the onset and even envisages the CSIRO being an integral part of the vision.
During the launch the Bruce Highway factored heavily for Mr Kennedy's pitch to the electorate with a promise to widen the Bruce Highway to 4 lanes to reduce the bottleneck of traveling and reduce congestion which has been notorious
On the issue front Rob Katter illustrated Bruce Highway, The Proposed 3 D Park Site, Western Rail in conjunction with the Government $594 Million Land Purchase and feasibility study for the Great Inland rail from Melbourne to Queensland as well as a development bank to invest in rural development something not seen since the days of the Snowy River scheme decades ago.
Rob Katter is a keen advocate of representing a party the KAP to not just being one for the North in Queensland but active and relevant to city electorates as well, as has been demonstrated in their activity in the Queensland State Parliament exersizing their balance of power responsibilities with the Queensland Labor Party under premier Annastacia Palaszczuk
Meat and Potatoes with the Prophet will be aired exclusively on line in our podcasts section on Wednesday with an extensive discussion on many of the above topics