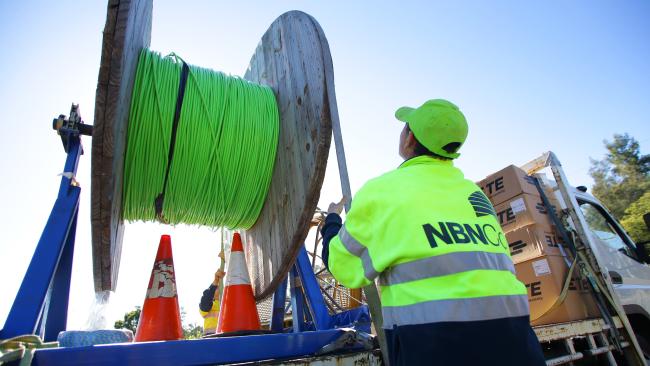 Federal Election 2016: How's the NBN rollout going in your electorate? Search the full data by Electorate Seat Margin
After well-publicised cost blowouts and delays, the NBN will be fully rolled out across the country by 2020, and both parties will be making promises this election about how they can better offer faster internet speeds.
Punch in your electorate to see what's happening near you
We've grouped together the different types of technologies — including Fibre to the Node (FTTN), Fibre to the Premises (FTTP), Hybrid-Fibre Coaxial (HFC) and Fixed Wireless — to give you a single estimated figure on the rollout.
However, we excluded satellite NBN from the overall count, given the service is currently only an interim measure — the new Sky Muster service is currently being rolled out — and that the satellite method reached its capacity of 48,000 users, or about one in 20 NBN users, several years ago.
It is important to note that the rollout plan to September 2018, which does not take into account new building developments or any satellite services, is an estimate only.
Also, the data, provided last week at the request of the Senate, doesn't fall easily into electorate boundaries, so there might be some double-ups.
| Electorate | Premises with NBN available | Premises using the NBN | Premises to be serviced by Sept 2018 | Building is underway to service this many premises | Held by | Margin |
| --- | --- | --- | --- | --- | --- | --- |
| Corangamite | 5,131 | 2,888 | 68,310 | 36,992 | Lib | 0.3 |
| Boothby | 264 | 107 | 52,260 | 28,224 | Lib | 0.6 |
| Deakin | 83 | 0 | 60,920 | NA | Lib | 0.6 |
| Hasluck | 2,202 | 1,410 | 45,460 | 3,623 | Lib | 0.6 |
| Aston | 552 | 464 | 52,570 | 32 | Lib | 0.7 |
| Greenway | 29,343 | 18,737 | 40,400 | 3,705 | ALP | 0.9 |
| Dunkley | 20,125 | 11,476 | 43,820 | 4,415 | Lib | 1.0 |
| Robertson | 51,527 | 11,873 | 19,250 | 23,542 | Lib | 1.0 |
| Brisbane | 18,604 | 7,202 | 76,660 | 409 | LNP | 1.1 |
| Lindsay | 26,382 | 14,795 | 38,850 | 2,151 | Lib | 1.1 |
| Moreton | 5,336 | 2,957 | 55,250 | 80 | ALP | 1.1 |
| Denison | 35,882 | 15,830 | 10,490 | 16,777 | IND | 1.2 |
| Macquarie | 13,072 | 9,371 | 50,190 | 15,800 | Lib | 1.3 |
| Banks | 867 | 758 | 44,000 | 580 | Lib | 1.4 |
| Forde | 2,577 | 1,899 | 48,010 | 6,116 | LNP | 1.6 |
| La Trobe | 2,395 | 3,858 | 50,720 | 8,348 | Lib | 1.7 |
| Solomon | 49,738 | 24,153 | 0 | 2,894 | CLP | 1.8 |
| Casey | 447 | 365 | 57,160 | 4,020 | Lib | 1.9 |
| Longman | 42,276 | 5,621 | 28,110 | 2,424 | LNP | 1.9 |
| Canning | 25,640 | 12,292 | 57,240 | 7,817 | Lib | 2.2 |
| Herbert | 43,989 | 23,013 | 26,770 | 11,936 | LNP | 2.2 |
| Dawson | 30,007 | 12,030 | 49,280 | 14,804 | LNP | 2.4 |
| Petrie | 12,993 | 9,826 | 53,390 | 344 | LNP | 2.5 |
| Swan | 41,224 | 19,691 | 39,160 | 29,381 | Lib | 2.5 |
| Reid | 35,639 | 22,998 | 40,690 | 1,336 | Lib | 2.7 |
| Bonner | 496 | 357 | 59,020 | 186 | LNP | 2.8 |
| Macarthur | 11,097 | 5,150 | 39,590 | 21,893 | Lib | 3.0 |
| Bennelong | 3,568 | 2,528 | 51,590 | 193 | Lib | 3.1 |
| Lilley | 25,987 | 17,966 | 49,010 | 70 | ALP | 3.2 |
| Brand | 22,046 | 12,007 | 60,270 | 14,009 | ALP | 3.3 |
| Flynn | 14,521 | 4,357 | 49,500 | 2,514 | LNP | 3.6 |
| O'Connor | 7,901 | 1,172 | 53,740 | 695 | Lib | 3.6 |
| Sturt | 2,025 | 1,343 | 61,420 | 77 | Lib | 3.6 |
| Capricornia | 12,749 | 3,856 | 58,260 | 19,137 | Lib | 3.7 |
| Lingiari | 15,319 | 4,282 | 11,300 | 12,363 | ALP | 3.7 |
| Fisher | 3,076 | 1,959 | 66,220 | 26,478 | LNP | 4.1 |
| Blair | 20,403 | 10,373 | 40,340 | 2,654 | ALP | 4.2 |
| Eden-Monaro | 14,882 | 4,402 | 51,400 | 12,716 | Lib | 4.2 |
| McMillan | 9,791 | 3,488 | 62,670 | 61,323 | Lib | 4.2 |
| Page | 12,959 | 3,578 | 55,020 | 653 | NAT | 4.2 |
| Parramatta | 2,277 | 696 | 21,660 | 830 | ALP | 4.4 |
| Leichhardt | 22,598 | 7,234 | 58,230 | 32,920 | LNP | 4.6 |
| Dickson | 18,536 | 6,883 | 30,980 | 6,319 | LNP | 5.1 |
| Dobell | 55,714 | 20,413 | 20,860 | 21,385 | Lib | 5.1 |
| Hughes | 10,193 | 3,230 | 22,200 | 113 | Lib | 5.2 |
| Kingsford Smith | 5,990 | 2,353 | 75,210 | 66 | ALP | 5.2 |
| Gilmore | 17,454 | 8,117 | 50,340 | 21,672 | Lib | 5.3 |
| Paterson | 7,766 | 3,650 | 62,550 | 20,635 | Lib | 5.3 |
| Higgins | 2,346 | 1,673 | 68,690 | 305 | Lib | 5.4 |
| Rankin | 14,022 | 7,876 | 56,260 | 164 | ALP | 5.4 |
| Stirling | 32 | 7 | 51,980 | 15,254 | Lib | 5.5 |
| Fremantle | 2,640 | 1,572 | 73,030 | 588 | ALP | 5.7 |
| Wannon | 16,121 | 5,491 | 45,680 | 961 | Lib | 5.7 |
| Chisholm | 170 | 60 | 69,080 | 147 | ALP | 5.8 |
| Oxley | 16,159 | 9,809 | 45,100 | 363 | ALP | 5.8 |
| Melbourne | 38,988 | 24,206 | 119,590 | 3,396 | GRN | 5.9 |
| Perth | 3,177 | 736 | 41,520 | 231 | ALP | 5.9 |
| Goldstein | 589 | 437 | 61,830 | 276 | Lib | 6.0 |
| Hindmarsh | NA | NA | 66,780 | 7,600 | Lib | 6.1 |
| Cowan | 1,442 | 944 | 63,210 | 236 | Lib | 6.3 |
| Bass | 43,932 | 21,726 | 4,550 | 7,077 | Lib | 6.7 |
| Werriwa | 11,704 | 4,573 | 43,020 | 1,777 | ALP | 6.7 |
| Barton  | 3,200 | 1,684 | 42,780 | 589 | Lib | 6.9 |
| Fairfax | 5,265 | 2,523 | 75,000 | 7,564 | PUP | 7.0 |
| Richmond | 9,931 | 3,254 | 55,570 | 1,097 | ALP | 7.0 |
| Ryan | 57 | 46 | 63,500 | NA | LNP | 7.2 |
| Mayo | 30,334 | 12,852 | 35,490 | 16,138 | Lib | 7.3 |
| Kooyong | 1,375 | 1,037 | 59,960 | 263 | Lib | 7.4 |
| Braddon | 12,233 | 4,956 | 39,900 | 13,500 | Lib | 7.5 |
| Batman | 826 | 508 | 69,370 | 133 | ALP | 7.7 |
| Bruce | 490 | 453 | 59,400 | NA | ALP | 7.7 |
| McMahon | 2,960 | 1,417 | 50,920 | NA | ALP | 7.8 |
| Melbourne Ports | 11,299 | 4,979 | 58,310 | 1,220 | ALP | 7.9 |
| Griffith | 1,393 | 826 | 24,940 | 458 | ALP | 8.5 |
| Forrest | 8,440 | 2,123 | 66,020 | 28,298 | Lib | 8.7 |
| Hume | 5,800 | 1,601 | 45,090 | 23,577 | Lib | 8.7 |
| Menzies | 47 | 17 | 49,630 | 401 | Lib | 8.7 |
| Fowler | 7,024 | 2,485 | 40,510 | 35 | ALP | 8.8 |
| Pearce | 7,768 | 3,926 | 58,370 | 1,589 | Lib | 8.9 |
| Indi | 13,450 | 3,887 | 53,980 | 11,203 | IND | 9.0 |
| Canberra | 8,632 | 4,255 | 35,400 | 2,979 | ALP | 9.1 |
| Flinders | 7,652 | 2,801 | 98,370 | 11,086 | Lib | 9.1 |
| Watson | 11,566 | 7,982 | 25,880 | 253 | ALP | 9.1 |
| McEwen | 15,599 | 11,127 | 60,560 | 21,371 | ALP | 9.2 |
| Cowper | 38,773 | 21,981 | 29,470 | 442 | Nat | 9.3 |
| Bendigo | 10,684 | 4,379 | 60,260 | 4,147 | ALP | 9.4 |
| Wright | 6,898 | 3,066 | 40,180 | 10,359 | LNP | 10.2 |
| McPherson | 1,129 | 294 | 64,420 | 5 | LNP | 10.3 |
| Bowman | 693 | 594 | 61,100 | 9,455 | LNP | 10.4 |
| Hinkler | 27,904 | 7,321 | 46,170 | 1,237 | LNP | 10.4 |
| Isaacs | 12,517 | 6,816 | 56,740 | NA | ALP | 10.4 |
| Wakefield | 6,487 | 1,972 | 57,380 | 597 | ALP | 10.5 |
| Calare | 11,537 | 3,443 | 54,830 | 17,234 | Nat | 10.7 |
| Franklin | 30,257 | 15,996 | 18,160 | 12,724 | ALP | 10.8 |
| Jagajaga | NA | NA | 57,090 | 27 | ALP | 11.1 |
| Grey | 14,438 | 2,882 | 52,330 | 3,196 | Lib | 11.2 |
| Moore | 1,002 | 632 | 55,020 | 5,954 | Lib | 11.2 |
| Gippsland | 12,775 | 4,317 | 60,820 | 13,930 | NAT | 11.4 |
| Ballarat | 46,602 | 25,853 | 26,780 | 1,421 | ALP | 11.7 |
| Makin | 17,552 | 9,039 | 45,460 | 8,700 | ALP | 12.0 |
| Throsby | 12,750 | 9,375 | 50,150 | 36,178 | ALP | 12.1 |
| Blaxland | 10,704 | 8,082 | 44,200 | NA | ALP | 12.2 |
| Chifley | 26,950 | 18,371 | 40,920 | 759 | ALP | 12.3 |
| Lyons | 22,832 | 8,890 | 31,110 | 3,623 | Lib | 12.3 |
| Tangney | 14,095 | 7,208 | 43,870 | 35 | Lib | 12.3 |
| Hunter | 6,434 | 2,781 | 50,540 | 15,725 | ALP | 12.5 |
| Newcastle | 34,057 | 5,260 | 29,700 | 5,166 | ALP | 12.5 |
| Charlton | 25,031 | 5,992 | 37,680 | 123 | ALP | 12.7 |
| Cook | 762 | 265 | 49,740 | NA | Lib | 12.7 |
| Lyne | 22,087 | 10,068 | 46,050 | 423 | NAT | 12.7 |
| Shortland | 36,112 | 12,220 | 31,510 | 216 | ALP | 12.8 |
| Barker | 19,337 | 4,901 | 58,610 | 10,767 | Lib | 13.0 |
| Warringah | NA | NA | 58,150 | NA | Lib | 13.1 |
| Cunningham | 30,832 | 12,737 | 33,200 | 31,089 | ALP | 13.2 |
| Corio | 1,243 | 768 | 77,130 | 14,083 | ALP | 13.5 |
| Durack | 21,773 | 9,515 | 50,620 | 10,118 | Lib | 13.7 |
| Holt | 14,774 | 9,653 | 54,440 | 322 | ALP | 14.0 |
| Hotham | 7,888 | 5,027 | 57,480 | NA | ALP | 14.0 |
| North Sydney | 7,376 | 2,222 | 59,730 | 576 | Lib | 14.1 |
| Fadden | 2,541 | 1,685 | 61,630 | 834 | LNP | 14.2 |
| Fraser | 32,119 | 24,052 | 41,000 | 3,006 | ALP | 14.2 |
| Farrer | 7,170 | 1,864 | 61,030 | 15,229 | Lib | 14.5 |
| Kingston | 18,451 | 11,734 | 50,750 | 21,285 | ALP | 14.6 |
| Wentworth | 4,441 | 798 | 94,010 | NA | Lib | 14.9 |
| Wide Bay | 20,288 | 3,125 | 45,700 | 3,593 | LNP | 15.6 |
| Mackellar | 118 | 107 | 27,750 | 2,900 | Lib | 15.7 |
| Berowra | NA | NA | 40,810 | NA | Lib | 16.2 |
| Curtin | 1,144 | 444 | 49,590 | 15,526 | Lib | 16.2 |
| Sydney | 25,086 | 6,160 | 109,340 | 310 | ALP | 17.1 |
| Mitchell | 2,951 | 1,704 | 48,540 | 11,348 | Lib | 17.2 |
| Maribyrnong | 8,449 | 6,016 | 62,850 | 721 | ALP | 17.5 |
| Moncrieff | 1,149 | 181 | 78,150 | 113 | LNP | 17.5 |
| Bradfield | 368 | 320 | 54,790 | 141 | Lib | 18.2 |
| Riverina | 14,457 | 3,941 | 51,990 | 14,052 | NAT | 18.2 |
| Kennedy | 12,801 | 2,257 | 49,840 | 17,872 | KAP | 18.3 |
| Groom | 33,744 | 18,092 | 35,900 | 15,931 | LNP | 18.5 |
| Parkes | 6,232 | 1,834 | 43,710 | 27,050 | NAT | 18.9 |
| Murray | 39,055 | 15,907 | 31,400 | 5,664 | Lib | 19.6 |
| Calwell | 12,932 | 6,278 | 48,970 | 15,195 | ALP | 20.1 |
| Scullin | 25,103 | 21,255 | 34,350 | 85 | ALP | 20.5 |
| Grayndler | 993 | 477 | 57,050 | 634 | ALP | 20.6 |
| Port Adelaide | 1,231 | 889 | 72,160 | 4315 | ALP | 20.9 |
| New England | 26,815 | 11,596 | 40,100 | 114 | NAT | 21.5 |
| Lalor | 14,903 | 8,216 | 57,840 | 949 | ALP | 22.1 |
| Maranoa | 13,462 | 3,754 | 43,010 | NA | LNP | 22.9 |
| Mallee | 8,488 | 2,382 | 53,700 | 6,052 | NAT | 23.3 |
| Wills | 21,983 | 15,719 | 53,330 | 1,096 | ALP | 23.5 |
| Gorton | 20,759 | 12,212 | 49,690 | 3,904 | ALP | 23.6 |
| Gellibrand | 14,955 | 6,963 | 61,030 | 104 | ALP | 24.1 |