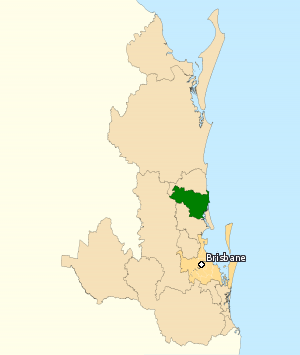 Federal Election 2016: Federal Seat of Fisher Profile (In Order of the Ballot paper)
Fisher
Sunshine Coast
Safe LNP 9.8%
MP
The retiring LNP member is Mal Brough. He was first elected as member for Longman in 2001, was defeated in 2007 and re-elected for Fisher in 2013.
Profile
On the Sunshine Coast to the north of Brisbane, Fisher covers the southern populated parts of the coast from Alexandra Headland and Mooloolaba in the north, down to Caloundra in the south. The electorate also sweeps inland to include Landsborough, Beerburrum, Eudlo, Montville, Maleny and Conondale. Covers 1,170 square kilometres.
Background
Fisher was created on the expansion of the parliament in 1949 and named after Andrew Fisher, Labor Prime Minister for three separate periods between 1908 and 1915.
Originally a rural seat, Fisher has slowly contracted to the coast and these days is an almost entirely urban electorates. It has been held by the Country/National Party for most of its history, in the hands of the Adermann family, Charles (1949-72) and his son Evan (1972-84). Evan Adermann moved to the new seat of Fairfax in 1984 and Fisher was first won at that election for the National Party by Peter Slipper.
The 'Joh for Canberra' campaign aided Labor in Queensland at the 1987 election, and Labor was helped in Fisher by the rapid urban growth in areas in the electorate's east. Fisher was gained for Labor at the 1987 election by Michael Lavarch.
A redistribution ahead of the 1993 election carved off urban areas into the new seat of Dickson, and Michael Lavarch chose to contest the new seat. Fisher became a safe conservative seat and was won at the 1993 election by former member Peter Slipper, having now switched allegiance from the National to the Liberal Party. Slipper represented the seat until the 2013 election, though the area covered by the electorate continued to contract into the urban areas of the Sunshine Coast.
Slipper was elected one last time at the 2010 election, protected by the seat allocation procedures adopted on the merger of the Liberal and National parties. In 2011 he was lured into the Speaker's chair by Julia Gillard as her government attempted to secure its position in the House of Representatives. Slipper had long been known to make full use of his parliamentary entitlements, and having ratted on the Coalition by taking the speakership, a ferocious challenge to his legitimacy was launched. A sexual harassment case was launched by a former staffer, and details of various entitlement abuses were publicly aired in documents associated with the case. Misuse of taxis and hire cars saw Slipper charged, and as other personal matters related to the harassment case became public, the Gillard government eventually withdrew support for Slipper. He re-contested Fisher at the 2013 election but polled a derisory 1.4%.
Brough had played a part in the stalking of Peter Slipper and was rewarded in winning Fisher at the 2013 election. Brough was appointed Special Minister of State when Malcolm Turnbull became Prime Minister, but on-going questions concerning Brough's involvement in the Slipper affair saw him resign from the ministry after only a few months and eventually announce he would not contest the 2016 election
Candidates:
Tony Gibson (The Greens)
National & State Links:

Greens Party Federal Website, Greens Party Federal Wikipedia Entry, Greens Party Federal Facebook,
Greens Party Queensland Website, Greens Party Queensland Wikipedia Entry, Greens Party Queensland Facebook, 
Candidate Profile:
A 62yo business consultant, Gibson came second representing The Greens in the 2016 election for Mayor of Sunshine Coast Council, gaining 17.1% of the vote. After 35 years in the Queensland public sector, Gibson moved into the financial services sector and does pro-bono work for community and conservation groups. He has a Master degree in business, a graduate certificate in Public Sector Management, and a Bachelor of Economics.
Profile:
Candidate Profile on Party Website
Facebook (none)
John Spellman (Australian Liberty Alliance)
National & State Links:

Candidate Profile:
Tracey Bell-Henselin (Rise Up Australia Party)
National & State Links:

Candidate Profile:
Andrew Wallace (Liberal National Party)
Jason Burgess (Veterans Party)
National & State Links:

Candidate Profile:
.
Mike Jessop (Independent)
National & State Links:

Candidate Profile:
.
The Federal Division of Fisher is an Australian Electoral Division in Queensland. The division was created in 1949 and is named after Andrew Fisher, three times Prime Minister of Australia. It is located in the Sunshine Coast area north of Brisbane and includes the towns of Caloundra, Mooloolaba, Beerwah, Maleny, Woodford and Kilcoy.
| | |
| --- | --- |
| Created | 1949 |
| MP | Mal Brough |
| Party | Liberal National |
| Namesake | Andrew Fisher |
| Electors | 88,388 (2013) |
| Area | 1,170 km2 (451.7 sq mi) |
| Demographic | Rural |
Fisher  was a safe seat for the Country Party and its successor the National Party until the 1980s, and is now fairly safe for the Liberal National Party. Its most prominent members have been Sir Charles Adermann, who was Deputy Leader of the Country Party 1964–66, and Peter Slipper, who served as Speaker of the Australian House of Representatives from 2011 to 2012.
Members who have represented this seat
Sir Charles Aldermann (Country Party) 1949-1972
Evan Aldermann (Country-National Party)  1972-1984
Peter Slipper (National) 1094-1987
Michael Levarch (Labor) 1987-1993
Peter Slipper (National then Liberal-National and then Independent) 1993-2013
Mal Brough (Liberal-National) 2013-Present (retiring)
Following the resignation of Harry Jenkins as Speaker in the 43rd Parliament, Peter Slipper was nominated unopposed and installed as Speaker on 24 November 2011. Slipper resigned from the Liberal National Party on taking the Speaker's seat and continued in parliament as an independent member and resigned as speaker and went to the cross bench on 9 October 2012. On 11 May 2013, he joined businessman Clive Palmer's recently formed Palmer United Party, becoming its first member in federal parliament. However, a matter of hours later his membership of the party was revoked and Slipper returned to being an independent.
Election results
Main article: Electoral results for the Division of Fisher
Australian federal election, 2013: Fisher
Party
Candidate
Votes
%
±%
 
Liberal National
Mal Brough
34,619
44.47
−2.01
 
Labor
Bill Gissane
16,297
20.93
−9.39
 
Palmer United
Bill Schoch
13,559
17.42
+17.42
 
Greens
Garry Claridge
5,908
7.59
−8.25
 
Katter's Australian
Mark Meldon
2,520
3.24
+3.24
 
Family First
Tony Moore
1,593
2.05
−5.31
 
Independent
Peter Slipper
1,207
1.55
+1.55
 
Independent
Jarreau Terry
957
1.23
+1.23
 
Independent
Mark Maguire
890
1.14
+1.14
 
Rise Up Australia
Rod Christensen
305
0.39
+0.39
Total formal votes
77,855
94.19
−0.64
Informal votes
4,803
5.81
+0.64
Turnout
82,658
93.52
+0.76
Two-party-preferred result
 
Liberal National
Mal Brough
46,522
59.75
+5.62
 
Labor
Bill Gissane
31,333
40.25
−5.62
 
Liberal National hold
Swing
+5.62
 
Australian Electoral Commission Information
State/Territory:

Queensland

Status:

Current, boundary gazetted 15 December 2009

AEC Divisional Office:

Maps & GIS data:

A4 map of the Division of Fisher (2009) [PDF 638KB]
Map of the Division of Fisher (2009) [PDF 2MB]
Download GIS data

Name derivation:

Named after Andrew Fisher (1862–1928), Prime Minister of Australia 1908–09, 1910–13 and 1914–15.

Area and Location Description:

Fisher covers an area of 1 170 sq kms from part of Alexandra Headland in the north, west to Cambroon and Conondale, south to Beerburrum and east to the coast. Major towns and population centres include Caloundra, Sippy Downs, the coastal strip including Kawana, Minyama and Mooloolaba, Montville, Maleny, Beerwah, Beerburrum, Glass House Mountains and Landsborough.

Products/industries of the area:

Tourism, service industries and construction and development are the major employers. Other industries include education, pineapple, orchard and flower crops, dairy and beef cattle farming, and horse racing.

First proclaimed/election:

1949

Demographic rating:

Rural

Members:

Brough, M (LNQ) 2013–
Slipper, P (LNQ) 1993–2013
Lavarch, M H (ALP) 1987–1993
Slipper, P N (NP) 1984–1987
Adermann, A E (CP/NCP) 1972–1984
Adermann, C F (CP) 1949–1972

Current member details:

Please refer to the Parliament of Australia website

Further information:

2013 federal election – House of Representatives results for Fisher
2010 federal election – House of Representatives results for Fisher
2007 federal election – House of Representatives results for Fisher
2004 federal election – House of Representatives results for Fisher
2013 divisional profile
For supporting information, see Party codes, demographic ratings and seat status.