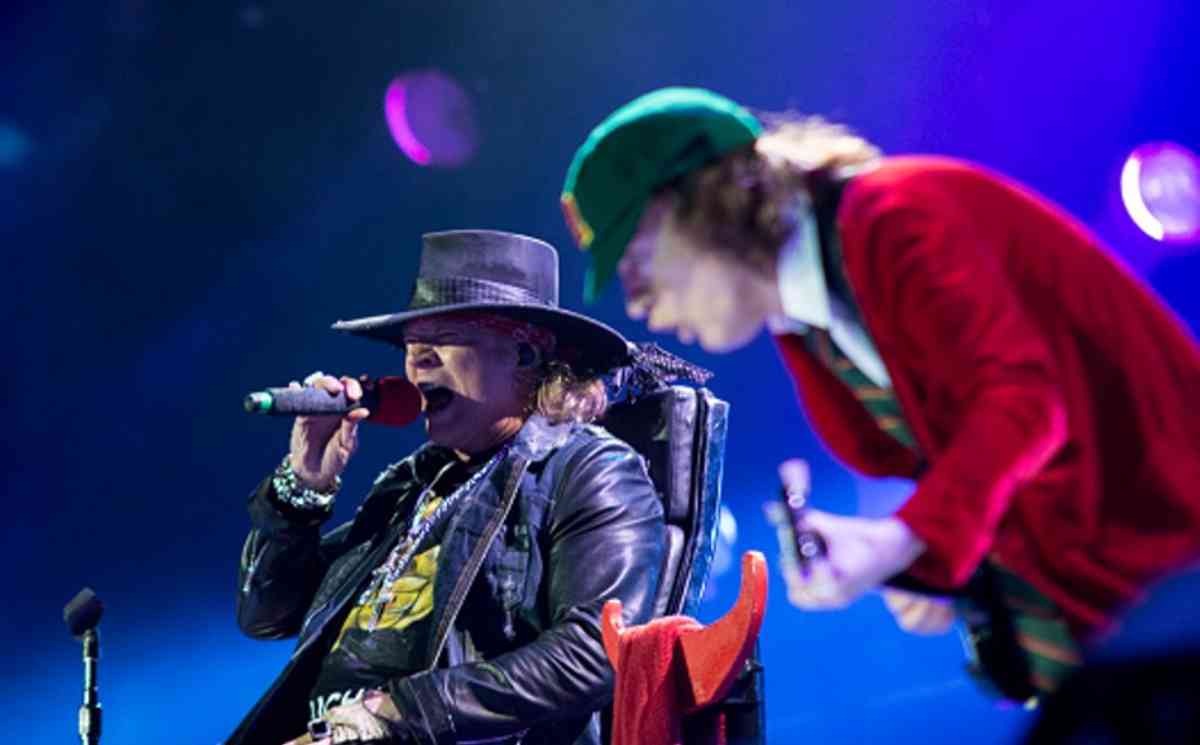 Fans impressed by Axl Rose's performance
Axl Rose has performed his first show with AC/DC at a gig in Lisbon after stepping in for lead vocalist Brian Johnson.
'Nice to meet you!' shouted the 54-year-old Guns N' Roses frontman as he took to the stage, but was then confined to sitting in a chair because of a broken foot.
Rose was announced as a replacement after Johnson, 68, was warned he risked going deaf if he continued to tour.
AC/DC were forced to reschedule dates on their Rock Or Bust tour - and now, the veteran group is back on the road after concluding rehearsals with Rose.
Most of the die-hard AC/DC lovers at the Passeio Maritimo de Alges appeared to appreciate his efforts and confident renditions of hits such as Back In Black and Thunderstruck.
'Axl Rose has a lot of respect for the group and he has the voice for it,' said Paulo Dias, 48.
'Of course he can't replace Brian Johnson, but Axl Rose is a good singer,' agreed Francis Vega, also 48, who flew in from the Canary Islands for the gig.
A Portuguese fan said that love was the only thing needed to enjoy the concert: 'You couldn't even tell the difference in the vocals, you just need to like and love it.'
But not everyone was convinced.
'Axl Rose is nothing like Brian Johnson,' said a disappointed Marcos Vizoso, 44, who had brought his 10-year-old daughter to the show. 'I wanted her to see the original band.'
Johnson, known for his voice that strains the vocal cords, joined the band in 1980 after singer Bon Scott died following a night of heavy drinking.
Johnson earlier said he was 'crushed' that he had to quit the tour - but vowed he was not retiring.
Source: AAP