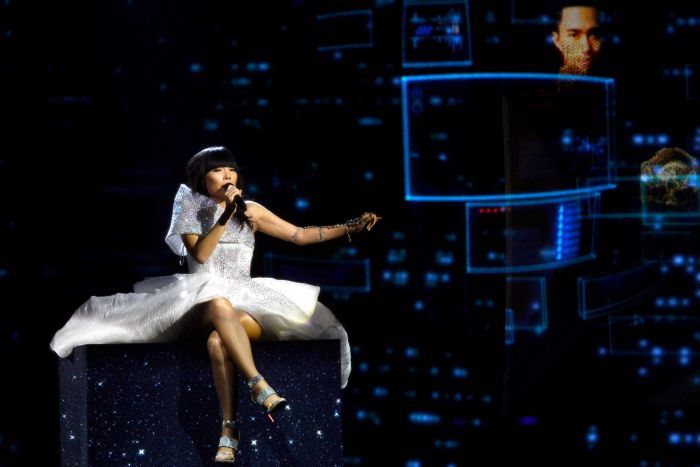 Eurovision: Dami Im to represent Australia in final round of song contest
Hello Eurovision, this is Australia calling — and we're coming for you!
Australia's Dami Im is through to the Eurovision grand final after singing to a global audience of more than 200 million.
Im performed Sound of Silence in the 18-nation semi-final this morning, earning one of the 10 remaining grand final spots.
She said she was so overwhelmed she began to cry after her performance.
"I was just blown away by the amazing crowd of Eurovision fans tonight," she said.
"My family were all getting up at 5:00am in Australia to watch me.
"I really don't cry often, but after my performance I burst into tears because everybody was just so supportive."
Im said Australians were longtime fans of the song contest.
"Australia has been a big fan of Eurovision since the 1980s, we love watching Eurovision. We just love the concept of coming together and playing music," she said.
"I am personally just very grateful to be able to be part of this."
Australia was drawn to perform in the first half of the Grand Final.
Im is now second favourite to win the final, according to Australian online bookmaker Sportsbet, which has slashed her odds to win from $19 to $5. Russia is the favourite.
She is the second Australian entry in the European song competition, after Guy Sebastian finished in the top five as a wildcard entry last year for his song Tonight Again.
Im's fans, who call themselves the Dami Army, were quick to celebrate.
At Im's old school in Logan, south of Brisbane, fans gathered to watch the semi-final result live, waving banners and screaming their support.
"She's absolutely brilliant, absolutely brilliant," one fan said.
"And the way she's presenting it is fantastic, it's different to the others. And she's letting her voice do the talking."
Im, who shot to fame after winning X-Factor in 2013, told Eurovision hosts she moved to Australia from South Korea when she was nine years old and learned English by listening to the Spice Girls.
On Sunday morning, Im will join fellow semi-final winners from Latvia, Georgia, Bulgaria, Ukraine, Serbia, Poland, Israel, Lithuania and Belgium.
Germany, France, Italy, Spain, the United Kingdom and hosts Sweden were already confirmed finalists.
Join Eurovision tragics Andrew McGarry and Lucy Sweeney for ABC's live blog on Sunday morning as we find out who will take the title this year.