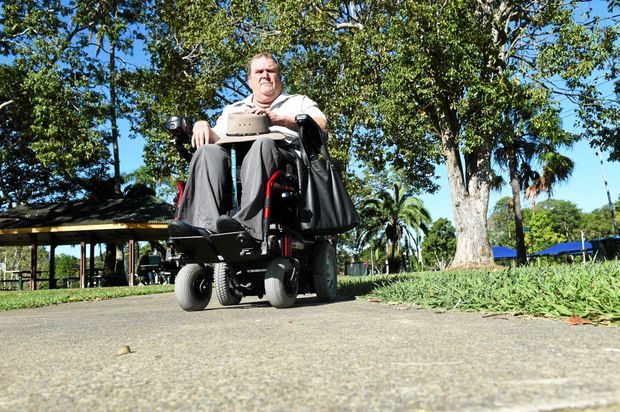 Disability Support Network President accidentally finds Moreton Bay regional Council does not have an accessibility plan
Matt McCracken is asking one question – why not?
Purely by accident the president of the Caboolture Disability Support Network discovered that Moreton Bay Regional Council (MBRC) doesn't have an accessibility plan – and he wants to see that changed.
"The accessibility plan is about access for people with disabilities within the region," Mr McCracken said.
"It's about pre-planned access to be able to commute around without being injured or having the prospect of being injured.
"I don't think a lot of people realise how much it empowers people to be able to be more active within the community."
Logan, Sunshine Coast, Gold Coast, Brisbane, and even Townsville councils all have accessibility plans to make sure the disabled and elderly can move about the region safely and with ease.
An accessibility plan acts as a guideline to ensure councils are as inclusive as possible.
Mr McCracken says one of the daily issues he faces is broken or non-existent footpaths, making moving around the community in his wheelchair hazardous.
An MBRC spokesperson confirmed they do not have a Disability Services Plan, but are committed to supporting people with disability through the delivery of accessible public infrastructure and community initiatives.
"MBRC is passionate about providing the best possible disability access outcomes across the region and has implemented a number of initiatives and programs to promote inclusivity and access for people with disability in our community," the spokesperson said.
The spokesperson provided multiple examples of council's inclusive approach, such as hydrotherapy pools, ramp-access pools, and wheelchair compliant picnic tables across the region.
The spokesperson says the council is looking at the viability of a mobi-mat at Bribie Island to provide wheelchair users with access to the beach.
Mr McCracken said he intends to petition council.
Source: Caboolture News