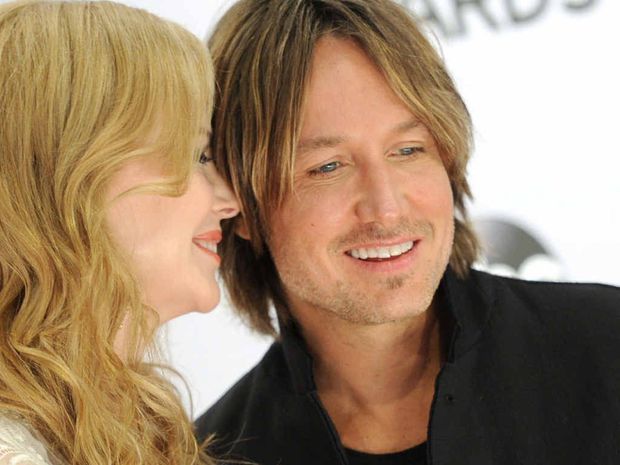 Country star Keith Urban penned an ode to the Queensland Maroons when he was a Caboolture teen
HE has been a judge on American Idol, performed at sold out stadiums across the planet and is a celebrated, Grammy award winning country rocker.
But before the megafame, Keith Urban was just a quiet kid from Caboolture who loved his guitar — and his footy.
While Urban is commonly known for hits like You'll Think of Me and Stupid Boy, his humble beginnings saw him pen a song of an entirely different nature — an ode to the Queensland Maroons State of Origin team.
Australian country crooner Rod Williams was the one to spot Urban's talent early on, taking the then-17-year-old guitar prodigy on life — and career — changing nightclub tours through Sydney.
"But they wouldn't let him in," Williams laughed.
"He had really long hair and looked about 15-years-old, he didn't look anywhere near his age.
"But he was part of my music, they had to let him in."
Urban's talent was obvious at that tender age and he operated as Williams' musical director, lead guitarist and back-up singer in those packed out, smoke-hazed rooms.
But there was one flaw in Urban's all-round game.
"Back in those days he had a pretty ordinary sort of voice," Williams said.
"But his guitar playing blew me away."
Despite a healthy age difference (Williams prefers to keep the actual difference one of life's great mysteries), the pair struck up a tremendous friendship.
They would joke about Footrot Flats (a popular cartoon strip from Urban's birth country New Zealand) and ham it up on stage whenever they could.
Urban even lived under Williams' Aspley home for a time, learning from his mentor and playing as many gigs as possible.
Fame was just around the corner for Urban.
Rod Williams - The Mighty Maroons.mp4
Caption: Written and produced by Rod Williams. Arranged by Keith Urban.
He would soon become part of the hottest cover band in Brisbane, Rusty and the Ayers Rockettes.
Tours with Slim Dusty, backing tracks with INXS at the peak of their phenomenal success and an eventual move to Nashville — and super-stardom — were within reach.
Williams knew his young protege's talent was too big to remain confined within the four walls of Kings Cross clubs.
"He was great to work with, he would just sit in the corner and munch on vegemite sandwiches and play the guitar," Williams said.
"Nothing else interested him in the world.
"He didn't smoke, he didn't drink, he would just sit in the corner and play guitar."
There were no iPhones back in the '80s, there were barely any cameras.
So before the apprentice became the master, Williams knew he had to record something with Urban he could cherish together.
The country veteran had already begun to pen his ode to the Queensland Origin side in 1984, featuring heavyweight names like Mal Meninga and Wally Lewis.
So when he asked Urban to help him record it, the young kid destined for big things was only too happy oblige.
"Keith did all the harmonies and played all the guitar — he helped me write the whole thing," Williams said.
"It was such a nice thing for Keith to do, he stayed through right until the end.
"It is the only thing I have (to remember those times).
"I tried to dig up old tapes back from when we were doing those shows, but this was the only real thing I had."
Williams recalls this with a mixture of pride, nostalgia and sadness. They were great days, heady days, back when music was real. When people crammed into pubs and clubs to see it live, not stream it at home.
And he even got the chance to rub the track into the Cockroaches' faces.
"It had a big colosseum sound to it, back in 1984 they flogged it to death," Williams said.
"They even got me to go to Sydney where they played it as the team was running onto the field ... that stirred them (New South Wales) up."
For the record, Queensland hammered New South Wales 14-2 in that match at the Sydney Cricket Ground that year, the match that sealed the series.
In some part, you can thank Keith Urban for that.
Source: Courier-Mail