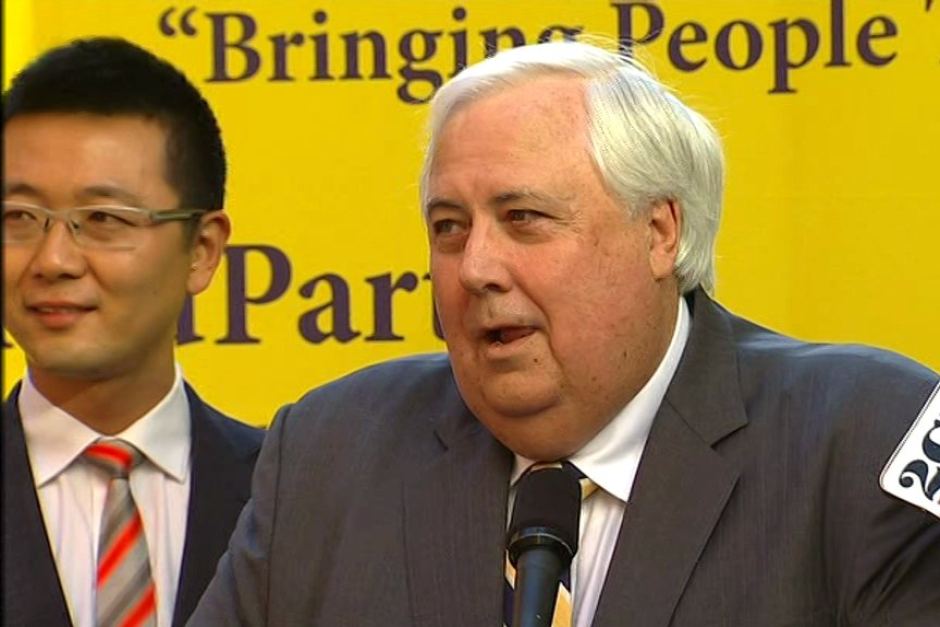 Clive Palmer refuses to rule out running for Senate, confirms PUP will fight to stay in Upper house
Retiring federal MP Clive Palmer has not ruled out standing as a Queensland Senate candidate for the Palmer United Party (PUP), saying he needs to discuss his future with his wife.
Earlier today, Mr Palmer confirmed he would not seek re-election in the House of Representatives
At a media conference outside Parliament this afternoon, he suggested he would have more to say over his own future.
"The media is telling me every day I'd be elected as a senator," he said.
"I've made no decision to stand in the Senate. I'll just have to wait and see what happens."
Mr Palmer said he decided to leave the lower house because PUP had little influence there.
"In the Senate, we can made a positive contribution to Australia," he said.
"We've got a track record second to none ... in holding the Government to account."
He said Dio Wang would lead the PUP senate ticket in Western Australia, while Kevin Morgan would stand as a PUP senator in Tasmania.
'We haven't deserted the people of Australia'
Mr Palmer said he would make announcements on PUP's Queensland Senate candidates at a later date.
"Whatever happens, I'm here to support the Palmer United Party, we haven't deserted the people of Australia, we're here to make sure the balance of power will be exercised in accordance to their wishes," he said.
Asked why he had changed his mind about recontesting Fairfax, having said a month ago he would do so, Mr Palmer said many people in the electorate had been urging him to run again.
He won the seat in 2013 with a margin of 53 seats after multiple recounts.
"It would be a temptation to stay there and build on that swing, but you've got to move on," he said.
"Courage is about moving on. A lot of people cry when they leave Parliament, I just think about the good things that can happen."
Asked to comment on the federal budget, Mr Palmer said he would support the Government's tax policies, but take them further.
"I think we'd support the changes to tax policy but we would extend them," he said.
"If you've got someone who earns a million dollars like me, I get a $17,000 tax cut. Thank you Malcolm, thank you Scott Morrison, thank you very much.
"But if you're someone who gets under $80,000 a year, do you know how much they get? Nothing."
Source: ABC News