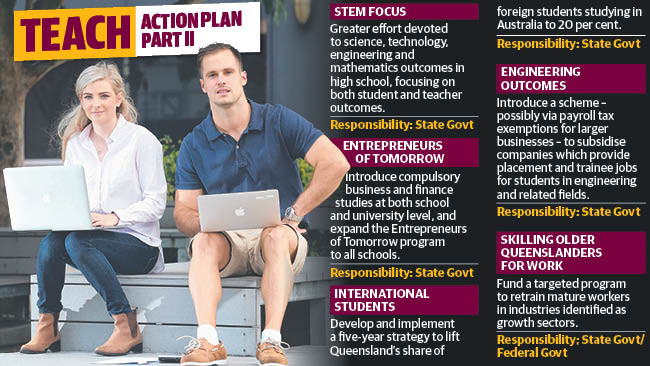 Changes needed for Queenslanders to stay employed
Science, technology, engineering and maths courses and an entrepreneurship program in high schools must be priorities to help Queenslanders find work.
They are two key action points from The Courier-Mail's #GoQld campaign in relation to teaching and training outcomes to get the state moving again.
Each day this week we are presenting the best of the ideas raised as part of our four-week #goqld campaign in the form of an Action Plan in five categories: Build, Teach, Attract, Sell and Reform. In coming weeks, we will report on the progress of governments – and private enterprise – on achieving those targets, and hold them to account when they don't.
Griffith University senior lecturer in ICT, David Tuffley, said professionals would need greater analytical skills in future years.
"It's not just going to be engineers or scientists who need a solid understanding of STEM (science, technology, engineering and maths) courses," Dr Tuffley said.
"In the future all professionals will need (it)."
Dr Tuffley said university courses should have up to 30 per cent STEM-related content, comments backed by Education Minister Kate Jones, who said "75 per cent of the fastest-growing occupations in our state require STEM knowledge".
"These are essential skills that will help us solve the environmental, economic and social problems of the future," she said.
Emily Bird and Darren Tonkin are engineering students who have had to seek internships outside of Brisbane.
Students should also be taught mandatory business courses in high school and university, according to 2015 Telstra Queensland Business Woman of the Year Dr Catherine Ball.
"The skills you need in business are not always the ones you are taught, especially if you are a scientist," she said.
"I had to learn where to go to get advice about cash flow, (business activity statements), the tax regulations and all the other potential legal issues that arise from running a business."
Another plank is lifting Queensland's share of Australia's international students to 20 per cent – from 16 per cent currently.
This would create an extra 6800 jobs in a decade and boost the sector's worth to $7.5 billion in export earnings annually by 2026. The sector is currently worth $2.9 billion annually and supports 19,470 jobs.
The importance of retaining engineering graduates is highlighted by the fact that of the about 2000 engineering graduates each year, up to 40 per cent may not find employment.
Engineers Australia general manager Queensland Ian McEwan said a subsidy or tax incentive scheme should be introduced .
Deputy Premier Jackie Trad said the Government was using its overseas trade links to try and attract more international students and developing an internship program to ensure Queensland had an advantage over other states.
"The (pilot internship) program will assist Queensland companies to expand their China footprint, by attracting top Chinese student talent and skills, and leveraging Australia China Business Council's extensive membership networks," she said.
Ms Trad said there was also "great scope" to attract more Indonesian students as the state only receives about 650 enrolments out of 8000 nationally.
Queensland produces about 2000 engineering graduates each year, but up to 40 per cent of those may not be able to find work as a result of the current downturn.
Engineers Australia general manager Queensland Ian McEwan said a subsidy or tax incentive scheme should be introduced to encourage businesses to employ recent graduates.
Source: Courier-Mail