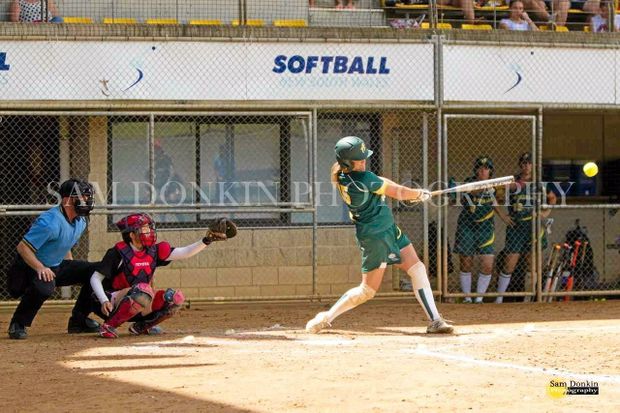 Caboolture Softballer's Olympic dreams reignited
It's every young Australian's dream to represent their country at the Olympic Games and for Caboolture's Erin Thras that dream was harshly taken away from her.
Thras has been a part of the national softball squad since she was a junior in 2007 and watched her open teammates win bronze at the 2008 Beijing Games. As she started to become a fixture of the open women's squad, softball was cut out of the Olympic Games by vote because there weren't enough venues to support it.
Softball suffered the same fate again in Rio 2016, but the sport is looking like making a triumphant comeback at the 2020 Tokyo Games. Japan will most likely nominate for it to be included as they are the holding gold medal nation and have professional leagues. Thras who's now 26 will be 30 by then and she knows it will most likely be the last chance to fulfill her Olympic dreams.
"I kind of go I'm at prime age right now, turning 26, it's a really good age to play – I'm fit and healthy, it is a bit of a heartbreaker not going to the Olympics," Thras said. "Tokyo would be awesome, it's epitome of sport, and it's what everyone strives to be as a kid. In our culture we value sport so much."
"My friends said to me 'when are you having kids?' and I said 'not until I'm at least 31'.
"I know it sounds terrible, but I don't a kid while I'm aiming for the 2020 Olympics."
In the meantime Thras is a part of the squad that will go to America and Canada for a month-long build up to the world championships. But it's not that easy for softballers in Australia as Thras will let you know.
"It's so hard taking a month off without pay from work. The funding side of things is ridiculous to work up enough money to go," she said. "When you look at a sport like swimming that has so much funding, imagine if we had a quarter of that funding. But that's just the nature of funding in the sport … you do it for the love of the game."
If you want to support Thras as she attempts to break Australia's bronze medal curse you can donate at www.gofundme.com/uzss7hus
Source: Caboolture News