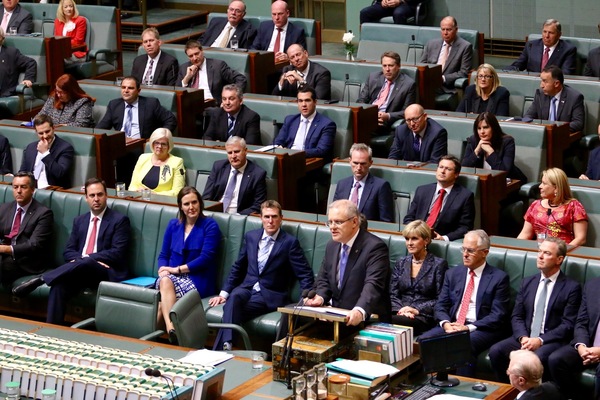 Budget 2016 Summary
On the whole this has been described as a mostly harmless budget and one that the Government feels will help not hinder its chances at the next Federal Election when Prime Minister Malcolm Turnbull goes to the Governor-General Sir Peter Cosgrove either friday afternoon or Saturday to call for a dissolution of Parliament and call a early election on July 2
This Budget is mostly on Jobs and Growth over all, Jobs and growth, you'll hear over and again, and the fact
that this Government has an economic plan. 
What we're seeing is an opening up of a divide between he two major parties - essentially with the Labor Party saying, "Are you prepared to pay more to get better services?" And the Coalition saying that, "You really do have to start living within your means." 

The Coalition says that but, then again, it is not doing an enormous amount to try and prove that's the direction in which it's heading. The savings that it makes are very modest. This gives them a platform on which to run. It differentiates them with the Labor Party and makes them the party of small business and the heavy lifters in the economy.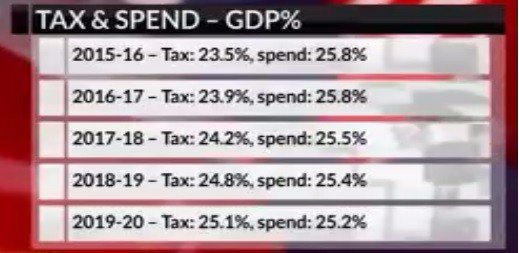 Morrison: Our economy last year grew by almost $40b... At 3% last year, our economy grew faster than the world's most advanced economies
on the unemployed
"From April 1, 2017, young job seekers who need to boost their job readiness will participate in intensive preemployment skills training within five months of registering with Job Active. The first three weeks of training will focus on skills such as working in a team, presentation, and appropriate IT literacy. A further three weeks of training will centre on advanced job preparation and job-hunting skills. In stage two, the Government will introduce an internship program with up to 120,000 placements over four years to help young job seekers.
— Youth job seekers who need to boost their job-readiness will take part in intensive pre-employment skills within five months of registering with jobactive.
— Internship program with up to 120,000 placements over four years to help young job seekers who have been employed for six months or more.
— Job seekers will receive $200 per fortnight on top of their regular income support payment while doing an internship.
— Businesses will receive an upfront payment of $1000 when they take on an intern.
— Australian employers will be eligible for a Youth Bonus wage subsidy between $6500 and $10,000 depending on young person's job readiness.
Bracket creep
Mr Morrison says the upper limit for middle income tax bracket will be raised to $87,000 per year from 1 July.
This will combat bracket creep and prevent 500,000 people moving to the 37 per cent marginal tax rate each year.
on health and education
We have already announced we will provide an estimated additional $2.9 billion over three years for public hospital services. The additional funding is linked to reforms that focus on improving patients' safety and the quality of services and reducing avoidable hospitalisations. The Government will also deliver a new approach to funding essential dental services for children and low-income adults. 
The Commonwealth effectively provides around 53% of education expenditure by states and territories. Between 2018 and 2020, the Government will also provide $1.2 billion in additional funding for Government and non-government schools. This funding will be contingent on reform efforts from the states and non-government schools sector to get better outcomes for students and parents. To meet the future costs of the National Disability Insurance Scheme, we are establishing an NDIS savings fund. This fund will hold unspent funds from the NDIS, as well as the proceeds of savings measures from better targeting our welfare spending. These funds can then be reinvested back into delivering the NDIS.
— Investment to education, training and child care will increase to more than $41.8 million in 2016-17. Early education and care will increase by 9.6 per cent to $8.6 billion, schools will rise by 8 per cent to $17.6 billion, higher education will increase by 0.9 per cent to $12.3 billion and skills up 7.7 per cent to $3.3 billion.
— The Government's Higher Education reforms have been delayed by 12 months and university fee deregulation abandoned.
GP co-payment rises from the grave IN a move that is likely to force doctors to abandon bulk-billing, Medicare rebates will be frozen at $37 for six years to save the Government nearly $1 billion.
Health fund members lose out on cuts HEALTH fund members will have to wait for a potential $150 a year saving on their premiums as more families are forced to take out private cover.
— Medicare rebates frozen at just $37 for six years forcing doctors to introduce co-payment.
— Prescription medicine prices to rise by $5 from January
— $1000 free dental care for kids axed
— $1.2 billion aged care cuts
— No reforms to private health insurance which may have cut premiums by up to $300 from next year
 — New Medicare rebates for breast cancer MRIs
— $9.4 million to detect, prevent and respond to hospital superbugs and antibiotic resistance
Budget win for disability scheme
THE National Disability Insurance Scheme is on track to be fully operational by July with a special savings fund established to pay half of its $22 billion cost.
Disability support crackdown to help fund NDIS
The Government will again crack down on the Disability Support Pension and cut off carbon tax compensation for all new welfare recipients to help fund the $22-billion NDIS.
Scott Morrison said those who were receiving the compensation would continue to do so but he said it was "nonsensical" for the Government to extend that to new welfare recipients:
Morrison says from April 1, 2017, job seekers can participate in 'intensive preemployment skills training' within 5 months of registering
infrastructure projects
In this Budget, we are providing $594 million in additional equity to the Australian Rail Track Corporation for land acquisition and the continuation of preconstruction works and due diligence activity. The Government will also establish a $2 billion water infrastructure loan facility which will catalise new investment in dams and pipelines across Australia, building on the existing national water infrastructure development fund and the Northern Australia infrastructure facility. And around 180 other major projects are under construction or in the preconstruction phase.
Tobacco excise
The government has adopted a plan to increase the excise on tobacco, which is slated to raise $4.7 billion over the next four years. we implement a further four annual 12.5% increases in tobacco excise, first increase to take effect on September 1, 2017.
The limit to the purchase of duty-free cigarettes will also be slashed in half from July 2017 — dropping from just 50 cigarettes to 25.
Foreign Affairs
— About $42.3 million will be spent on opening consulates in Lae in Papua New Guinea and China and an interim embassy in Ukraine
Terrorism
— $195 million on increased cyber security
Terrorism
— $195 million on increased cyber security
Research
— Backing co-investment in new spin-offs and start-ups created by Australian research institutions through the CSIRO
— Expansion of the CSIRO accelerator program to support public research bodies to achieve commercial success
Communications
— Commercial television and radio license fees cut by 25 per cent
— Funding levels for the ABC to remain at $3.1 billion and $814.2 million for SBS
Small business
— Small business tax rate will be lowered by 1 per cent to 27.5 per cent.
— Turnover threshold for small businesses increased from $2 million to $10 million giving access to tax incentives.
— From July 1 the increase to instant write-off for equipment purchases will be extended until June 30, 2017 to businesses with a turnover less than $10 million.
— Access to tax concessions increased to more than 90,000 additional small businesses.
— Unincorporated tax discount increased up to eight per cent for businesses with turnover below $5 million.
Families
— Plans to press ahead with cuts to the paid parental leave that could leave 80,000 families up to $11,000 a year worse off by preventing them so called "double dipping" on their employer paid leave while at the same time getting government money
— Families will have to wait at least another year for new streamlined childcare support and the lifting of the child care rebate cap from $7500 to $10k which won't be introduced now until July 2018.
Welfare
— Crackdown on welfare rorts.
Disability support pension:
— Save $62 million over five years reviewing 30,000 people receiving DPS payments every year for three years (90,000)
Rental payments:
— Streamline payments so public housing tenants have their rent payments automatically wired to landlords to minimise evictions and encourage investment in new public housing stock.
Try, test and learn fund:
— $96.1 million over four years to target people at risk of long-term welfare dependency (NZ model)
— $80 million cut from Department of Human Services
Tax avoidance
— Australian Taxation Office to receive $679 million to help crack down on multinationals, private companies and high wealth individuals
— A new taskforce to raise $3.7 billion in tax between now and July 2020.
— Funding will increase the ATO's specialist audit and investigation teams dedicated to addressing international tax risks and focusing on wealth individuals, trusts and tax scheme promoters.
Banking
— More than $120 million will be paid to the Australian Securities and Investments Commission to battle misconduct in the financial services industry.
— The extra funding will allow increased surveillance and enforcement in areas such as financial advice, lending and life insurance.
The Economy
— The Government expects an underlying cash deficit of $37.1 billion in 2016-17, down from an estimated $39.8 billion in 2015-16.
— Last year the government had forecast a return to surplus by 2019. But now it sees the deficit falling to $6 billion by 2019-20 and a balanced budget by 2020-21
— Inflation is forecast to grow to 2 per cent by 2016-17, up from a forecast 1.25 per cent for 2015-16 and 1.5 per cent in 2014-15.
— Net debt hits $326 billion in 2016-17 before peaking at $356.4 billion in 2018-19 and then starting to decline.
Tourism
The Budget holds a bitter twist for the tourism industry with Aussie travellers to pay more for a passport and airports to cop new fees. 
Although there are some positives for the "supergrowth sector" such as tax cuts for small business operators, tourism officials lamented the lack of measures to foster growth.
In a series of blows for the industry:
— the cost of an Australian passport will jump $20 from January 1, 2017 to $274 raising $173 million over four years
— trial visa arrangements for certain countries including a user-pays fast track service will raise $1.5 million over four years
— backpackers will pay 32.5 cents on every dollar earned in Australia from July 1
— airport operators will be charged a commercial fee to provide "premium border clearance services" for international air passengers, initially at Sydney, Melbourne and Perth Airports
— Tourism Australia's funding trimmed to $140 million from $144 million.
Morrison : Businesses that take interns will receive an upfront payment of $1,000
Morrison: From July 1, 2017, we will be reducing access to generous superannuation tax concessions for the most wealthy
Morrison: The Government will also be introducing a low-income superannuation tax offset from July 1, 2017
Morrison: 96% of Australians with super will be unaffected by or be better off as a result of the superannuation changes we've announced
on superannuation
In addition to a tightening access to tax concessions, the Government will also be introducing a low-income superannuation tax offset from July 1, 2017, to ensure that people earning less than $37,000 are not paying more tax on their superannuation than they earn on their income. This will effectively allow individuals with an jopsable taxable income of up to $37,000 to receive a refund into their superannuation account of the tax paid on their concessional contributions up to a cap of $500. 
Morrison on multinational and corporate tax
Everyone has to pay their fair share of tax on what they earn here in Australia, especially large corporates and multinationals...
Tonight, I announce that these new laws will be backed up by a new operational tax force of more than 1,000 specialist staff in the ATO to police and prosecute companies, multinationals and high-wealth individuals not paying the tax that they should. This will be added to new measures to combat multinational tax avoidance, which will include embracing a new diverted profits tax, as implemented in the United Kingdom, that taxes multinationals on income they have sought to shift offshore at a penalty rate of 40%. We will also strengthen the protections for whistleblowers who come forward and report tax avoidance, and will increase penalties for multinationals that fail to meet their compliance and disclosure obligations to the ATO.
cuts are "modest".
While these are modest changes to our personal income tax system, they are important. They are affordable. They are not funded by high deficits or high borrowing. This modest tax relief demonstrates that, wherever possible, we prefer to leave a dollar in your pocket than take it for the Government.
income tax brackets
From July 1 this year, we will increase the upper limit for the middle-income tax bracket from $80,000 to $87,000 per year. This will stop around 500,000 taxpayers in each and every year from paying more than 32.5 percentage % marginal tax rate. 
decreased revenue
Australia has the seventh-highest company tax rate of the 34 OECD countries, and is much higher than our neighbours in the Asian region. These measures will reduce revenue by 5.3 billion dollars over the next four years. This reduction is fully offset by the increased revenue derived from the revenue and integrity measures in this Budget. 
further business tax details
At the same time, we will also increase the unincorporated small business tax discount to 8%, and extend the threshold from a turnover of $2 million to less than $5 million. Also, from July 1, 2016, we'll extend access to the instant write-off for equipment purchases of up to $20,000 that will expire on June 30, 2017, to businesses with a turnover of less than $10 million. But we don't want these enterprises and these businesses to stop there. Each year, we will continue to step up the turnover threshold for access to the lower company tax rate of 27.5% for more businesses. From $10 million to $25 million in 2017-18. To $50 million in 2018-19, and $100 million in 2019-20. This will mean, by 2020, more than half of all employees and companies in Australia will be in companies paying a lower tax rate of 27.5%. 
The Federal Government has abandoned its policy of full university fee deregulation, but is still banking $2 billion in savings from the higher education sector.
The proposal to allow universities to set their own course fees sparked claims degrees could cost $100,000 or more.
From July 1 this year, the small business tax rate will be lowered to 27.5%, and the turnover threshold for small businesses unable to access it will be increased from $2 million to $10 million. This means businesses with a turnover of less than $10 million will also be able to access other tax incentives, including the small business depreciation pooling provisions, simplified trading stock rules, and the pay-as-you-go instalments payments option. This will mean 870,000 Australian businesses employing 3.4 million Australians will have their tax reduced. Including a 2.5 percentage point cut in the tax rate for up to 60,000 businesses with a turnover between $2 million and $10 million, employing around 1.5 million Australians. 
Morrison: we will not remove or limit negative gearing, income tax changes will cost $3.95 billion over the next 4 years.
Morrison: From July 1 this year, we will increase the upper limit for the middle-income tax bracket from $80,000 to $87,000 per year
The projected deficit for next year has blown out by $3.4 billion since the mid-year financial update to $37.1 billion.
In the four years that are laid out in the budget the Government predicts the deficit will shrink to just $6 billion.
The Coalition is not expecting to balance the budget until 2020-21 which is beyond the timeframe that can be accurately predicted by Treasury.
Morrison: This cannot be just another budget, because these are extraordinary times
Morrison: This is a very sensitive time. Australians have said we must have an economic plan to make this economic transition a success
Morrison: I will announce a growth-friendly 10-year enterprise tax plan to boost new investment, create and support jobs
The Deficit numbers - The budget deficit will fall from $39.9 billion in 2015-16 to $37.1 billion in 2016-17, and ultimately to $6 billion in 2019-20.
Mr Mossison says the government has a ten-year plan to boost investment, create and support jobs, and increase real wages.
He has confirmed businesses with a yearly turnover less than $10m will pay a company tax rate of 27.5% from July.
The new rate will gradually apply to businesses with higher turnovers until 2024.