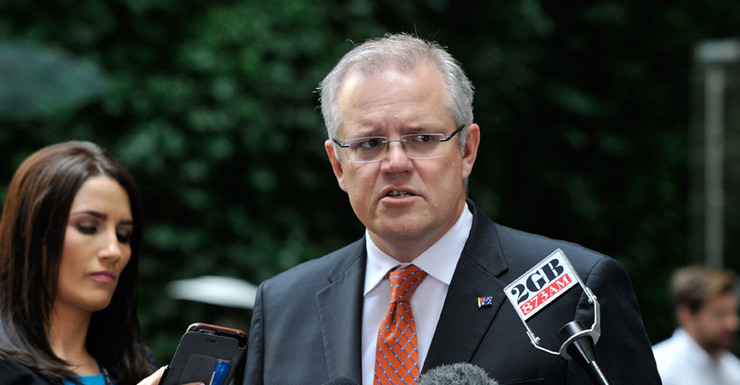 Budget 2016: nation building with a fistful of dollars
Morrison's first budget, set for Tuesday, will balance nation building and tax cuts for voters.
Treasurer Scott Morrison's first federal budget on Tuesday night will attempt to establish a coming 'Turnbull era' in nation building.
With an election campaign looming, the Treasurer and Prime Minister Malcolm Turnbull will seek to excite Australians with a transforming vision of market modernism, using low interest, 30-year debt to fund major infrastructure works around the nation.
In an interview with Fairfax Media, Mr Morrison revealed a cut in the company tax rate, the first in 15 years, which starts small but grows over the ensuing years and was designed to support growth in the non-mining parts of the economy.
For voters more concerned about their own finances, there will be a fistful of dollars offered through middle-income tax cuts, the first to be delivered in the week of the July 2 election.
However, voters earning less than $80,000 are unlikely to receive any tax relief, according to the Fairfax report.
Mr Morrison said the personal tax cuts would "keep the tempo of household consumption" by targeting average wage earners, but if the Treasurer only offers tax relief to workers who earn $80,000 or more, some will dispute his definition of an average wage earner.
Workers who earn under $80,000 would benefit from a pro-growth budget, he said, and indicated that they would be helped by measures to stop them moving into higher tax brackets.
Whatever the stimulus merit of a tax cut, the timing may be seen by some as vote buying.
But this is indicative of Mr Turnbull's new determination to play whatever-it-takes retail politics in the Australian tradition.
While most budget initiatives have already been leaked, there will be surprises on Tuesday. Mr Turnbull will not squander his big chance to remake the country while he is in the top job.
Politically-targeted measures aimed at neutralising Labor's attacks on Gonski education and future health funding have already been announced.
On Sunday, Mr Morrison confirmed $1.2 billion extra for future growth in education funding from 2018 to 2022 with $118 million over two years for disabled children in schools. He also confirmed an extra $2.9 billion in future health funding.
The nation building will come through the $50 million announced last week for infrastructure planning for cities built on a new venture capital model – projects identified to enhance economic growth as a tangible dividend from low-interest, long-term infrastructure debt.
On Tuesday the Reserve Bank, already briefed on what the budget contains, will have to decide if the initiatives will be sufficient to allow it again to keep interest rates on hold in the face of deflationary indicators. Mr Morrison asserts that debt and deficit will peak over the next five years in line with projections and that any spending in his budget will be transparently funded by offsets.
"The strategy is to do no harm to the Australian economy," he told Laurie Oakes on Nine. Budget discipline will come in the form of constraints on superannuation benefits for "very high wealth" individuals.
But there will be no reform, in spite of a broadly supported demand for fairness, to Australia's now unique and expensive negative gearing system which makes interest payments on private borrowings for property and shares tax deductible. This point of difference has opened up because of the external influence of political warrior Tony Abbott who gave free advice in his most recent interventions.
Mr Abbott blasted his colleagues for ever contemplating changes to negative gearing. The Coalition heeded that advice and now, with his acknowledgement that he will not return to the prime ministership, raises the prospect of Mr Abbott rejoining the Cabinet in a re-elected Turnbull government.
The federal budget will take further action on multinational tax avoidance, requiring mandatory transparency by corporations operating here, as the risk to country-of-origin taxation revenues worldwide has been exposed by investigative journalists.
By this week's end, with Mr Turnbull expected to call a July 2 election, the battlelines will be drawn. Mr Turnbull will enjoy the benefit of incumbency and the prestige of the prime ministership. And he has the pre-approved advantage of a government advertising blitz on its national security and innovation programs.
These government 'announcements' will be running on primetime TV right through the caretaker period because they are not deemed to be political. Budget 2016: Advantage … Turnbull.
Source: TND