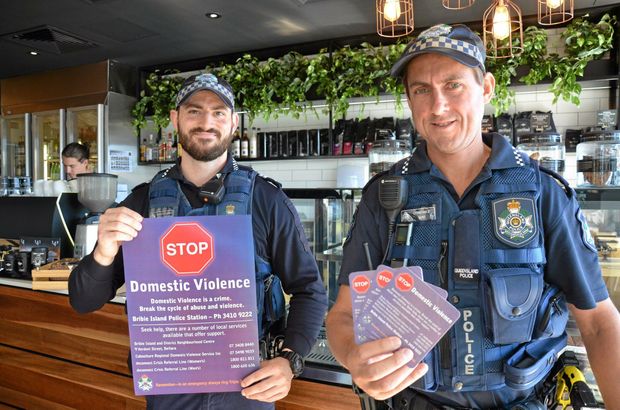 Bribie police take action to prevent domestic violence
Putting a stop to domestic and family violence is the clear message coming from a campaign by the Bribie Island Police.
Their efforts are part of a wider state campaign to raise awareness about the issue for Domestic and Family Violence Prevention Month.
Handing out posters and drink coasters has proven to be a popular and effective way of getting the message out to the community.
Senior Constable Dean Contessa said the advertising helped to educate those suffering from domestic and family violence of what services were out there to help.
"All this advertising material will be placed around local pubs and clubs, just letting people know what's out there," he said.
"It's aimed around the locals on Bribie but it's also for telling visitors and people who have just recently moved to the area who maybe feel a bit alienated or feeling like there's not enough support out there for them in relation to domestic violence.
"For people that are suffering or are in violent sexual relations, we can let them know what places to go to get help... there is a lot of help out there for people to get if they need it."
Senior Constable Contessa said national publicity earlier this year has helped a lot and added to the effectiveness of the campaign.
"We have seen an increase in domestic violence incidents being reported to us, that's not to say it's happening... people are reporting it more and aware of more incidents," he said.
Constable Pete Ridgway said it was beneficial that domestic violence incidents were talked about more openly nowadays.
"I think once upon a time it was a bit of a taboo subject and a lot of people would sweep it under the carpet, whereas now the message is well and truly out there that it's not acceptable and that action will be taken," he said.
If you or someone you know is living in a violent relationship, please contact the station for help on 3410 9222 and always ring 000 in an emergency.
Source: Caboolture News