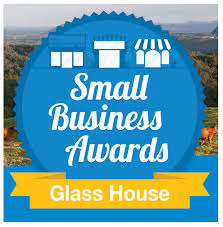 Andrew Powell pleased the Inaugural 'Glassy's' a huge success and the winners are
Over 150 people representing businesses across the Glass House electorate had their moment to shine on Monday night when Member for Glass House, Andrew Powell MP, held the inaugural Glass House Small Business Awards.
"It was just amazing to see so many business operators and employees, put on their finest attire and show up to be congratulated for their contribution to our community.
"The night was all about promoting and encouraging the many local small businesses we have in Glass House and giving them the opportunity to bask in the spotlight, if only for one night.
"Feedback on the night has been excellent so it looks almost certain that this awards night will be a fixture in the Glass House calendar for years to come.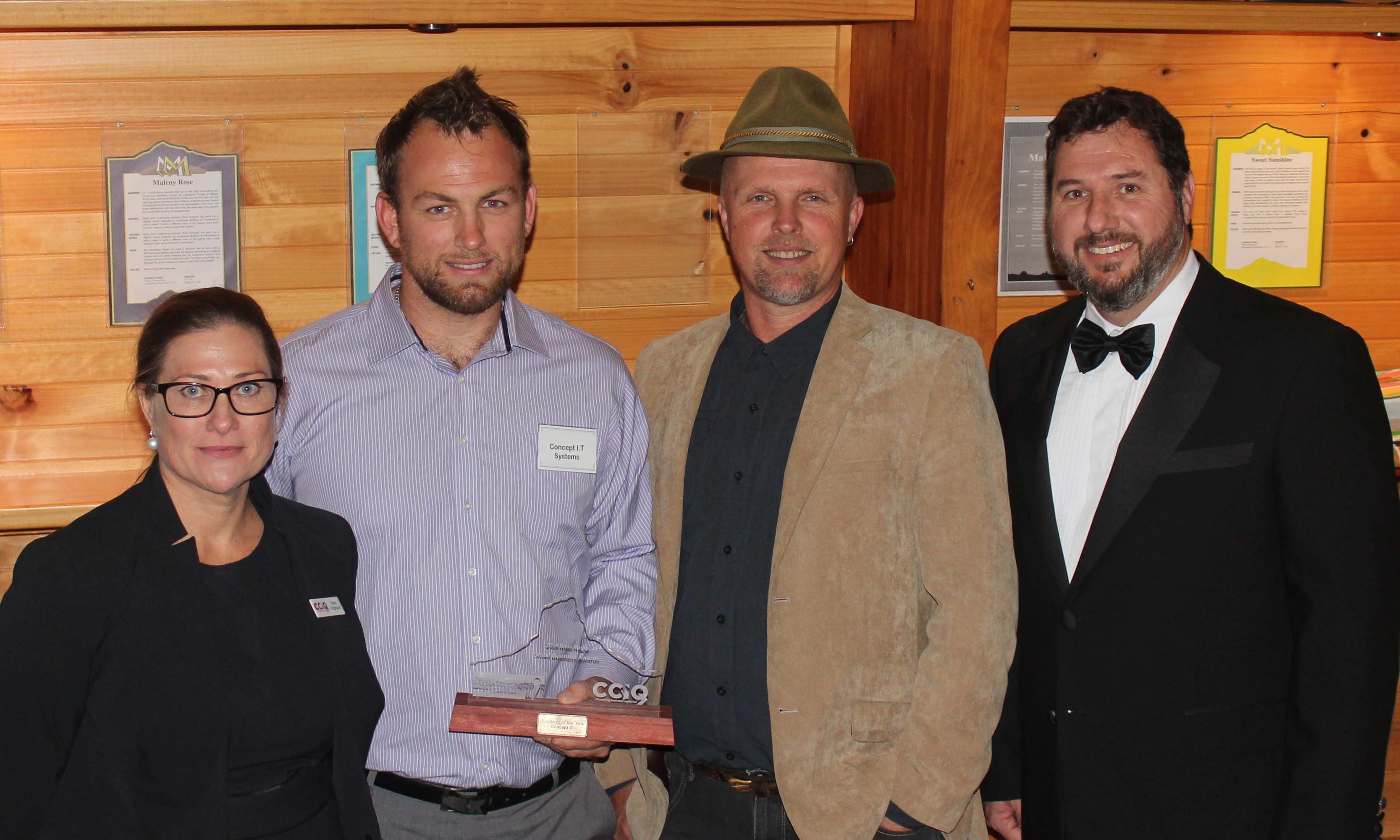 "The Gold Glassy winner in the business category, Concept IT, have shown true dedication to delivering excellent customer service and have demonstrated they can diversify their business and move with the changing demands of the retail market.
"Jodie Pember, Gold Glassy winner in the Employee category, has clearly wowed the Glasshouse community with her superior customer skills through her work at the Glasshouse Mountains IGA.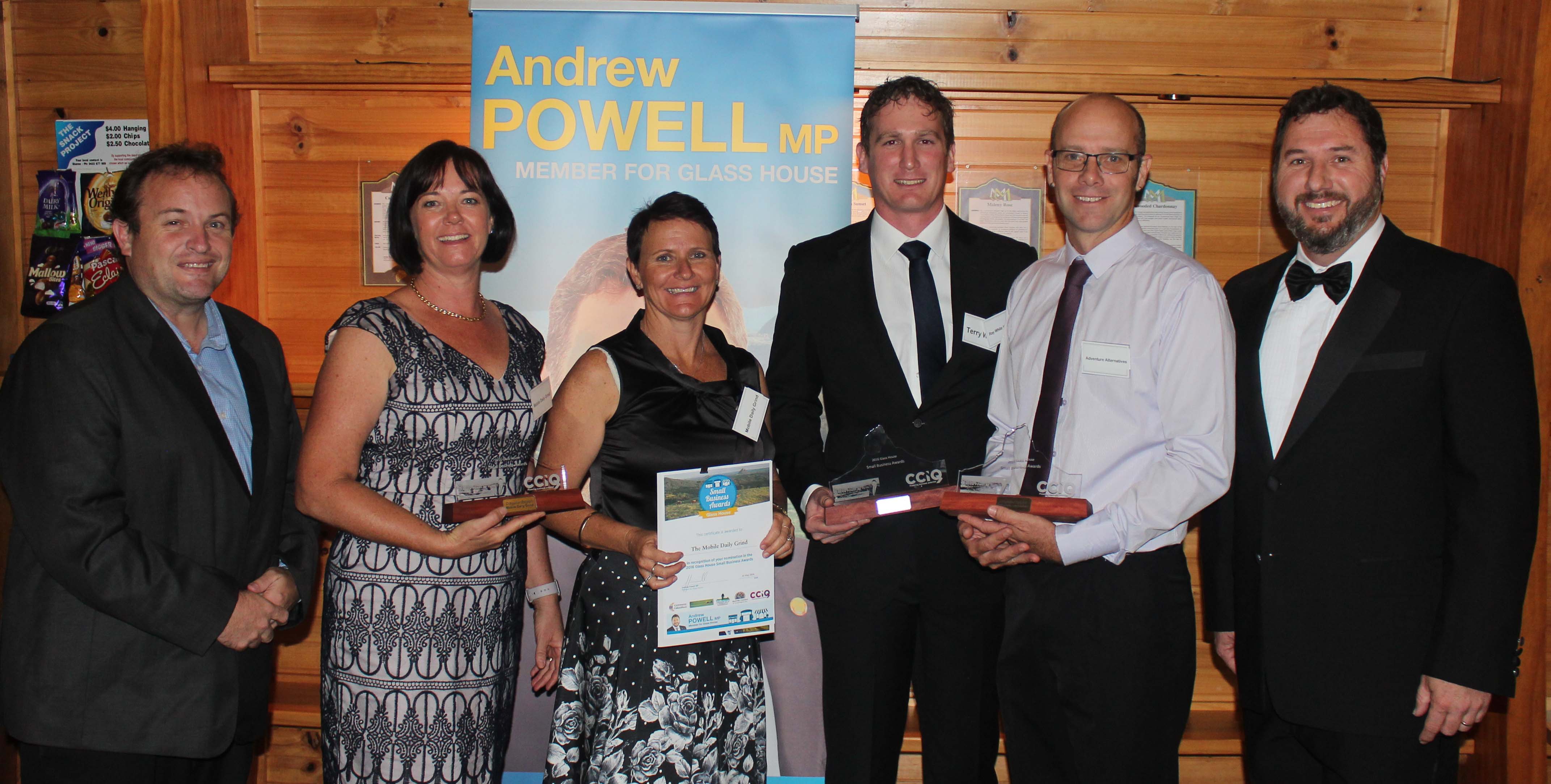 "All of the nominees and winners on the night should be so proud to be delivering the very best for our Glass House community and I would encourage the wider Coast population to show their support to some of those nominated when they are next visiting our beautiful part of the world," Mr Powell concluded.
Melany and D'Aguillar Businesses were also in the spotlight on the night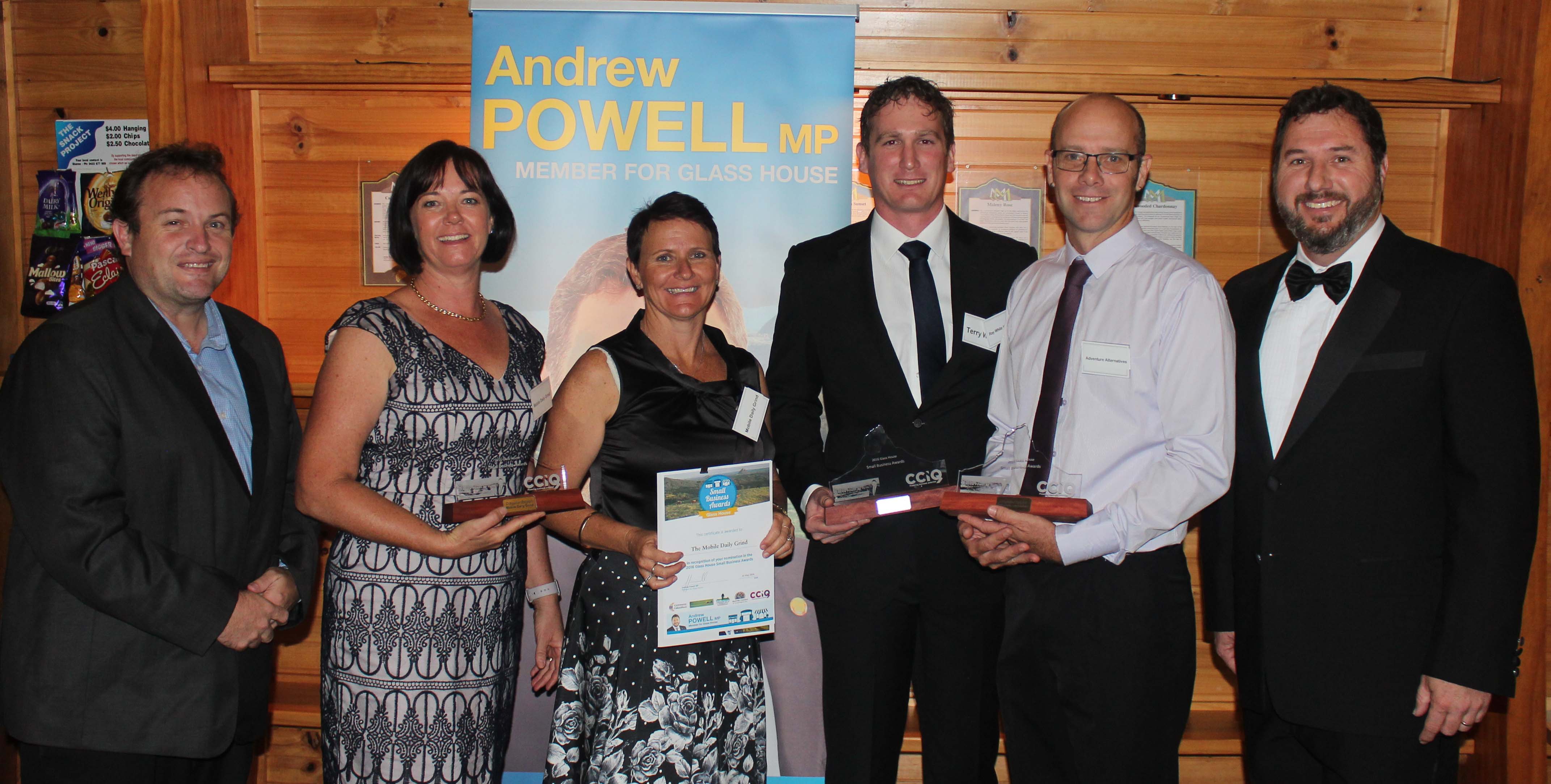 GOLD Glassy
Business Nomination – CONCEPT IT (Maleny)
Employee Nomination –JODIE PEMBER (Luke's IGA Glasshouse)
BRONZE AND SILVER Glassy (PER REGION)
1. Palmwoods Region
Business nomination
Extreme Mowing
Nprint
Homegrown Café
Café De Orient
5,6,7,8 Performing Arts
BRONZE WINNER – Nprint
SILVER WINNER – 5.6.7.8 Performing Arts
Employee nomination
WendyDangerfield
The Compass Institute
Sophie O'Sullivan
5,6,7,8 Performing Arts
BRONZE WINNER – Wendy Dangerfield
SILVER WINNER – Sophie O'Sullivan 5,6,7,8 Performing Arts
2. Montville Region
Business Nomination
Montville IGA/Post Office
Montville Gourmet Pizzeria
Elements of Montville
Montville Café Bar and Grill
Chic & Sassy Boutique Montville
Glasshouse Bistro
The Clock Shop
Rare Emporium
The Opalcutter
Spicers Clovelly
Waffle On
The Dressing Room
Latitude Gallery
Montville Framing
BRONZE WINNER – Clock Shop
SILVER WINNER – Montville Café Bar and Grill
Employee Nominations
Jenny Tatton – Montville Real Estate
Daniel Green – Montville Gourmet Pizzeria
Justin Hamblin – Montville Gourmet Pizzeria
Kristy Smith – Fudgyboombahs
Rebecca Gardner – Clock Shop
Jessica Mitchell – Elements at Montville
BRONZE WINNER – Jessica Mitchell – Elements of Montville
SILVER WINNER – Kristy Smith – Fudgyboombahs
3. Maleny Region
Business Nomination
Easton Lawyers
Rosetta Books
Maleny Credit Union
Concept IT
Mary Cairncross Café
TLC Veterinary Rehabilitation
Maleny Optical
Maleny Cheese
Woodsfarm Dairy
Maleny Town and Country
The Garden Maleny
BRONZE WINNER – Maleny Cheese
SILVER WINNER – Rosetta Books
Employee Nomination
Janis Martin – Maleny Jewellers
Joanne Howard – MAD Maleny Art Direct
Liam Kimball – Maleny Credit Union
Maja Edwards – Maleny Optical
Jennepher Bucher – Maleny Cheese
Sharon Schofield – Easton Lawyers
Ketakii Jewson-Brown – Rosetta Books
Karen Muir – Hinterland Times
Dale Jacobsen – Hinterland Times
Callum Moore – Watsons Garage
BRONZE WINNER – Liam Kimball – Maleny Credit Union
SILVER WINNER – Sharon Schofield – Easton Lawyers
4. Glasshouse Mountains Region
Business Nominations
The Beerwah Hideaway
Beerwah Hair and Beauty
Neddy's Nosebag
V8 Supercuts
Victory Tearooms and Antiques
Crookneck Retreat
Glasshouse Country Meats
Total Microsystems
Pasta D'Vine
Matilda Fruit Barn
Landsborough IGA
KLM Services
Hive Haven
Kev's Joinery
BRONZE WINNER – Pasta D'Vine
SILVER WINNER – Glasshouse Country Meats
Employee Nomination
Kylie Heading – Beerwah Hair and Beauty
Jodie Pember – Glasshouse IGA
Michelle Samuel – Glasshouse Country Meats
Joel Toepfer – Matilda Fruit Barn
Sue Wright – KLM Services
BRONZE WINNER – Kylie Heading – Beerwah Hair and Beauty
SILVER WINNER – Jodie Pember – Glasshouse IGA
5. D'Aguilar Region
Business Nominations
Wamuran Seafoods
Mobile Daily Grind
Smartline Personal Finance
Adventure Alternatives
Skin Focus & Caboolture Natural Therapies
Ray White Wamuran
Elimbah General Store
BRONZE WINNER – Mobile Daily Grind
SILVER WINNER – Adventure Alternatives
Employee Nominations
Janet Ellis-Smith
Woodford Medical Centre
Terry Ward
Ray White Wamuran
BRONZE WINNER – Janet Ellis-Smith
SILVER WINNER – Terry Ward
Special thanks to -
CCIQ
Commerce Caboolture
Glasshouse Chamber of Commerce
Maleny Chamber of Commerce
Montville Chamber of Commerce
Spicers Clovelly
Maleny Mountain Wines
Glasshouse and Maleny News
Hinterland Times
Suncoast Rural – Formerly known as Wamuran Co-op
Rick's Garage
Maleny Super IGA
Maleny Golf Club
Maleny Botanical Gardens
Rosetta Books
Colin James
Woodford Village Hotel
Monica's
Beerwah Hair and Beauty
Hinterland Bookkeeping
Hotel Maleny
Maleny Dairies
SPECIAL Guests
Mayor Mark Jamieson – Sunshine Coast Regional Council
Cr Adrian Raedel – Moreton Bay Regional Council
Karen Fitzgibbons – CCIQ
Andrew Wallace – LNP Candidate for Fisher
Spencer Shaw – Maleny Commerce
Anton Kardash – Montville Chamber of Commerce